New Delhi: 4 arrested for trying to extort Rs 20 Lakh from doctor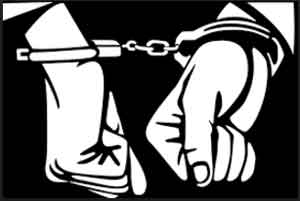 New Delhi: Four men were arrested for allegedly trying to extort Rs 20 lakh from a doctor based in northwest Delhi's Adarsh Nagar, the police said.
The four accused identified as Nafis (24), Neeraj (30), Rajesh Pratap Singh (37) and Kuldeep (24) have previous criminal records, including that of murder and Arms Act.
On December 24, the victim approached police with a complaint that five men whom he did not know came on two motorcycles and threatened him, they added.
They demanded Rs 20 lakh and started making threat calls to the doctor from December 18. They threatened him with dire consequences if he did not pay the money, the police said.
It was found that the calls were being made from stolen mobile phones. The calls were being made from Bhalswa area, they said.
A team was stationed in the area in plainclothes and took their position in the area so that they could pass off as locals, the police said.
Subsequently, the four accused, all school dropouts, were arrested. One of the accused is at large.