Allow us to join COVID workforce at par with MBBS graduates: FMGE candidates move SC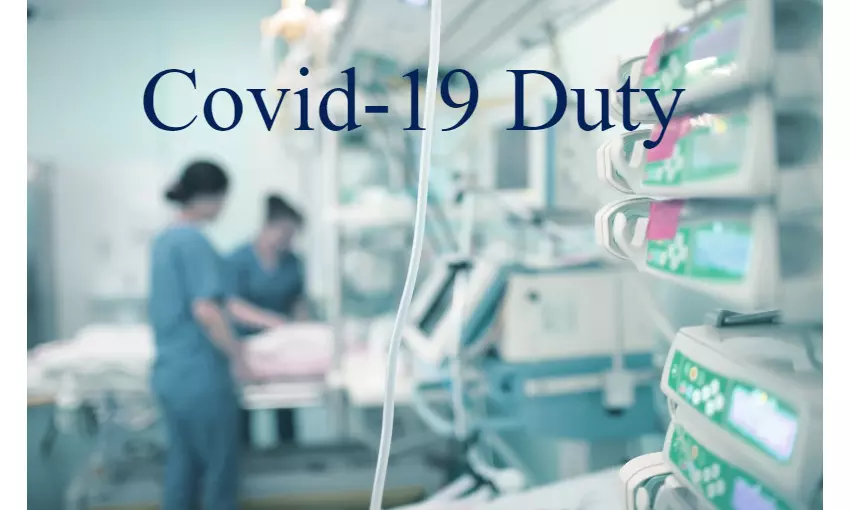 New Delhi: When the country is reeling under an acute shortage of doctors and healthcare workers, the FMGE candidates have approached the Supreme Court seeking directions upon the State to deploy such doctors in the Covid-19 workforce with facilities like that of MBBS graduates.

As per the latest media report by the Times of India, in the petition, the doctors who graduated from outside of India, sought a one-time exemption for their members and for all other such doctors eligible to take the foreign medical graduate exam in order to augment the health infrastructure of the country. They have further submitted before the Apex Court that their medical degrees obtained from abroad are equivalent to MBBS in India.

Sharing the news on Twitter, one user wrote, "Finally Our Association of MD Physicians under Guidance President of Association @cardiology08 have approached the Supreme Court seeking directions to states to allow FMGs to join the Covid-19 healthcare workforce with facilities at par with MBBS graduates."
The FMGE-Screening Test has been introduced through Screening Test Regulations 2002. As per the regulations, "An Indian citizen/Overseas citizen of India possessing a primary medical qualification awarded by any medical institution outside India who is desirous of getting provisional or permanent registration with apex medical regulator or any State Medical Council on or after 15.03.2002 shall have to qualify a screening test conducted by the prescribed authority for that purpose as per the provisions of section 13 of the Act.

However, considering the acute shortage of doctors in the country, these medical graduates from abroad have requested for one-time exemption from clearing FMGE examination. They have expressed their willingness to fight the war against the pandemic without charging anything in exchange of registration.
Speaking to TOI regarding the issue, the President of Associations of MD Physicians, Dr. Rajesh Rajan informed that although many states including Gujarat, Karnataka, have initiated the process of appointing FMGs to their state Covid teams, many are still reluctant. This has led to a situation where more than 50,000 such doctors are sitting idle waiting for the Government nod to work in this crisis.
Mentioning that Indian Medical Association (IMA) has officially released a press note describing the importance of foreign-educated doctor in this crisis, he further added, "Several NMC members have already written to its chairman to support the movement to stabilize and support our burnt-out Covid warriors."
He further argued that if the foreign graduates are willing to work as interns without any stipend, the Government should immediately accept their services after registering them.

He also questioned why the Government is not willing to utilize the readymade workforce of doctors, and further pointed out that veterinary doctors have already been employed to fight against the Covid-19 pandemic by the Government.
Mentioning that the existing workforce is exhausted and more workforce is necessary to tackle the approaching third wave, Dr. Rajan further added, "We all know about the shortage of doctors across the country. Almost every day we are losing doctors, including specialists. The existing teams are exhausted due to continuous work for the past one year."

One such Gujarat-based medical graduate from Russia informed the daily that there are 2,500 such doctors available in the State. "Though we got permission to work with Covid team, this is a temporary one for 90 days only. We are ready to serve the country for one year without any financial assistance but the government should give us permanent registration," he added.
Another medical graduate hailing from Prayagraj said, "Rural areas have also been affected with Covid and we are ready to work during the crisis for one-time exemption," adding that there are 10,000 such doctors available in the State. He further informed that even biology teachers have been roped in for service in the State.
Also Read: FMGE June 2021: NBE notifies on cut-off date for submission of documents

Meanwhile, Medical Dialogues had recently reported that the National Medical Commission (NMC) released the Draft regulation for Foreign Medical Graduate (FMG), 2021, which mentioned that the Foreign Medical Graduates (FMGs) who have completed their MBBS from abroad will only be given two years time post completion of their course to clear the Screening test in India in order to practice.

One of the salient features of the regulation is that it calls for FMG candidates to clear FMGE exam or NEXt exam when NExT becomes operational. It also notes that under NExT exam which will consist of two steps that is NExT step 1 and NExT step 2, the FMGs will have to clear an additional paper to assess the knowledge of pre and para-clinical subjects also.
At the same time, the notification also has a deadline for the FMGs to clear the said test stating that Foreign Medical Graduates are required to qualify Screening test in India(FMGE/NExT) within 2 years of completing the MBBS abroad.
Also Read: Only 2 years for FMGs to clear Screening tests in India after MBBS abroad: NMC releases new draft regulation
Source : with inputs