547 MBBS, 8,616 PG Medical, 6,091 BDS went vacant in 2018-19, 2019-20: Health Minister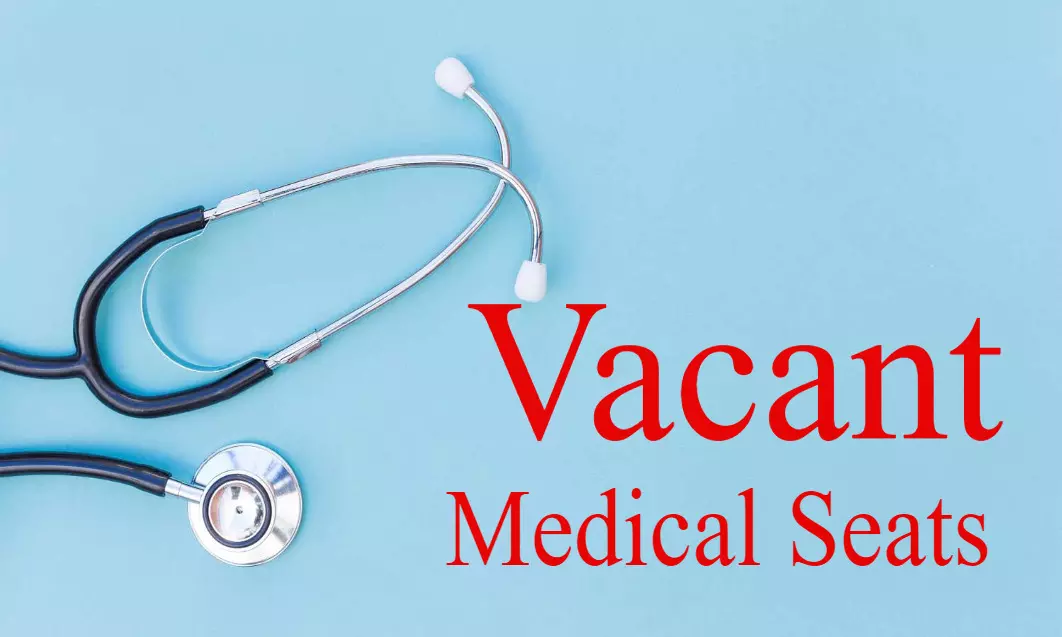 New Delhi: Bringing much disappointment on wasted seats, the Union Minister of State for Health recently informed that 7661 seats including 273 MBBS, 4614 PG Medical, 2774 BDS seats were lying vacant in the previous academic year 2019-20. Besides, in the year 2018-19, over 274 MBBS, 4002 PG Medical, 3317 seats were vacant.
The information to this effect was recently shared in a Rajya Sabha session when Shri Shamsher Singh Dullo asked the Minister of State in the Ministry of Health and Family Welfare (MoS Health) about the details of vacant seats, State-wise and year-wise.
The minister presented the data in his reply before the parliament members. As per the information provided by the National Medical Commission (NMC), and the Dental Council of India (DCI), the State-wise details of seats vacant in MBBS, PG medical courses and BDS for the year 2018-19 and 2019-20 are as follows:
For MBBS course:
In the 2018-19 academic session, over 274 seats from the MBBS course left unfilled. the maximum number of vacant seats were from the state of Madhya Pradesh with over 149 MBBS seats followed by Telangana with 75 seats. 16 MBBS seats were vacant from Bihar and 4 from Delhi.
Andhra Pradesh, Chandigarh, Chhattisgarh, Karnataka, Orissa and Tripura had 2 MBBS seats vacant that year. Uttarakhand, Jammu & Kashmir and Punjab had 3 lying around.
The states of Haryana, Himachal Pradesh, Kerala, Maharashtra, Mizoram, Rajasthan, UP and West Bengal has only 1 seat left vacant.
Meanwhile, there were no seats vacant from the states and UTs of Andaman and Nicobar Islands, Arunachal Pradesh, Dadar and Nagar Haveli, Goa, Gujarat, Jharkhand, Manipur, Meghalaya, Puducherry, Sikkim and Tamil Nadu.
The next academic year of 2019-20 saw over 273 seats lying around vacant across the country.
Shockingly, the maximum seats were vacant from Jharkhand courting to the total of 114 while there were no seats vacant the previous year. The second came J&K with 55 MBBS seats lying vacant.
Orissa had 21 MBBS seats unfilled while Tamil Nadu had 10 and West Bengal and Maharashtra had 9 each. Telangana followed with over 8 vacant MBBS seats and Haryana with 7.
Karnataka and Andhra Pradesh, both had 6 seats left to be filled that year followed by Gujarat and Rajasthan with 5 seats each. The states of UP and Bihar had 4 seats vacant while 2 were unfilled in Delhi and MP.
Assam, Chandigarh, Kerala, Punjab, Manipur and Tripura had only 1 seat left while there were no seats vacant from the states of Himachal Pradesh, Meghalaya, Mizoram, Puducherry, Sikkim, Uttrakhand and Andaman and Nicobar Isalnds.
For PG Medical Courses:
4,002 PG Medical seats were lying vacant in the year 2018-19; the maximum being in the states of Karnataka (563), Maharashtra (520), Tamil Nadu (477), Gujarat (343), Andhra Pradesh (303).
The list is followed by UP with 256 PG medical seats lying vacant, Delhi with 231 seats, Rajasthan with 164, Haryana with 145, West Bengal with 141 seats. Kerala had 115 PG medical seats unfilled that year.
Bihar had 94 followed by Odisha at 88 unfilled seats. 84 PG medical seats were vacant from Puducherry and Assam. JnK stood at 41, Telangana at 53, Uttrakhand at 52, Jharkhand at 35 and Goa at 21 unfilled PG medical seats.
Chandigarh had 8, Chhattisgarh had 3, Himachal Pradesh, Manipur and MP had 14, Meghalaya had 9 and Sikkim had 8 seats vacant. No seats were left unfilled from the state of Tripura.
Coming to the next academic session of 2019-2020, a whopping number of 4614 PG medical seats found no students.
A massive 1723 PG medical seats were vacant from the state of Maharashtra followed by Karnatak with 530, Delhi with dripping down to 310.
West Bengal had 268, UP had 237, Gujarat had 230, Tamil Nadu had 160, Andhra Pradesh had 149, Bihar had 125 and MP had 139 seats unfilled that year.
99 seats were vacant from Telangana, 104 from Rajasthan, 87 from Odisha, 57 from Punjab, 46 from Puducherry, 73 from Haryana and 42 from Himachal Pradesh.
Meanwhile, the states of Assam had 18, Chandigarh had 11, Chhattisgarh had 12, Goa had 20, Kerala had 50, Manipur had 23, Uttrakhand had 28 PG medical seats vacant.
Meghalaya had only 6 seats left followed by Tripura and Sikkim with 4 and 3 seats respectively.
There were no states with full allotment this academic session of 2019-20.
For BDS Course:
3317 BDS seats were lying vacant in the year 2018-19. The maximum coming down to 578 from MP followed by UP with 564 and Tamil Nadu with 484 BDS seats lying vacant.
320 seats left unfilled from Karnataka dropping down to 279 from Haryana, 224 from Rajasthan, 190 from Punjab, 145 from Gujarat and 107 from Chhattisgarh.
89 seats are reported to have had been vacant from Puducherry followed by 82 from Jharkhand, 60 from Andhra Pradesh, 46 each from Bihar and Maharashtra.
The list goes down to Daman & DIU with 31 vacant UG Dental seats that year followed by JnK with 22, Himachal with 19, Uttarakhand and Assam with 11 each, Telangana with 4 seats and Kerala with 2.
Only 1 seat each was left from the states of Manipur, Odisha and West Bengal. No seats were vacant from Goa, Delhi and Chandigarh.
The next academic session saw a decrease in the number of vacant seats with a total of 2774.
The maximum seats were vacant from the state of UP with 528 followed by MP with 329, Punjab with 324 and Karnataka with 321 BDS seats.
The list then followed by Haryana with 206, Maharashtra with 155, Gujarat with 126, Tamil Nadu with 121, Chhattisgarh with 114, Rajasthan with 104 vacant BDS seats.
67 seats were vacant at Assam, 62 at Odisha, 43 at Puducherry, 32 at Uttrakhand, 29 at Daman and Diu, 21 at Telangana that year.
Andhra Pradesh and Bihar had 15 seats each unfilled that session. Delhi had 14 seats lying vacant.
JnK had Kerala had 3 seats vacant each while Chandigarh and West Bengal had only 1 seat left. No seats were lect from Goa and Manipur.
As per the provisions of the Regulations on Graduate Medical Education and Post Graduate Medical Education,the Common Counseling for admission to Central Educational Institutions, All India Quota seats in Government Medical Colleges and Deemed Universities is conducted by the Directorate General of Health Services, Ministry of Health & Family Welfare, Government of India and the respective State Government conducts Common Counseling for admission to State Quota seats in Government Medical College and all the seats of Private Medical Colleges.
The minister further replying to the question of whether large numbers of seats in PG/ MBBS/BDS courses in Government/ Private colleges/Deemed Universities are left vacant across India especially in the State of Punjab this year due to the high fee structure allowed by the Government, informed, "in the case of Government medical colleges, the respective State Governments are responsible for fixation of fee, and in the case of private unaided medical colleges, the fee structure is decided by the Committee set up by the respective State Government under the Chairmanship of a retired High Court Judge in pursuance of the directions of the Hon'ble Supreme Court of India."
The National Medical Commission (NMC) has been constituted with effect from 25th September 2020. The NMC Act, 2019 empowers the NMC to frame guidelines for the determination of fees and all other charges in respect of 50% of seats in private medical institutions and deemed to be Universities. The uniform entrance examination namely the National Eligibility cum Entrance Test (NEET) and Common Counseling for admission to all UnderGraduate and PostGraduate medical courses across the country ensures transparent admissions on merit, he added.
On the steps proposed by the Government to help the economically weaker sections of society so that they are not deprived of higher education in medical profession, he said, "In accordance with the provisions of the Constitution (103rd Amendment) Act, 2019, there is 10% reservation for the Economically Weaker Section of the Society (EWS) in UG and PG medical/dental courses."
The details of vacant MBBS seats State-wise and Year-wise for the last Two Years.

Vacant Seats

Sl. No.

State

2018-19

2019-20

1

Andaman Nicobar Islands

0

0

2

Andhra Pradesh

2

6

3

Arunachal Praresh

0

0

4

Assam

1

1

5

Bihar

16

4

6

Chandigarh

2

1

7

Chhattisgarh

2

0

8

D& N Haveli

0

0

9

Delhi

4

2

10

Goa

0

0

11

Gujarat

0

5

12

Haryana

1

7

13

Himachal Pradesh

1

0

14

Jammu & Kashmir

3

55

15

Jharkhand

0

114

16

Karnataka

2

6

17

Kerala

1

1

18

Madhya Pradesh

149

2

19

Maharashtra

1

9

20

Manipur

0

1

21

Meghalaya

0

0

22

Mizoram

1

0

23

Orissa

2

21

24

Pondicherry

0

0

25

Punjab

3

1

26

Rajasthan

1

5

27

Sikkim

0

0

28

Tamil Nadu

0

10

29

Telangana

75

8

30

Tripura

2

1

31

Uttarakhand

3

0

32

Uttar Pradesh

1

4

33

West Bengal

1

9

TOTAL

274

273
The details of vacant PG seats State-wise and Year-wise for the last Two Years.

Vacant Seats

Sl. No.

State

2018-19

2019-20

1

Andhra Pradesh

303

149

2

Assam

84

18

3

Bihar

94

125

4

Chandigarh

8

11

5

Chhattisgarh

3

12

6

Delhi

231

310

7

Goa

21

20

8

Gujarat

343

230

9

Haryana

145

73

10

Himachal Pradesh

14

42

11

Jammu & Kashmir

41

22

12

Jharkhand

35

38

13

Karnataka

563

530

14

Kerala

115

50

15

Madhya Pradesh

14

139

16

Maharashtra

520

1723

17

Manipur

14

23

18

Meghalaya

9

6

19

Orissa

88

87

20

Pondicherry

84

46

21

Punjab

122

57

22

Rajasthan

164

104

23

Sikkim

8

3

24

Tamil Nadu

477

160

25

Telangana

53

99

26

Tripura

0

4

27

Uttarakhand

52

28

28

Uttar Pradesh

256

237

29

West Bengal

141

268

TOTAL

4002

4614
BDS Admission for the academic session 2018-19

Sl. No.

State

PERMITTED SEATS

ADMITTED SEATS

VACANT SEATS

1

Andhra Pradesh

1440

1380

60

2

Assam

140

129

11

3

Bihar

280

234

46

4

Chandigarh

100

100

0

5

Chhattisgarh

600

493

107

6

Daman & DIU

100

69

31

7

Delhi

140

140

0

8

Goa

40

40

0

9

Gujarat

1240

1095

145

10

Haryana

900

621

279

11

Himachal Pradesh

340

321

19

12

Jammu & Kashmir

200

178

22

13

Jharkhand

350

268

82

14

Karnataka

3440

3120

320

15

Kerala

1920

1918

2

16

Madhya Pradesh

1370

792

578

17

Maharashtra

3410

3364

46

18

Manipur

100

99

1

19

Orissa

350

349

1

20

Pondicherry

340

251

89

21

Punjab

1230

1040

190

22

Rajasthan

1400

1176

224

23

Tamil Nadu

2860

2376

484

24

Telangana

1140

1136

4

25

Uttarakhand

200

189

11

26

Uttar Pradesh

2490

1926

564

27

West Bengal

500

499

1

TOTAL

26620

23303

3317
BDS Admission for the academic session 2019-20

Sl.

No.

State

PERMITTED SEATS

ADMITTED SEATS

VACANT SEATS

1

Andhra Pradesh

1440

1425

15

2

Assam

176

109

67

3

Bihar

240

225

15

4

Chandigarh

100

99

1

5

Chhattisgarh

600

486

114

6

Daman & DIU

100

71

29

7

Delhi

150

136

14

8

Goa

50

50

0

9

Gujarat

1340

1214

126

10

Haryana

950

744

206

11

Himachal Pradesh

355

317

38

12

Jammu & Kashmir

226

223

3

13

Jharkhand

363

261

102

14

Karnataka

3453

3132

321

15

Kerala

1970

1967

3

16

Madhya Pradesh

1283

954

329

17

Maharashtra

3444

3289

155

18

Manipur

100

100

0

19

Orissa

363

301

62

20

Pondicherry

340

297

43

21

Punjab

1230

906

324

22

Rajasthan

1410

1306

104

23

Tamil Nadu

2873

2752

121

24

Telangana

1140

1119

21

25

Uttarakhand

200

168

32

26

Uttar Pradesh

2503

1975

528

27

West Bengal

550

549

1

TOTAL

26949

24175

2774