PG AYUSH Admissions: KEA releases Round 2 Schedule, 214 seats available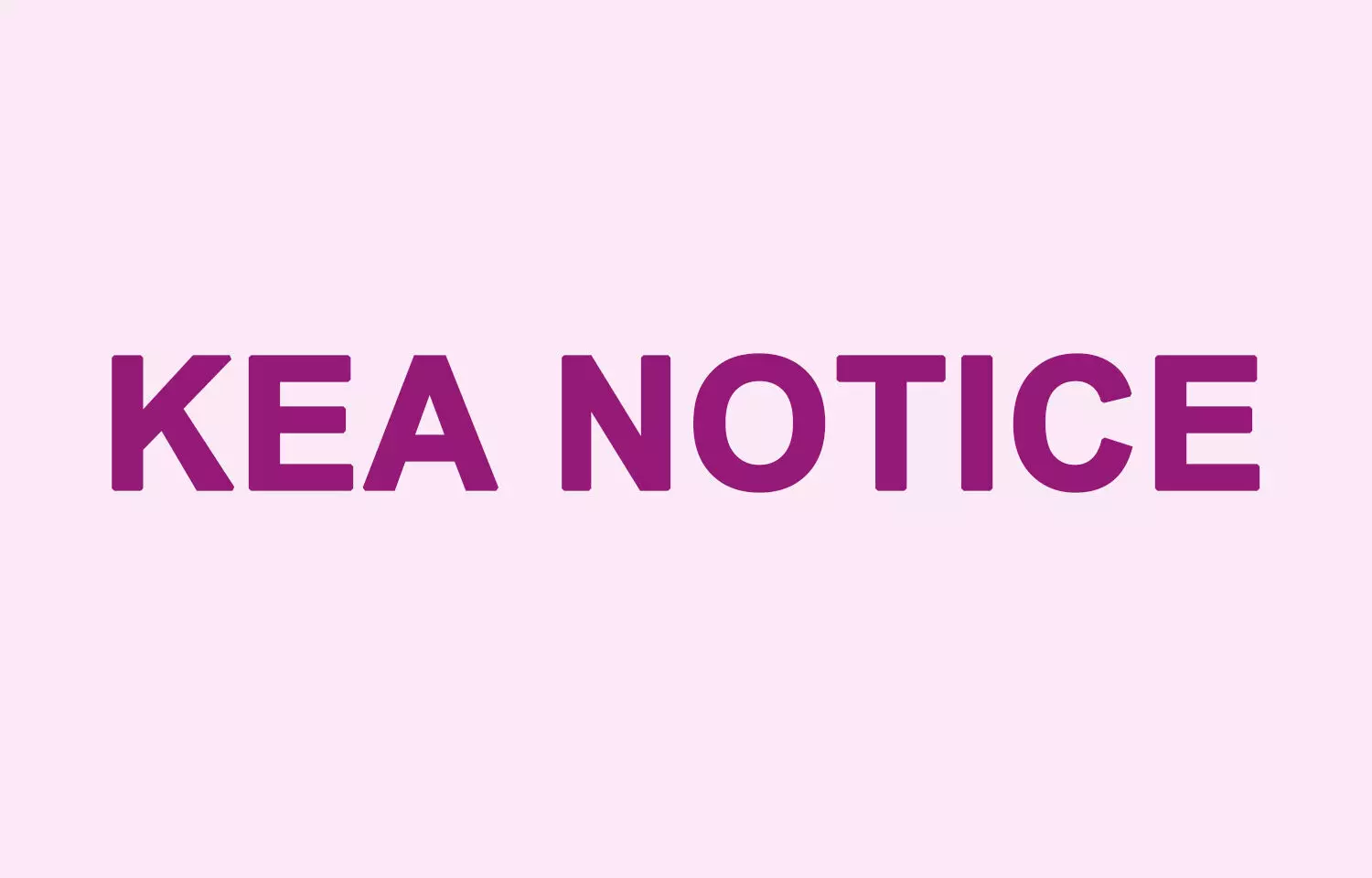 Karnataka: Karnataka Examination Authority (KEA) has released the schedule for round 2, fee details, and seat matrix for PG AYUSH courses.
As per the notice, the round 2 allotment results will be published on 13th April 2022 after 5:00 pm. Payment of fees and collection of allotment orders can be done between 16th April 2022 till 18th April 2022. The last date to report to the allotted PG AYUSH College against the seat allotted in the round is 19th April 2022 before 5.30 pm.
Choice 2 and 3 candidates of round 1 and not allotted any seat in round 1 eligible candidates can exercise their priority of options accordingly. No choices will be given to round 2 seat allotted candidates after the announcement of round 2 seat allotment results.
Candidates should pay the fees if not paid and compulsorily join the allotted colleges in round 2 as the seats are allotted based on candidates' options and merit. The candidates, who have been allotted a seat in round 1 and like to cancel their seat, can cancel on or before 12th April 2022, 5.30 pm, to become eligible for a refund of fees as per norms.
Candidates note that there would be a Mop-Up round, where the candidates who have not been allotted any seat in the first round or second round would be eligible to participate.
To view the notice, click on https://medicaldialogues.in/pdf_upload/pgayushkannada-174149.pdf
The total seats allocated for round 2 PG AYUSH courses is 214. The private quota has 110 seats, the PH quota has 15 seats, and the government quota has 89 seats.

To view the detailed seat matrix, click on the below links -
https://medicaldialogues.in/pdf_upload/private-quota-seat-174152.pdf

https://medicaldialogues.in/pdf_upload/ph-quota-seat-174151.pdf

https://medicaldialogues.in/pdf_upload/government-quota-seat-174150.pdf

KEA has further released college wise fee structure for PG AYUSH courses. The list of colleges includes –

1. Govt. Ayurveda Medical College, Bangalore
2. Sri Kalabyraweshwara Ayurvedic Medical College and Hospital, Bangalore
3. Ramakrishna Ayurveda Medical College, Bangalore
4. Ashwini Ayurvedic Medical College, Davanagere
5. JSS.Ayurvedic Medical College, Mysore
6. Government Ayurveda Medical, Mysore
7. SDM College of Ayurveda and Hospital, Hassan
8. A.L.N Rao Memorial Ayurvedic Medical College, Chikmagalur Dist
9. K.V.G.Ayurvedic Medical College, Dakshina Kannada-Dist
10. Muniyal Institute Of Ayurveda Medical Sciences, Udupi Dist
11. Karnataka Ayurvedic Medical College, Mangalore
12. S.D.M.Ayurveda College, Udupi Dist
13. Alvas Ayurvedic Medical College, Dakshina Kannada
14. Sri Shivayogishwara Rural Ayurveda Medical College, Inchala, Belgaum
15. Ayurveda Mahavidyalaya Hospital, HUBLI, DHARWAD(D)
16. D.G.M.Ayurvedic Medical College, Dr S V Savadi Road, Gadag
17. Bhagavan Mahaveer Jain Ayurvedic Medical College, PG Center, Gadag Dist.
18. Rajiv Gandhi Ayurvedic Medical College, Gadag Dist.
19. Ayurvedic Mahavidyalaya, Bijapur
20. Sri Vijayamahantesha Ayurveda Medical College, Bagalkot- Dist
21. Sri Basaveshwara Vidyavrdhaka Sangha Ayurvedic Medical College, Bagalkot
22. Shikshana Prasaraka Samitis Dhanwanthri Ayurvedic Medical College, Uttara Kannada- Dist
23. Gavisiddeshwara Society`s Ayurveda College, Koppal Dist
24. Taranatha Govt. Ayurveda Medical College, Bellary
25. T.M.A.E.Ayurvedic Medical College, Hospet
26. Sri Sri College Of Ayurvedic Science and Research Center, Bangalore
27. S.D.M.Trust Ayurvedic Medical College, Terdal
28. SMVVS Rajeshwari Karpurmath Memorial Ayurvedic Medical College, Behind KC Nagar, Bijapur
29. Sri Dharmasthala Manjunatheshwara Institute Of Ayurveda Hospital, Bangalore
30. DR. B.N.M. Rural Ayurveda Medical College, College Road, Bijapur
31. Govt. Homoeopathy Medical College, Bangalore
32. Father Mullers Homoeopathy Medical College, Mangalore
33. A.M.Sheik Homoeopathy Medical College, Belgaum
34. Bharatesh Homoeopathy Medical College, Belgaum
35. Dr.B.D.Jatti Homoeopathy Medical College, Dharwad
36. H.K.E.Society Homoeopathy Medical College, Gulbarga
37. Govt. Unani Medical College, Bangalore
38. Luqman Unani Medical College, Bijapur
39. S.D.M.College Of Naturopathy and Yogic Science, Dakshina Kannada Dist
40. Alvas Education Trust Nature Cure & Yogic College, MOODBIDRI, D K
To view the detailed fee structure, click on https://medicaldialogues.in/pdf_upload/fees-174154.pdf