DNB at Peripheral Hospitals: NBE nod to only 2 Hospitals out of 6 in Maharashtra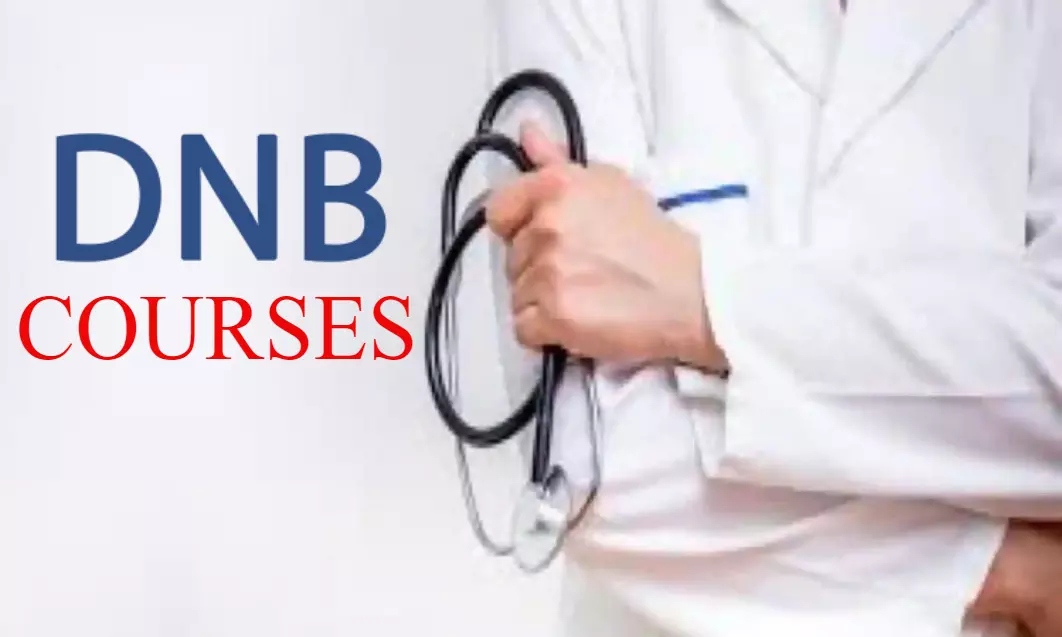 Mumbai: In a setback to medical education in Maharashtra, among the innumerable Diplomate of National Board (DNB) courses proposed by six civic-run peripheral hospitals in the suburbs of Mumbai, the National Board of Examinations (NBE) has chosen only five DNB and PG Diploma course seats at two hospitals.

The two peripheral hospitals that have been shortlisted by NBE include the Bandra-based K B Bhabha Hospital, with 436 bed capacity, and the 279-bed V N Desai Hospital in Santacruz East, adds Mid Day.
In the case of Bhabha Hospital, one DNB seat for General Surgery and one each for DNB and PG Diploma pathology courses and at V N Desai one DNB and one diploma seat in Anaesthesiology have been approved by NBE.
Already the Bhabha hospital has two DNB and two Diploma seats in Orthopedics. However, the accreditation will expire in December 2021.
Even though these two hospitals have got a nod from the NBE, the Brihanmumbai Municipal Corporation hospitals are yet to get approval for running DNB courses.
Also Read: DNB Post MBBS, Diploma Courses in Haryana: In-service Doctors to Avail 50 percent Reservation

As per the latest media report by Mid Day, even though the senior health officials at BMC are hopeful for getting NBE's nod from the next academic year, questions like whether the shortlisted peripheral hospitals will have to be set up for teaching the specialized branches are also doing the rounds.

A health official told Mid Day, on condition of anonymity, "It is good that V N Desai Hospital got two seats in Anaesthesiology for DNB. However, we must understand that Anaesthesiology is a specialised course and also requires on the job training as there are numerous sub branches, for example, neuro, cardiac, pediatric anesthesia etc. Ideally, the postgraduates must have practical experience, which is not possible at V N Desai, as these specialised surgeries do not happen here."
While commenting on the issue, a Professor of Surgery at DY Patil Medical College and Hospital, Dr Ketan Vagholkar told the daily, "In speciality courses like Anaesthesiology, candidates will need to undergo additional rotations in super speciality departments of BMC-run medical colleges in order to complete satisfactory training."
"The rule is that Master in Surgery (MS) and Doctor of Medicine (MD), and DNB courses cannot offer parallel or in a single teaching institute. BMC will then have to work out a comprehensive model whereby students opting for broad DNB specialities will be exposed to super speciality on-the-job practical training," he added.
Meanwhile, expressing their hope for getting accreditation for the remaining peripheral hospitals, Suresh Kakani, additional commissioner (health), BMC told the daily, "We are hopeful that the remaining peripheral hospitals will also get the accreditations for conducting DNB courses soon. If all goes well, within this academic year itself, most courses would commence. The NBE inspection is still underway and all approvals do not come in one go."
"Post the inspection, NBE team submits their remark, following which the peripheral hospitals have to rework on the suggestions/remarks and accordingly a fresh inspection is done. Once the team is satisfied, accreditation is granted," he further explained.
"Those specialised courses which are not available in the peripheral hospitals for DNB/PG Diploma students, we would ensure that they get the clinical practical exposures in BMC-run medical colleges. We have already adopted a method of having three to four peripheral hospitals connected to one major civic-run medical college for providing best medical care and knowledge sharing/guidance at any point in time," he added.
Meanwhile, BMC has already started the process for hiring 186 DNB faculties for the peripheral hospitals so that they get nod from NBE for running the DNB programme. Already around 146 posts have been filled and the faculties are getting paid at a scale ranging from Rs 1.50 lakh to Rs 2 lakh.
Besides, recently, most of the six peripheral hospitals have conducted complicated surgeries including oral mucosa cancer, knee and hip replacement, spine surgeries and gynaecological surgeries free of cost under the Mahatma Jyotiba Phule Jan Arogya Yojana.
Also Read: 2 doctors, nurse from Nair Hospital suspended for alleged negligence
Source : with inputs