OCI candidates can get admission to only NRI quota seats after taking NEET: MHA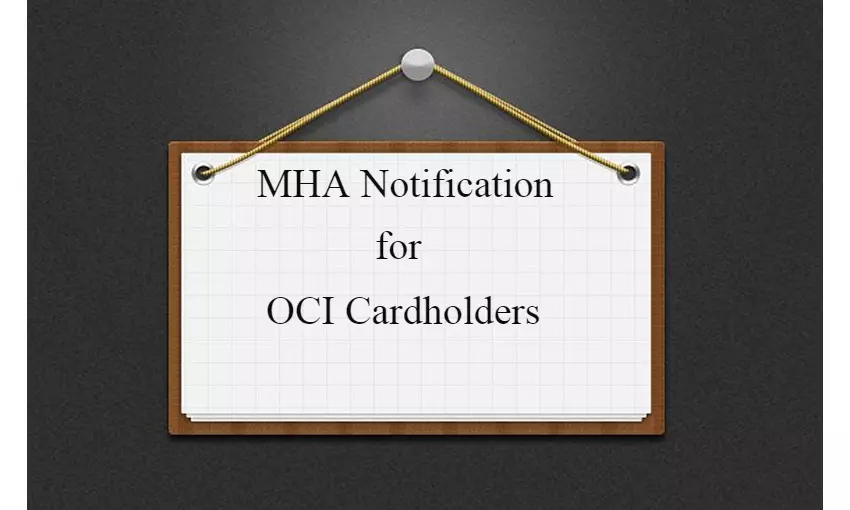 New Delhi: OCI candidates can only get MBBS/BDS admissions to the NRI quota seats in the medical colleges across the country based on their NEET score.
The information to this effect comes from a recent gazette notification issued by the Ministry of Home Affairs (MHA) wherein it said that Overseas Citizen of India (OCI) Cardholders can secure admission to "only NRI (Non-Resident Indian) quota seats" in educational institutions based on all-India entrance tests such as National Eligibility cum Entrance Test.
Although they have been given parity with the Indian citizens in several aspects, in case of education their parity remains along with the Non-Resident Indians.

As per the latest gazette notification, dated 04.03.2021, the OCI cardholders "appearing for the all India entrance tests such as National Eligibility cum Entrance Test, Joint Entrance Examination (Mains), Joint Entrance Examination (Advanced) or such other tests" would be "eligible for admission only against any Non-Resident Indian seat or any supernumerary seat". This way, the OCI cardholders won't be eligible for "admission against any seat reserved exclusively for Indian citizens."
The fresh notification has replaced three previous notifications issued on the subject on April 11, 2005; January 5, 2007; and January 5, 2009, respectively.
OCI cardholders are actually citizens who are originally from India but they have foreign passports. Although India doesn't entertain dual citizenship it provides them with certain benefits under Section 7B(I) of the Citizenship Act, 1955.
Also Read: Not mandatory for OCI cardholder to possess an Indian passport: Bombay HC upholds MBBS admission granted to student

As per the latest media report by The Hindu, a Ministry official had informed that several OCI cardholders had filed petitions in courts that were eligible to get admission against general seats in medical, engineering and other government colleges if they clear the all-India tests.

MHA, in March 2019, had given clarification regarding the issue and had informed the Karnataka High Court that the students with OCI cards had "parity with Non-Resident Indians (NRIs) and can lay claim only on the NRI quota seats based on the all-India tests".
However, on December 15, 2020, Karnataka HC had directed that the OCI cardholder students were to be recognized as "citizens of India" for admission to professional courses and asked the State government to admit them to undergraduate professional courses, including engineering, medical, and dental, even under the government and institutional quotas, and not to restrict their admission only under the NRI quota. However, the recent MHA notification has given clarity regarding the issue.
To view the original MHA notification, click on the link below.
Source : with agency inputs