Bhima Bhoi Medical College: Attendants brutally assault duty doctor after patient death, ransack COVID facility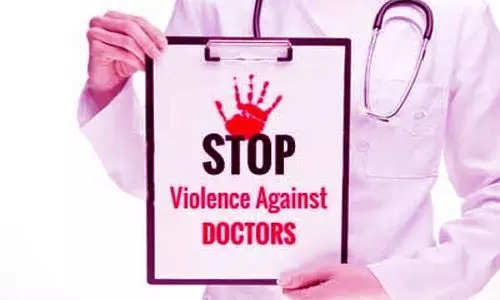 Balangir: In a shocking incident, an on-duty doctor attached to Bhima Bhoi Medical College and Hospital (BBMCH) was brutally assaulted following the death of a patient. The infuriated attendants of the patient thrashed the doctor severely and also ransacked the COVID-19 isolation center alleging medical negligence that resulted in the death of the patient.
As per recent media accounts, the incident took place on August 8 (Saturday) after a patient from the Bishnupur area who was brought to the hospital at 10 in the morning, died hours after he was admitted to the isolation ward.
Tension ran following the death of the patient and the deceased's attendants started accusing the hospital authority of their negligence. They alleged that the hospital was negligent towards the patient that resulted in the patient's death.
They then resorted to violence and vandalized the hospital along with attacking the doctor who was in charge of the isolation ward. The doctor suffered serious injuries on his head and fingers. He was immediately admitted to the hospital for treatment.
Meanwhile, police rushed to the spot and took the situation under control. The additional SP Manoranjan Pradhan and sub-collector Sanjay Mishra both visited the hospital and held a meeting to discuss the matter with the enraged relatives of the deceased.
Also Read: Nashik: Doctor beaten up, hospital equipment vandalised after patient's death, 3 arrested
Commenting on the incident, Bhima Bhoi MCH assistant superintendent Prabhat Kumar Rath refused to accept the allegation and told OdishaTV that "There was no medical negligence. We conducted the patient's antigen test and immediate treatment was provided to him." "The government must ensure safety to the doctors. We demand stern action against those who have attacked our staff," Rath added.
At a time like this, when the whole medical fraternity is offering their services day and night to handle the pandemic, this brutal attack on a doctor was severely criticized by the medical faculty and the health workers of the facility.
Following the brutal attack on the doctor, the medical staff of the hospital along with many doctors and nurses have set on a Dharna, protesting the violent acts. They also demanded that strict action should be taken against offenders who are responsible behind the attack.
One of the protesting doctors told the daily, "We demand the immediate arrest of the culprits. Charges should be framed against them under NSA Act. Moreover, we demand that only patient should be allowed to the COVID-19 isolation ward,"
On the other hand, the family members of the deceased have also lodged an FIR with Balangir police station against the doctor incharge, reports
The New Indian Express.
Source : with inputs