RGUHS notifies on Online Provisional Degree Certificate, Details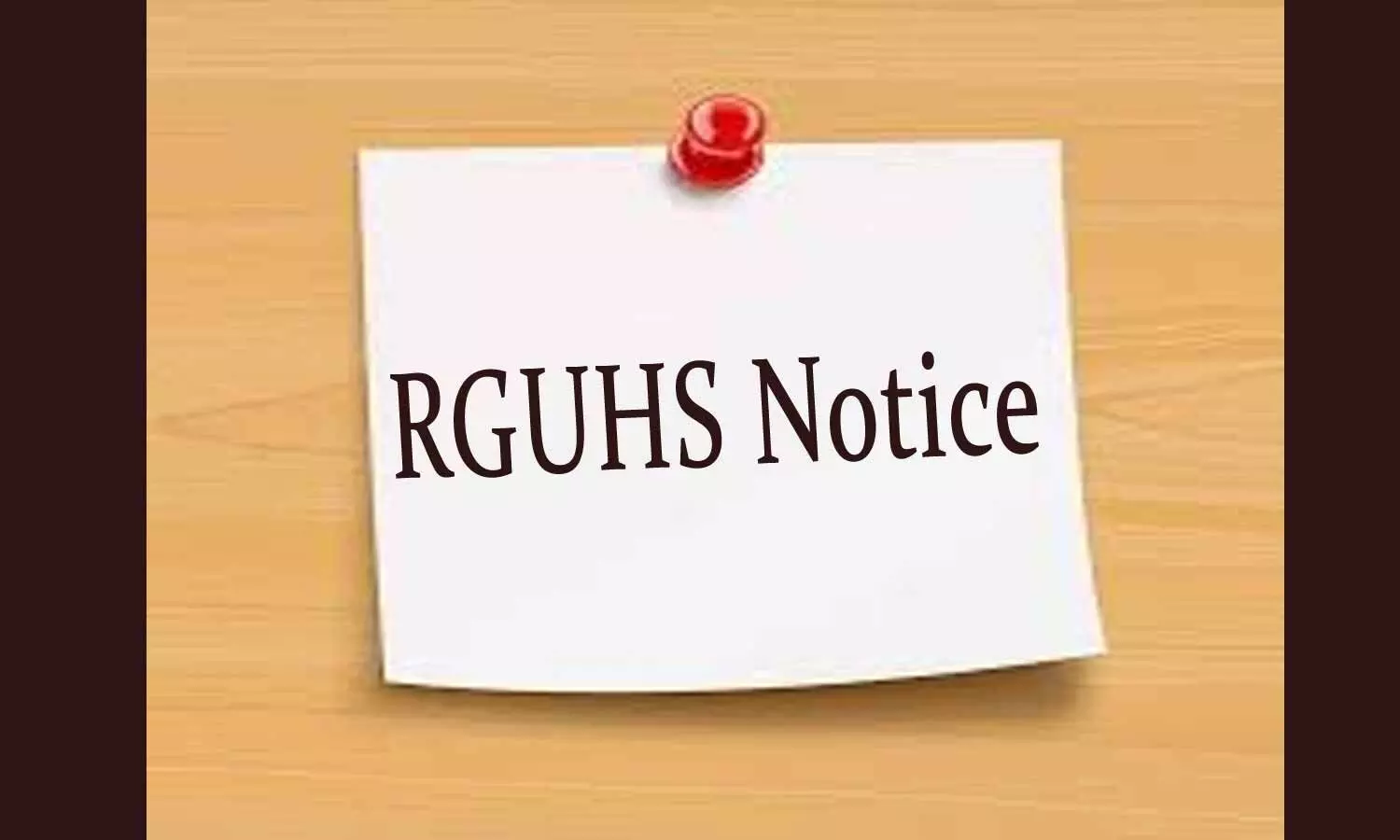 Bengaluru: Through a recent notification, the Rajiv Gandhi University of Health Sciences (RGUHS) has informed about the Online Provisional Degree Certificate (Online PDC) Under Sakala Service.
Rajiv Gandhi University of Health Sciences had introduced an online provisional degree certificate from April this year. During the period of COVID 19, to facilitate the safety of the student community, Hon'ble Vice-Chancellor has directed to provide service of the online provisional degree certificate. Now, the online PDC Service is brought under SAKALA service. Hence this notification.
Activities in Online Provisional Degree Certificate Service
1. The Principal of the respective college shall enter internship details and upload an internship certificate of respective students through the college portal immediately after' successful completion of the internship.
2. The Student shall visit http://rguhs.karnataka.gov.in/rguhs pdc/ to apply for online PDC. The registration of the candidate will be authenticated through the OTP.
3. After successful authentication of the candidate online PDC shall be generated at RGUHS.
4. Digitally signed PDC by the Registrar (Evaluation) will be generated and hosted.
5. The students can download the online provisional degree certificate.
A Penalty fee of Rs. 100 shall be imposed after three attempts in corrections in online PDC. Name correction in the online PDC shall attract fees of Rs. 100.
For more details, log on to the official website of RGUHS:

The Government of Karnataka established the Rajiv Gandhi Health Sciences University Act, 1994 under the aegis of the Government of Karnataka to establish and establish a university for the purpose of ensuring proper and systematic education, teaching, training and research in modern medicine and Indian medicine in the State of Karnataka. The University was opened on June 1, 1996 and has been sponsored by the newly established Rajiv Gandhi University of Health Sciences University with about 210 colleges affiliated to other traditional universities in the state of Karnataka.
Karnataka has the reputation of being the largest health sciences university in the country with over 700 medical, dental, Ayurvedic, homeopathic, naturopathic and aesthetic, Unani, pharmacy, nursing, physiotherapy and other semi-medical colleges spread across the state.
SakalaWith the rise of the Institute of Health Sciences in the University, many changes have been made to the textbook and assessment methodology for better prospects of students for various medical and semi-medical courses. Improving the health and well being of the medical and health sciences will improve the health of society To this end, our university has introduced new innovations in the field of good teaching and curriculum of various courses, focusing on the outlook of society and the future of students.

Rajiv Gandhi University of Health Sciences has been acclaimed by the Indian Institute of Medical Sciences as well as the world-renowned educational institute for its curriculum for futuristic courses.