1 year Jail, Rs 3 lakh compensation for Kerala Gynaecologist on newborn death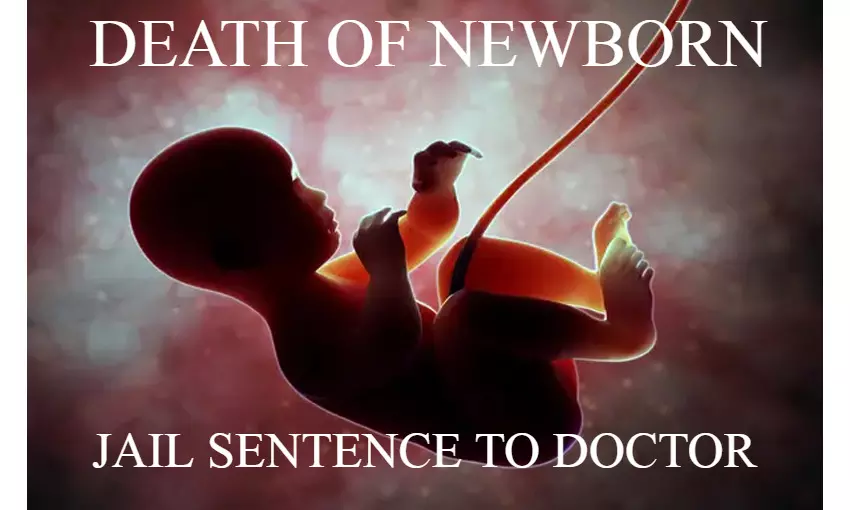 Kochi: Observing that the lack of due diligence on the part of the treating doctor resulted in the death of a newborn three days after birth, the Ernakulam Judicial First Class Magistrate Court has sentenced a Kerala-based gynaecologist to one year of imprisonment and asked to pay Rs 3 lakh as compensation.

The doctor will have to pay Rs 2 lakh to the mother for the loss and Rs 1 lakh to the father. In case of any default in the payment of the fine, the doctor will have to undergo an additional six months of jail, the Court has recently ordered.
According to recent media accounts, allegations are that the doctor attached to the General Hospital of the district, left the complainant unattended during childbirth even after being aware of her complicated medical condition, which ultimately resulted in the demise of the child.
Also Read: Newborn delivered with down syndrome: Consumer Forum exonerates Assisted Reproductive Technique Specialist

As per the latest media report by Kerala Kaummudi, the Complainant was taken to the hospital on September 27, back in 2007. Her due date was on September 30 which was a holiday, and the doctor didn't come to the hospital on that day for this reason, it had been alleged.

It was further submitted before the court that although the complainant was taken to the labor room on the next day, she was again transferred back to the ward. The complainant had developed a fever and had other health-related complications. However, it was further alleged that even after being informed about these problems, the doctor didn't check on the patient.
Following this, the mother of the complainant visited the doctor in the evening and paid Rs 500. The next day, on October 2, the complainant gave birth to the child. However, allegations are that the baby died due to health problems caused by the fact that feces entered the baby's lungs in the womb due to delayed delivery.
The Hindu adds that E. K. Sheeja, Assistant Public Prosecutor contended that the treating doctor negligently caused a delay in the delivery beyond the expected date. This ultimately caused the baby in the womb to aspire meconium-stained fluid and finally die after three days of birth.
He further contended that the death of the newborn happened due to the lack of reasonable skill and care of the gynecologist.
Magistrate S. Shahmed examined 16 witnesses, including a forensic surgeon. Further, the court considered and verified 15 documents presented as evidence to rule that the gynecologist had not shown due diligence and consideration as a professional and was guilty of unforgivable omission.
Also Read: Tamil Nadu doctor sentenced to 3 years jail for violating PCPNDT, MTP Act
Source : with inputs