AIIMS, PGIMER Scientists among 16 honored with prestigious ICMR Awards 2019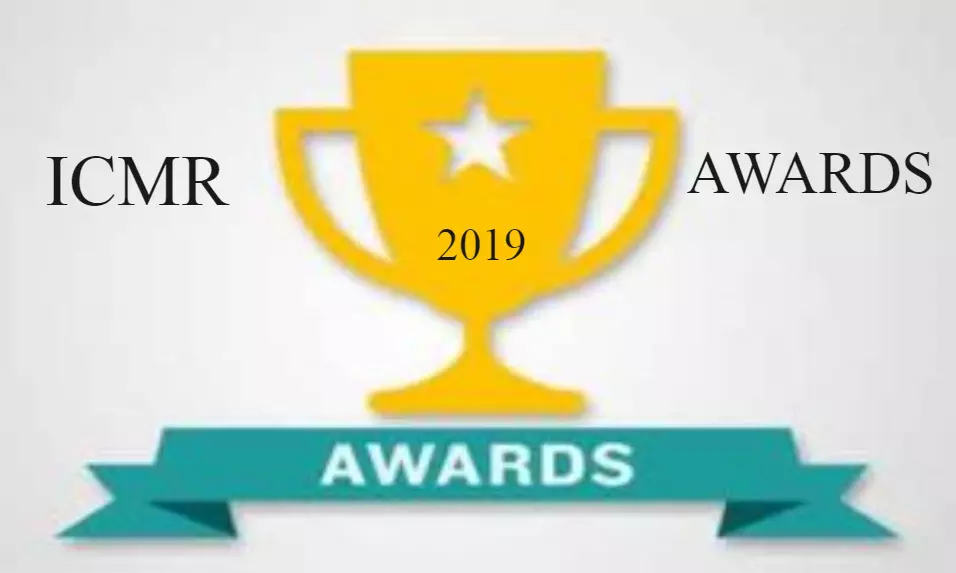 New Delhi: Sixteen Indian scientists have been conferred with the prestigious ICMR Awards for their contributions in the field of biomedical research by the Indian Council of Medical Research (ICMR) that has recently published the final selection result for ICMR Awards and Prizes 2019.

The awardee includes scientists from pioneer institutions like the Postgraduate lnstitute of Medical Education and Research (PGIMER), Chandigarh; All Indian Institute of Medical Sciences (AIIMS), New Delhi; Kalinga lnstitute of Medical Sciences (KIMS), Bhubaneswar; and others.
PGI Chandigarh takes a lead in the list on the basis of the number of awardees as 3 doctors from the premier medical institution have been honored with the ICMR awards.
The awardees from PGIMER, Chandigarh include Dr. Surinder Singh Rana, Professor of Department of Gastroenterology, Dr. Suresh Kumar, Assistant professor of Department of Pediatrics, and Dr. Ritesh Agrawal, Professor, of the Department of Pulmonary Medicine.
Dr. Rana has been given this distinct honor of ICMR Amrut Mody Unichem Prize 2019, for his distinguished contributions in the management of pancreatic diseases, while, Dr. Kumar has received the ICMR Dr. H.B. Dingley Memorial Award (Paediatrics) 2019 for his contribution to the role of probiotics in children suffering from sepsis. Both these scientists have hundreds of publications in peer-reviewed national and international journals.
Meanwhile, Dr. Ritesh Agrawal has been conferred with the ICMR Chaturvedi Ghanshyam Das Jaigopal Memorial Award (Immunology) 2019, for his significant contributions.
Read also: 21 Awards For Medical Research: ICMR Calls For Nominations/ Applications For Awards N Prizes- 2019
Dr. D. Nageswara Rao, former Professor and Departmental Head of All India Institutes of Medical Sciences (AIIMS), New Delhi, also has also made it to the list among the awardees. Further, two scientists from the Central Drug Research Institute (CSIR), Lucknow, Dr. Wahajuddin Principal Scientist, Division of Pharmaceutics & pharmacokinetics, and Dr. Susanta Kar, Senior Scientist, Molecular Parasitology and Immunology Division have bagged the awards for their contributions to biomedical research.
ICMR awards recognize the contributions of Indian biomedical scientists undertaking pioneering work in various fields of health sciences and finding solutions for the health problems of the country.
Medical Dialogues team had earlier reported that ICMR had invited Nominations/Applications from Indian scientists for ICMR Awards & Prizes for the year 2019. Although there had been 20 categories for the ICMR Awards, 2019, awards have been given for 13 categories only.
Awards for the 7 Categories including Dr. B.R. Ambedkar Centenary Award for Excellence in Biomedical Research (Biomedical Research), Dr. Subhas Mukherjee Award, ICMR Kshanika Oration Award (Biomedical Sciences) ICMR Tilak Venkoba Rao Award (Psychological Medicine), Dr. D.N. Prasad Memorial Oration Award (Pharmacology), Dr. M.O.T. Iyengar Memorial Award (Malaria, Filariasis, Plague or Medical Entomology), and ICMR Chaturvedi Kalawati Jaghmohan Das Memorial Award (Cardiovascular Diseases) have not been conferred to anyone.
To check the official list of awardees, click on the link below:
https://medicaldialogues.in/pdf_upload/resultforicmrawardprizes2019-146712.pdf