Gujarat Govt to rope in private practitioners to deal with doctor shortage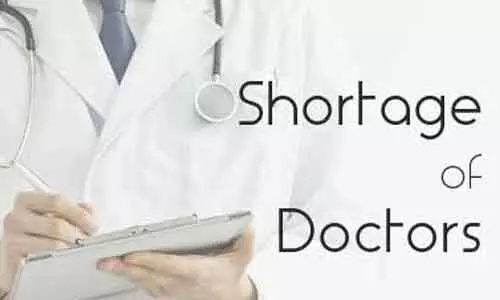 Gandhinagar: In an attempt to address the acute shortage of health specialists in the State-run hospitals in Gujarat, the Government has decided to take steps to rope in private practitioners for the purpose.

PTI reports that Deputy Chief Minister Nitin Patel made the announcement in the Gujarat Legislative Assembly while responding to a question on the shortage of child specialists in the state-run hospitals. In his reply, Patel, who holds charge of the health department informed the House that 58 posts of child specialists were to be filled in different state-run hospitals as of December 2020.
He said the majority of the doctors after getting their degree join private practice after serving the stipulated bond period with government-run hospitals.
"In 2015, the state government issued an advertisement for recruitment of 141 child specialists. At the end of the recruitment process, we found only six doctors were ready to serve in our hospitals as everyone wants to do private practice and they don't want to serve in government hospitals," said Patel.
He said doctors were not ready to serve even part-time for a salary of Rs 85,000 per month when the government needed services of general physicians when COVID-19 was at its peak and the government staff was not adequate.
Also Read: Gujarat Govt turns to en masse transfer of faculty as NMC inspection of PG courses inches closer

The Indian Express reports that the doctors who were to leave their private practice to work for the Government had been offered about Rs 1.5 lakh during Corona. Even then doctors were not ready to come.

"Even AYUSH doctors, mostly Ayurveda practitioners were not ready to join for a salary of Rs 30,000 per month to serve on Dhanvantari Raths," the deputy chief minister said.
He said the main reason why doctors were not available was the lesser number of MBBS seats in Gujarat in the past.
The Indian Express adds that the deputy chief minister has further informed that 15 percent of the medical students who study in Gujarat are from outside the state and they leave after finishing their course. Even many of the local medical students prefer to go overseas. "We are going to increase their salaries and emoluments. We have also decided to take the honorary service provided by some of the famous doctors," Patel added.
Congress MLA Ashvin Kotwal had reportedly wanted to know if medical students could be asked to sign bonds for serving in tribal areas. Patel informed him that the Government had been also increasing the amount of bonds.
"Five years ago, as the state health minister, I had decided that the 15 percent medical students coming to Gujarat for studying will have to serve a Rs 50 lakh bond if they fail to serve rural areas after their studies. These students filed a writ in Gujarat High Court which ordered that such a bond cannot be imposed on students from other states," he said.
"But now, we have 5,500 medical seats in Gujarat. I am confident that we will get more doctors in future," he said.
To cope with the issue of shortage of doctors, Patel said the government will bring a new policy soon.
"Till now, private doctors were not allowed honorary service in state-run hospitals. That window was shut. Now, we have decided to take the services of renowned private doctors," said Patel.
The state government will come up with a policy in this regard soon, he said. "Many private doctors want to serve the society. Under the new policy, they will treat patients in government-run hospitals and also teach our medical students," he added.
Also Read: Unable to start medical practice due to discrepancy in birth date: Surat doctor with Foreign MBBS Degree moves Gujarat HC
Source : with agency inputs