Health Ministry holds high-level meeting on Violence Against Healthcare Workers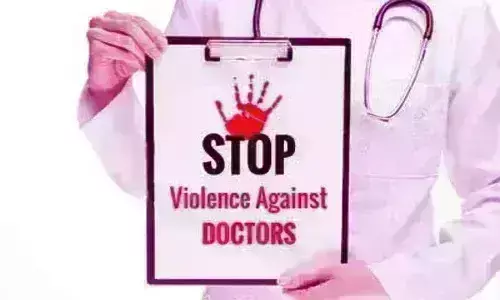 New Delhi: In an attempt to address the issues related to violence against doctors and healthcare workers, the Directorate General of Health Services (DGHS) had organized a high-level virtual meeting today, which was chaired by Dr. Sunil Kumar.

Several associations including the Indian Medical Association (IMA), Federation of Resident Doctors' Association (FORDA), Federation of All India Medical Association (FAIMA), and Nursing Union (AIIMS Delhi) attended the meeting where the probable measures to prevent such incidents of violence were discussed in detail.
Apart from the associations, several Directors, Medical Superintendents, Secretaries and several key top officials from DGHS, RML Hospital, VMMC & Safdarjung Hospital, Lady Hardinge Medical College (LHMC) also attended the meeting. There were representations from the advocacy and the police as well including the Joint Commissioner of Police.
After a brief welcome note, Dr. Sunil Kumar discussed the issue of violence against healthcare workers and talked about the necessity of figuring out a way to prevent and decrease violence.
He highlighted the three most important aspects that required attention. These aspects included preventing overcrowding of patients and their attendees, filling up vacancies and empowering our nurses to utilize their facilities in more efficient ways, and improvement of the system of care by better SOPs, prompt diagnosis, and management.
Stressing upon the fact that there must be "Zero Tolerance" towards any violence or harassment in any form, he mentioned that the aim should be for 100% conviction and compensation of such acts. He also suggested the creation of Subgroups and SOPs at the local level to ensure resident doctors and nurses are safe and sound.
Also Read: On eve of Doctors Day, AIIMS Junior Doctors brutally assaulted by mob

During the proceedings of the meeting titled "Violence on Healthcare Workers", "Dr. Suvrankar Datta, Junior Resident, AIIMS, New Delhi and General Secretary, FAIMA spoke and put forward the demand for a Central Protection Act which must ensure that such offenses be booked as a non-bailable offense and the offenders be arrested in a time-bound manner. He highlighted the rising incidents of violence wherein the assaulters often roam scott-free and remain unarrested for prolonged periods and often released on bail once the situation settles down. He reiterated the fact that a strict Central Act against Violence is essential to ensure that implementations are happening throughout the country in a fair manner," mentioned the recent Press Release by FAIMA.

"Dr. Manish Jangra, Founder, FAIMA mentioned that it's a headache to get FIRs done whenever such acts happen and that Institutional FIRs must be done promptly in all cases. He also stated that the public perception must be changed and we must work towards that," the Press Release added.

Apart from FAIMA, other associations including FORDA and IMA also expressed their views regarding the matter. FORDA in a recent press release mentioned, "Extensive discussion was held on the suggestions & the need for implementing a "Central Act for Protection of Doctors" across the Nation. Hon'ble DGHS assured of taking necessary actions at the earliest, based on the suggestions put forward & the discussion held in the Meeting. The detailed "Minutes of Meeting" will be shared by the Office of DGHS soon."
It should be mentioned in this context that earlier FORDA had written to the Union Health Minister on 22.06.2021 regarding several suggestive measures to stop violence against doctors. Their suggestions included introducing the provisions of Institutional FIR, Fast-track court hearings, three tier systems to segregate patients as per health conditions, ensuring adequate staff and security support, installation of CCTV, barricading outside OPD and Casualty, among others. Following this representation on the part of FORDA, DGHS invited them to today's meeting to discuss the issues in detail.
Speaking to Medical Dialogues regarding the issue, Dr. Manish, the President of FORDA said, "FORDA was invited for the meeting after our representation that was submitted on June 24, where we had mentioned some suggestive measures to prevent the violence against doctors and healthcare workers. After that, the honorable DGHS had called for a meeting today."

Giving more details about the meeting that was held today, Dr. Manish added, "the Honorable DGHS has appreciated the measures we had suggested and they have assured us that those possible measures would be implemented to stop the violence against the doctors and healthcare workers."
After listening to all the suggestions by all the stakeholders, Dr. Sunil Kumar concluded the meeting stressing the fact "that prevention of violence is the key and there is an immediate need to devise ways for prevention of assault at our workplaces, which may be immediately initiated at local and institutional levels," mentioned FAIMA in their Press Release.
Also Read: Violence against Doctors: DMA reaches Supreme Court seeking central guidelines, compensation scheme