MP: Man assaults, unleashes dog on MBBS student for not replying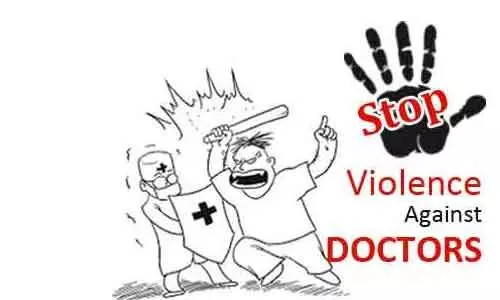 Bhopal: Not entertaining a strange man costed an MBBS student and his friend heavily as the man not just assaulted but also set his pet dog on them for allegedly not replying him which made the man angry enough to attack the doctor and his friend.

The victim has been identified as a 23-year-old MBBS student who is pursuing his medical education from a private medical institute.
The medical student along with his friend was heading towards a shop when the accused suddenly started initiating a conversation with him. The medico in his complaint stated that when he did not respond to him, the accused allegedly thrashed the student and unleashed his pet dog on them.

Based on the complaint, Police have registered a case against the accused.
As per a recent report by the
Freepress journal
the medico and his student met the accused near a medical shop, who approached the medico and asked him where he was going. The doctor was unwilling to entertain him and when he ignored the man he allegedly became angry and attacked the doctor. Moreover, he set his pet dog on him.
The medico further alleged that when one of his friends tried to intervene and save the doctor the accused also directed his dog and set it on his friend as well. Both the medico and his friend were bit by the dog and were injured. The attacks stopped when the mother of the accused came and took him away.
The Kolar Police has registered a case against the accused under section 294 323 506 and 289 of the Indian Penal Code, reports the daily.

Last year in April, the government had cleared an ordinance bringing strict punishment on violence against doctors. The Union Cabinet had amended the Epidemic Diseases Act 1987 through an ordinance in order to ensure the safety of health workers.
Any violence against health workers now can lead to paying a steep fine and even serving imprisonment of up to 7 years. Such violence can be a non-bailable offense also, however, the ordinance would help protect health care service personals only, in their living or working premises against violence.
Source : with inputs