Noted cardiologist, known as Father of Cardiology in Odisha Dr Jadunath Prasad Das no more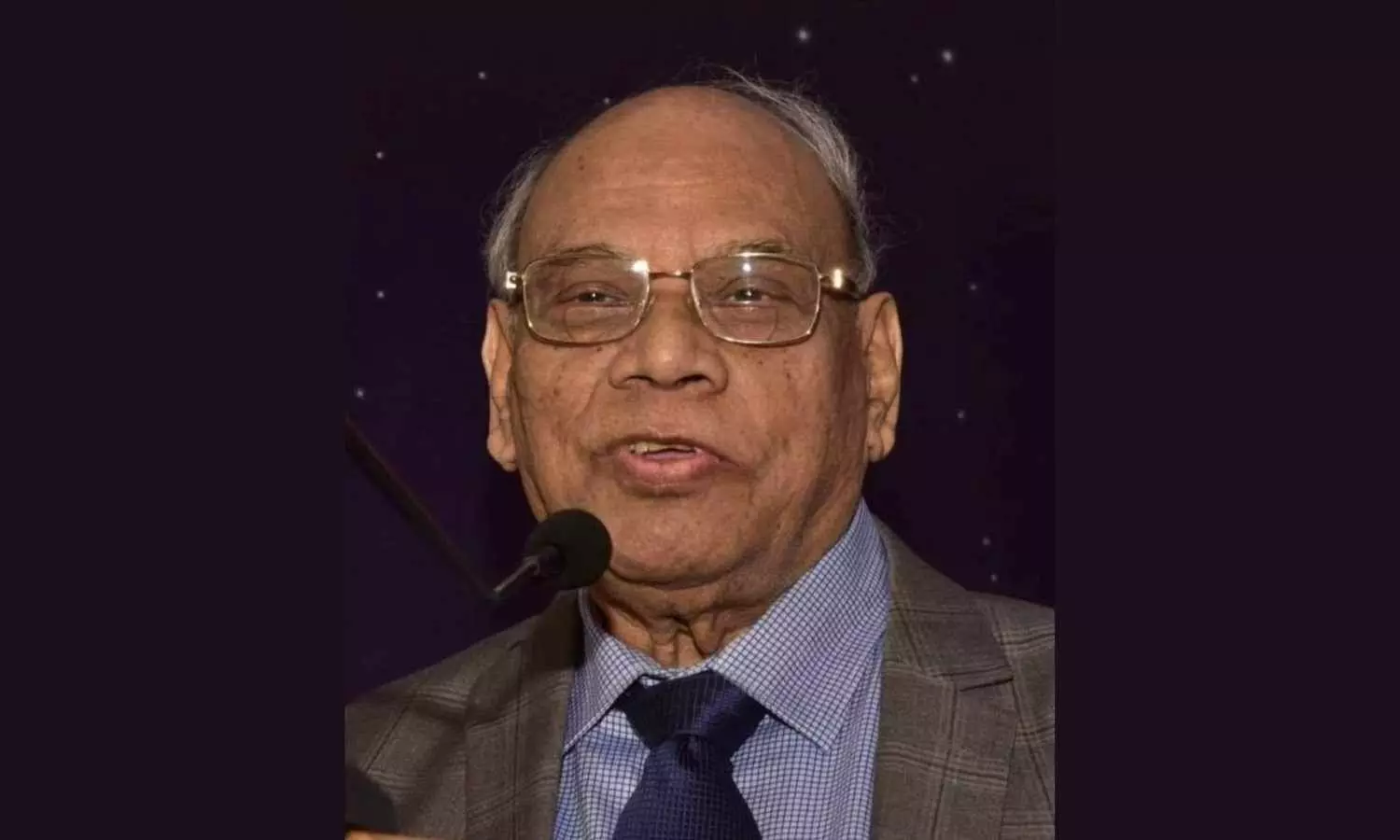 Cuttack: Eminent cardiologist, writer and painter who is widely recognized as the 'father of cardiology' in Odisha after significant contributions to the field, Dr Jadunath Prasad Das breathed his last at a private hospital in Bhubaneswar on Sunday evening at the age of 92.
Dr Das was the former Head of the Department (HoD) of the cardiology department of SCB Medical College and Hospital who dedicated his life to conducting research and making academic contributions to the field of Cardiology, resulting in significant achievements in the field.
According to TNIE news reports, he was undergoing treatment at a private hospital in the city for the last few days as he was suffering from old age ailments. Unfortunately, he passed away.
He is survived by his wife, social worker Gayatri Das and son Dr Debabrat Das. His last rites will be performed at Khannagar crematorium today.
Also read- RIP: Renowned Urologist Dr Laxman Prabhu Passes Away After Succumbing To Cardiac Arrest While On Duty
His death was mourned by his family members and the medical fraternity who were saddened by his passing. His students also expressed their condolences and deeply mourned the loss of their teacher.
Offering condolences to the doctor's family, Odisha Chief Minister Naveen Patnaik took to 'X' and said "Saddened to know about the passing away of renowned cardiologist and fine artist Dr JP Das. He saved many lives with his pioneering contribution to the field of cardiology as the first Head of Cardiology Dept at SCB Medical College. My thoughts & prayers are with the bereaved family members."
Dr Das was born on August 5, 1933, to Srimati Nilamani Dei and Sri Biswanath Das and graduated from S.C.B. Medical College, Cuttack in 1956. He joined the premier institution in 1962. In the year 1969, he founded the Department of Cardiology at the SCB Medical College and Hospital and was the first professor of the Cardiology department. He worked in that capacity for 17 years before taking voluntary retirement in 1987.

He did his post-graduate studies in Medicine in the UK. He worked in London, Edinburgh and Manchester from 1960-62. He was at the C.M.C. Hospital, Vellore from 1966-68 and obtained his Doctorate Degree in Cardiology. Dr Das visited the U.K., Holland, Denmark, Sweden, Moscow and the USA for studies and training.
He was a fellow of the American College of Cardiology, Royal College of Physicians of Edinburgh, National Academy of Medical Sciences India, Indian College of Physicians, Indian College of Cardiology and Cardiology Society of India.
He had set up the first 2D Echo Color Doppler and cathlab. The 6th qualified cardiologist in the country, Prof Das had authored several scientific papers and received numerous awards, including a lifetime achievement award by the Cardiological Society of India (CSI).
Dr Das exhibited his works in several cities in India. His painting exhibition was held in Kuala Lumpur, Malaysia in 2014. He wrote two books on art -THE MUSE OF HEART and THE DIALOGUE: HEART TO HEART and two poetry books in Odia and English along with his sketches. He was awarded a Doctorate in Science, Honoris Causa by the Utkal University.

Also read- Unfortunate: Senior Cardiologist, HOD At GB Pant Hospital Commits Suicide
Source : With Inputs BA in Journalism and Mass Communication
Exploring and learning something new has always been my sole motto. I completed my BA in Journalism and Mass Communication from Calcutta University. I joined Medical Dialogues in 2022. I mainly cover the latest health news, hospital news, medical college, and doctors' news.