Opposing mockery of allopathy, Doctors across country observe Black Band protest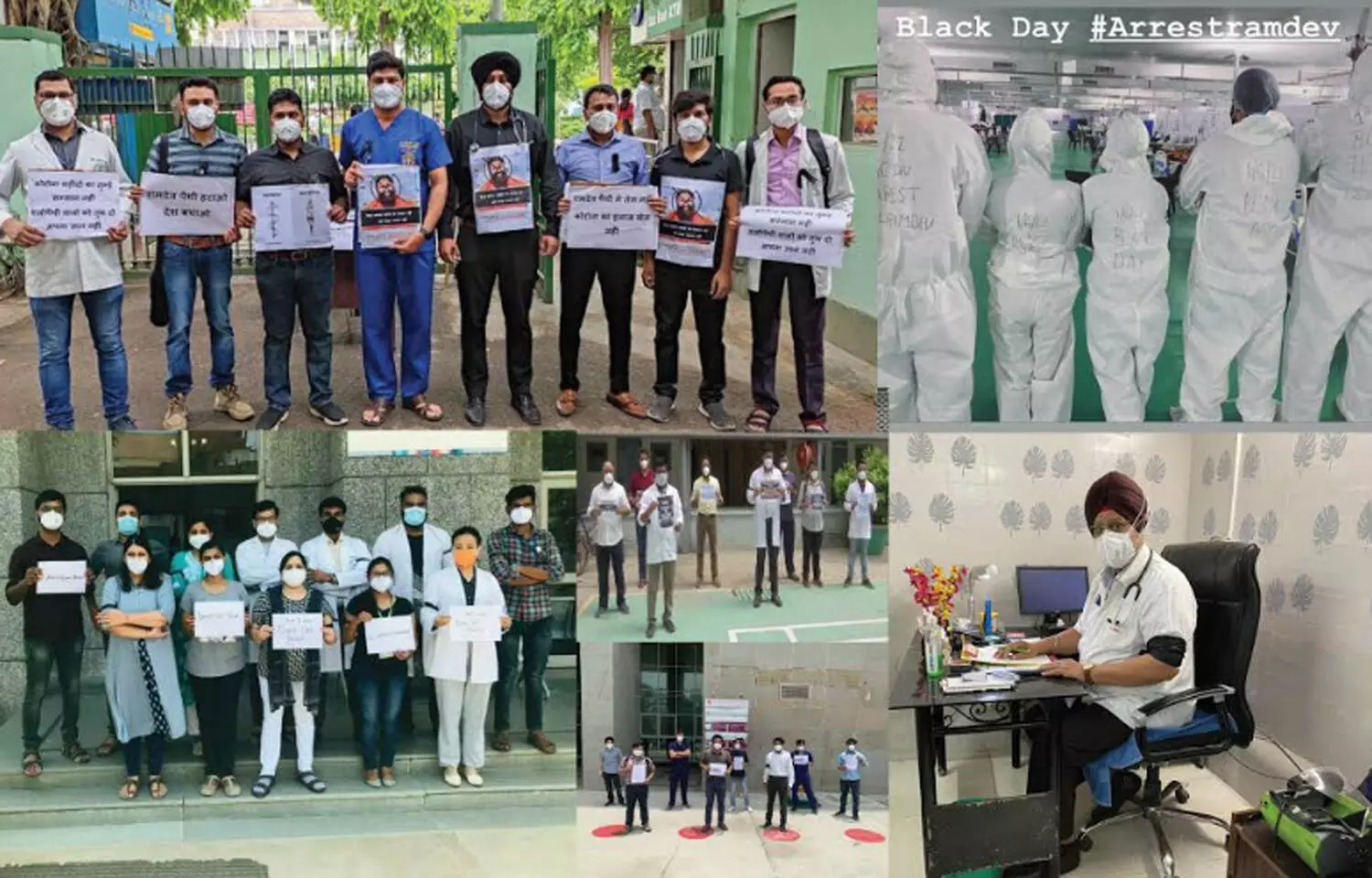 New Delhi: Launching a fierce agitation against Baba Ramdev for his alleged disparaging remarks against allopathy medicine and its practitioners, the doctors across the country are observing nationwide black band protest seeking immediate action against him.

The protest has been led by junior doctors and resident doctors across the country under the umbrella of the Federation of Resident Doctors Association (FORDA), Federation of All India Medical Association (FAIMA) and Resident Doctors Association (RDA) with the strong support from various medical organisations including the Indian Medical Association (IMA) Headquarters, IMA Rajasthan, Association of DNB Doctors (ADD), Joint Action Council of Service Doctors Organisation (JACSDO), Doctors Association Kashmir, All India ESI Doctors Association and All Rajasthan In-service Doctors Association.
RDA from AIIMS Delhi, Bhopal and Bhubaneswar, RML Hospital, NDMC Medical College and Hindu Rao Hospital, PGI Chandigarh, Punjab's Guru Gobind Singh Medical College, GMC Patiala, Tripura's Agartala Medical College, Tamil Nadu RDA, Maharashtra state Association of Resident Doctors (MARD), Ajmer's Jawaharlal Nehru Medical College, Meerut's LLRM Medical College, Udaipur, GMC Amritsar, Agra's Sarojini Naidu Medical College, Swami Dayanand Hospital Delhi showed immense solidarity to the protest.
Some participating organisations include the Junior Doctors Association (JDA) from Telangana, Bihar, from Surat Institute of Medical Education and Research, Medical College Baroda, RIMS Ranchi and IMA's JDA wing.
The protest also saw support from senior doctors coming together from Delhi Medical Association (DMA) and IMA.
The doctors have ensured that patient care would not be hampered during the protest.
At the root of the controversy is a video that started doing the rounds on social media, in which Ramdev calls modern allopathy "a stupid and failed science". He later raised 25 questions on the efficacy of modern medicine. He also questioned the effectiveness of the vaccines against the coronavirus disease while claiming that the fatalities caused by Covid-19 showed that allopathy was not 100% effective.
In response, the associations have sought an unconditional open public apology from Ramdev for their controversial statements on COVID warriors and modern medicine. The IMA had also served a defamation notice on Ramdev, demanding an apology from him, failing which it said it will demand compensation of Rs 1,000 crore from the yoga guru.
"We demand an unconditional open public apology from him or action against him under the relevant sections of the Epidemic Diseases Act, 1897," the statement by FORDA said.

Pointing out all the COVID warriors including doctors, nurses, safai karmachari, medical staff, police personal, etc. have worked more than their abilities during the pandemic and some of them have made great sacrifices, FORDA, as well as other associations, added that despite laying down their lives in the line of national duty, they have been subjected to " insensitive, inhuman and insulting statements of Ram Kisan Yadav alias of Baba Ramdev."
With this, FORDA called for a nationwide Black Day protest by doctors.

Supporting FORDA's stand, the DMA in its statement said, "In view of the inaction self-proclaimed leader Ram Kishan Yadav aka Ramdev, who has publicly made a mockery of COVID vaccination drive of the government, made a mockery of Modern medical science and the sacrifice and martyrdom of our colleagues and the frontline Healthcare workers of the country made a mockery of the overall scientific temperament of the country and opposed and mocked at ICMR Guidelines," the Delhi Medical Association, hereby declared full solidarity with the fraternity of Modern medicine.

View Photo: DMA's President Dr GS Grewal participating in black band protest
Meanwhile, FAIMA expressing disappointment at the lack of action against Ramdev despite his continuous efforts to disrespect healthcare workers and to undermine the sacrifices by our colleagues, stated, "This charlatan has publicly made a mockery of the sacrifice and martyrdom of our frontline Healthcare workers and has also made Statements which can result in vaccine hesitancy leading to a significant detrimental impact on Government of India's vaccination efforts. It is high time now that the medical fraternity and all stakeholders of Healthcare unite and give a strong response… We urge the Government of India to take immediate action against perpetrators of such heinous and deplorable acts, barring which our associations may need to take stronger measures. The medical fraternity is extremely tormented by regular attempts by mischievous elements to undermine our efforts in this battle."
IMA Junior Doctors Network stated that the modern medicine doctors have been fighting upfront during the COVID 19 pandemic and "we have not backed out even after seeing our colleagues getting infected and getting infected ourselves… We also support all the RDAs at the National and the state levels who have come together to demonstrate their anguish through a black day protest."
Further, Resident Doctors from AIIMS New Delhi have said, "Amidst the second wave of COVID-19, our fraternity of Corona Warriors has been striving hard to save our dearest motherland against the deadly pandemic. Despite the solemn pride of selflessly working out our abilities and even gloriously making supreme sacrifices; a new insensitive and insulting controversy by Mr Ram Kisan Yadav alias Ramdev 'Baba' has been brought in spotlight challenging and questioning the modern system of evidence-based medicine and making the joint efforts made by us all fighting the pandemic seem utterly naive and futile."
RDA AIIMS New Delhi:
"We also request competent authorities to take stringent action against Mr Ram Kisan Yadav and to book him under relevant sections of the Epidemic Diseases Act, 1897 for trying to create public unrest against the vaccination drive, harassing healthcare services personnel and preventing them from discharging their duties and creating misconceptions in common public which could cost them their dear lives," it added.
RDA AIIMS Bhopal:
Doctors from All India ESI RDA participating in the protest.

With the pan-India protest, #IndiaStandsWithDoctors has started trending on Twitter pouring support from the masses for doctors.