Rajasthan: Govt doctor suffers fracture in attack by patient's kin, 2 arrested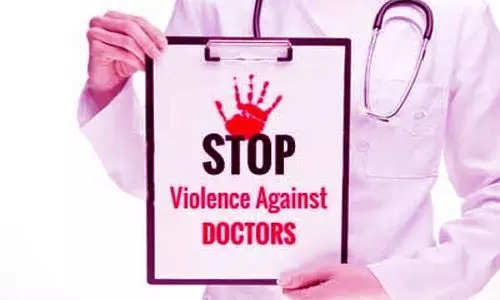 Jaisalmer: In a violent attack, a government doctor suffered grave injuries and a fracture in his hand after the kin of a patient assaulted him when he allegedly denied complying with their demand of going to the hospital for examining the patient for a second time.

The incident triggered the colleague doctors and nursing staff working in the hospital. The colleagues surrounded the victim's residence on getting the information about the attack and demanded strict action against the accused. Police intervened to take control of the situation and arrested the two assaulters.

As per the recent media report by
Times of India
, the doctor served at Pokhran Government Hospital; however, he was at his home on the day of the assault when suddenly the family members visited the doctor along with a child and requested the doctor to examine the child carefully. The doctor informed the family and assured them that their child had been examined well and had been given treatment accordingly.
The family members insisted that the doctor should take a second look at the child and forcibly tried to take him to the hospital. When the doctor refused to comply with the demands of the family members, the situation got intense and they resorted to violence.
Two of the family members allegedly attacked the doctor and thrashed him. The doctor suffered a fracture in his hand along with other injuries.
Pokhran SHO Manak Ram Vishnoi reached the spot on the day of the incident and arrested the youths under the charges of assaulting healthcare professionals. The police are investigating the case.
Meanwhile, the doctor and the health care workers of the hospital have demanded strict action against the culprits.
Medical Dialogues team had earlier reported that last year the government had cleared an Ordinance bringing stricter punishment on violence against doctors. The Union Cabinet amended the Epidemic Diseases Act, 1987 through an ordinance in order to ensure the safety of health workers. Any violence against health workers may now bring steep fines and even imprisonments of up to seven years.
Source : with inputs