AIIMS Madurai to get 85 percent funding from Japanese agency, reveals RTI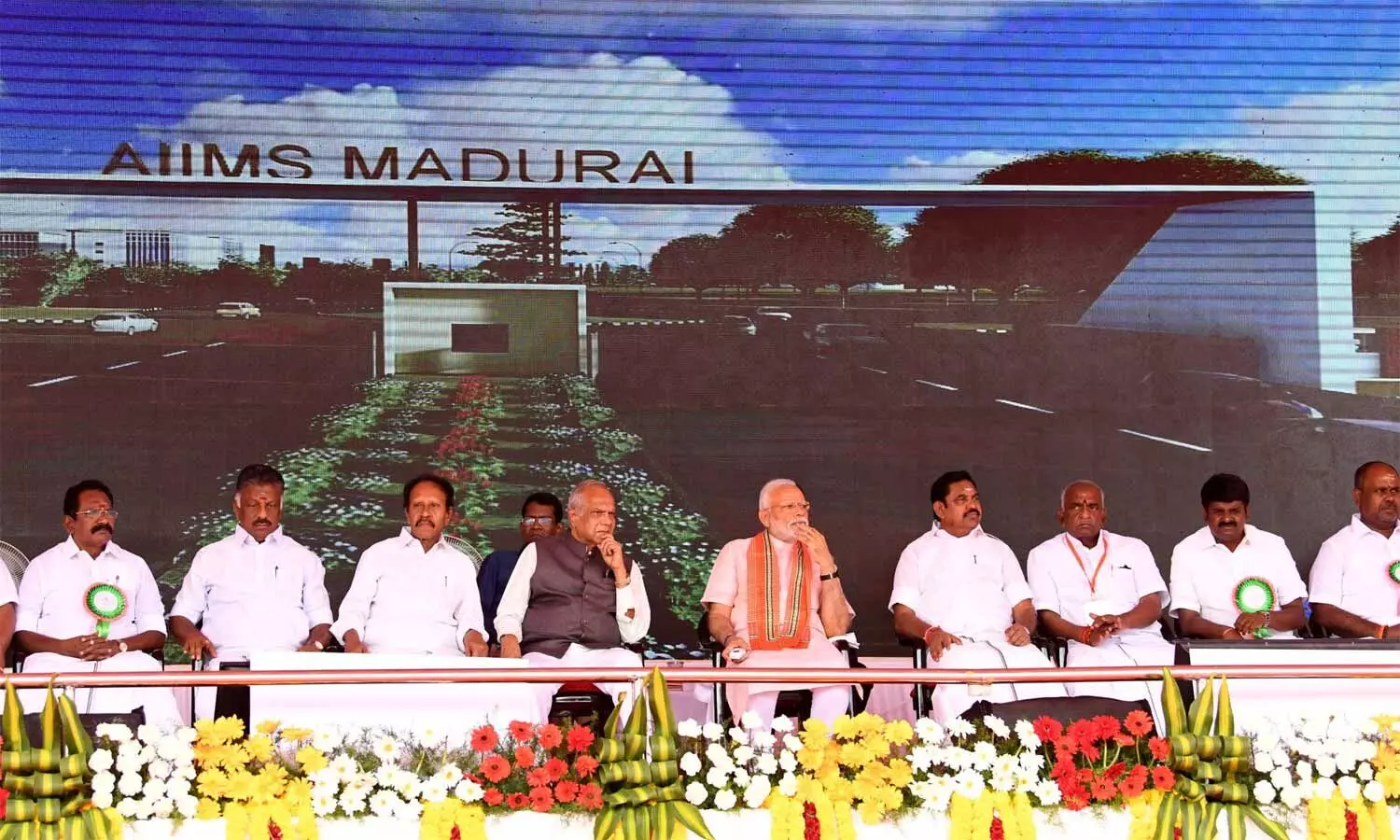 Madurai: The Central Government has planned to co-sponsor the cost of establishing the All India Institute of Medical Sciences (AIIMS), Madurai, with Japan International Cooperation Agency (JICA), wherein, JICA will bear 85 percent of the cost, while 15 percent of the total cost would be contributed by the Central Government, revealed a Right To Information (RTI) response.
The reply has been made against an RTI filed by a social worker R Pandiaraja on 03.01.2021 and 11.01.2021. The RTI has also revealed that the previously proposed cost of the project had been Rs 1264 crores. However, Pandiaraja obtained another RTI reply on 31.12.2020 clarifying that the project cost had been increased to Rs 2000 crores.

The latest RTI reply obtained on February 2, 2021, showed that the increased cost has been as per the estimates prepared by JICA.
Another key point that the recent RTI reply revealed has been regarding the status of the institution. Ministry of Health & Welfare in the RTI reply has mentioned that "M/s HITES has been appointed as the Executing Agency for pre-investment activities at the site for AIIMS Madurai." It further added that the Pre-Investment activities at the site are in progress. The Ministry is in process of seeking a loan from JICA for setting up of AIIMS at Madurai.

However, the RTI reply could provide any information regarding the layout plan of Madurai AIIMS.

As per the latest media report by The Hindu, the Madurai MP S. Venkatesan had met the Union Health Secretary Rajesh Bhushan and Joint Secretary (AIIMS) Nilambuj Sharan in January. He had further added that the government proposed to build a communicable diseases hospital at AIIMS and it had led to an increase in the estimated budget from Rs 1264 crores to Rs 2000 crores.
Further, the MP had clarified that as per the communication made between the officials a loan-agreement for sanctioning of the funds would be signed by March-end.
MP S. Venkatesan has shared the updates regarding AIIMS, Madurai on his Twitter handle as well. The tweet contains the RTI details and a letter by Union Minister of Health & Family Welfare, Dr. Harsh Varhdhan.
In the letter dated 27.01.2021, Minister Harsh Vardhan has replied to an earlier letter by the MP Venkatesan requesting to expedite the execution of works at AIIMS, Madurai so as to start admissions to the institute from the coming academic year. In reply, the Union Minister has assured that he would look at the matter at the soonest.
எய்ம்ஸ்...எய்ம்ஸ்...எய்ம்ஸ்!
மதுரை எய்ம்ஸ் சம்பந்தமாக கடந்த வாரம் நான் கொடுத்த கடிதத்திற்க்கு
மத்திய சுகாதாரத்துறை அமைச்சர் @drharshvardhan கொடுத்துள்ள பதிலும், நண்பர் பாண்டியராஜன் அவர்களுக்கு தகவல் அறியும் உரிமைச்சட்டத்தின் படி மத்திய அரசு கொடுத்துள்ள விளக்கமும் #AIIMS #Madurai pic.twitter.com/87s7TViOhM

— Su Venkatesan MP (@SuVe4Madurai) February 2, 2021
Also Read:AIIMS Madurai budget hiked to Rs 2000 crore for constructing infectious diseases hospital

Source : with inputs