MBBS doctors, Medical Mscs can run Basic Laboratories: Health Ministry notifies new Clinical Establishment Rules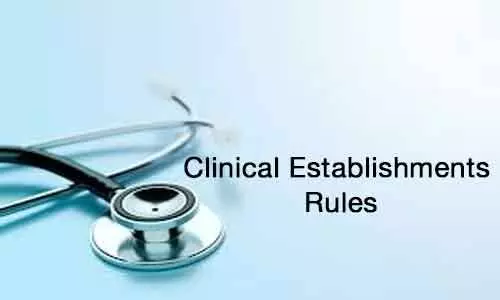 New Delhi: MBBS doctors with one year work experience in a Medical Diagnostic Laboratory as well as Medical Mscs (M.Sc in Pathology or Medical Microbiology or Medical Biochemistry) with three years work experience can run now basic laboratories, a new amendment to the Clinical Establishments (Central Government) Rules have implied
The rules allow the qualification holders to be the Minimum qualification of Technical Head of Laboratory or Specialist or *Authorised Signatories (* implying certain conditions) in case of basic laboratories The human resources requirements for Medium and Advanced laboratories remain the same as notified before in addition to the to allowing Medical Msc Plus PhDs to also run medium and advanced laboratories.
(To understand the difference between basic, medium and advanced labs click on the link below)
Read: Minimum Standard of Medical Diagnostic Laboratories: Union Government notifies Clinical Establishment Rules
The move comes days after the Medical Council of India came out with its clarification allowing Medical Mscs that can sign technical reports

A technical report stating test result without recording any medical opinion thereon can be signed by a qualified person with an M.Sc. in Medical Biochemistry/Medical microbiology or with Ph.D. degree in relevant subjects such as Biochemistry, Microbiology, Biotechnology and Genetics etc..Further, all test reports generated by such persons must necessarily bear a disclaimer to the effect that the reports are strictly for the use of medical practitioners are not medical diagnosis(s) as such. Medical laboratory reports which contain medical diagnosis(s) and/or a medical opinion on the basis of the test results are to signed by medically qualified professionals only having qualification duly registered as per IMC Act"
Read Also: Can Medical Msc sign Lab Reports? MCI BOG gives its decision
Following the cue from the council, the central government is its amendment while allowing Medical Mscs to run laboratories noted that they.
".. shall be entitled to conduct the tests, generate and sign test reports in respect of tests of their respective specialty, without recording any opinion or interpretation of laboratory results."
Further, in case of Medical Msc as well as Medical PhDs who are not registered medical practitioners, the notification further added that -"All such test reports generated must necessarily bear a disclaimer to the effect that the reports are strictly for the use of medical practitioners and are not medical diagnosis as such."
The rules basically imply that while medical Mscs to run the laboratories while stopping them from providing any clinical interpretations for patients.
In case of interpretation required, the reports will have to be signed/co-signed by a registered medical practitioner with the rules adding that "Co-signee medical doctor shall be responsible only for the opinion or interpretation given."
To read the full gazette, please click on the following link
https://medicaldialogues.in/pdf_upload/pdf_upload-124331.pdf
Read Also: Pathologists up against MCI decision allowing Medical Msc to sign Technical Lab reports