First time in 38 years, National Flag hoisted at NBE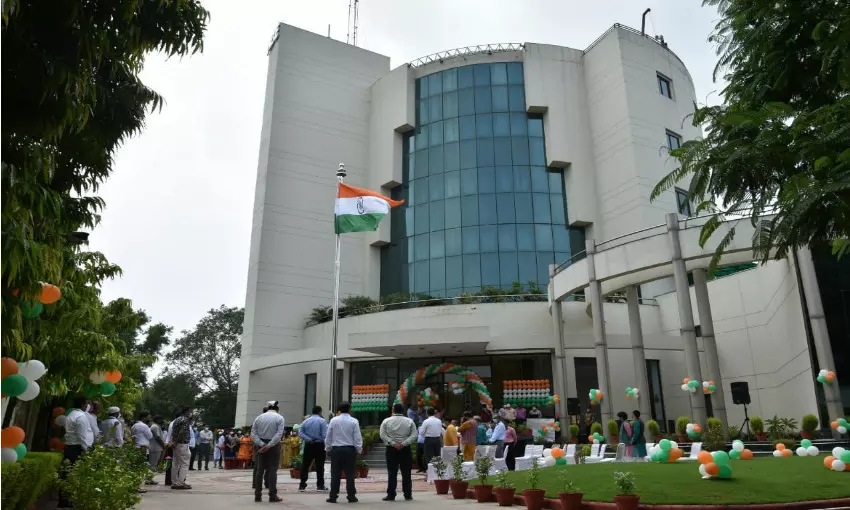 New Delhi - In a solemn and poignant Ceremony, the Independence Day was celebrated on 15th August 2020 in which, the National Flag of the Nation was Ceremonially hoisted in the premises of National Board of Examination in Medical Sciences (NBEMS) for the first time in its history of 38 years.
The function was graced by the presence of Sh. Nipun Vinayak, Joint Secretary GOI, Medical Education Policy MOHFW, Vice-Presidents Dr. D.K. Sharma, Dr. Shiva Kant Misra & Dr. Ajay Kumar, Member, NBEMS and Prof Pawanindra Lal Executive Director NBEMS. Speaking on the occasion, Sh. Vinayak complimented the efforts of the Prof Pawanindra Lal in effecting speedy reforms which were evident with the way the NBEMS was progressing.
Read Also: NBE releases Schedule for Online Centralized Merit Based Counseling for Sponsored DNB seats
President-NBEMS, Dr. Abhijat Sheth, addressed the gathering through Audio / Video conferencing exhorting NBE to achieve greater heights in the coming years.The Ceremony was attended by all the Staff Members, Officers of NBEMS with happiness & enthusiasm.
The National Board of Examinations in Medical Sciences is an autonomous body under the Ministry of Health and Family Welfare Government of India which supervises the training of DNB (Diplomate of National Board) courses in Broad Specialty and DrNB (Doctorate of National Board) courses in Super Specialty besides Fellowship Programmes across 84 subjects in 704 accredited hospitals in the country.
The NBEMS has recently launched the international Fellowship Programme and has also announced Diploma courses in Eight broad specialties which have been included in the IMC Act by a Gazette Notification by the Government of India, as recognized post graduate qualification. The NBEMS also released Good Clinical Practices Guidelines on 1st July this year on the birth centenary of Dr BC Roy.
Read Also: NBE notifies on Realignment of Accreditation Period of DNB, FNB courses