CDSCO flags 22 Drug Samples As Not Of Standard Quality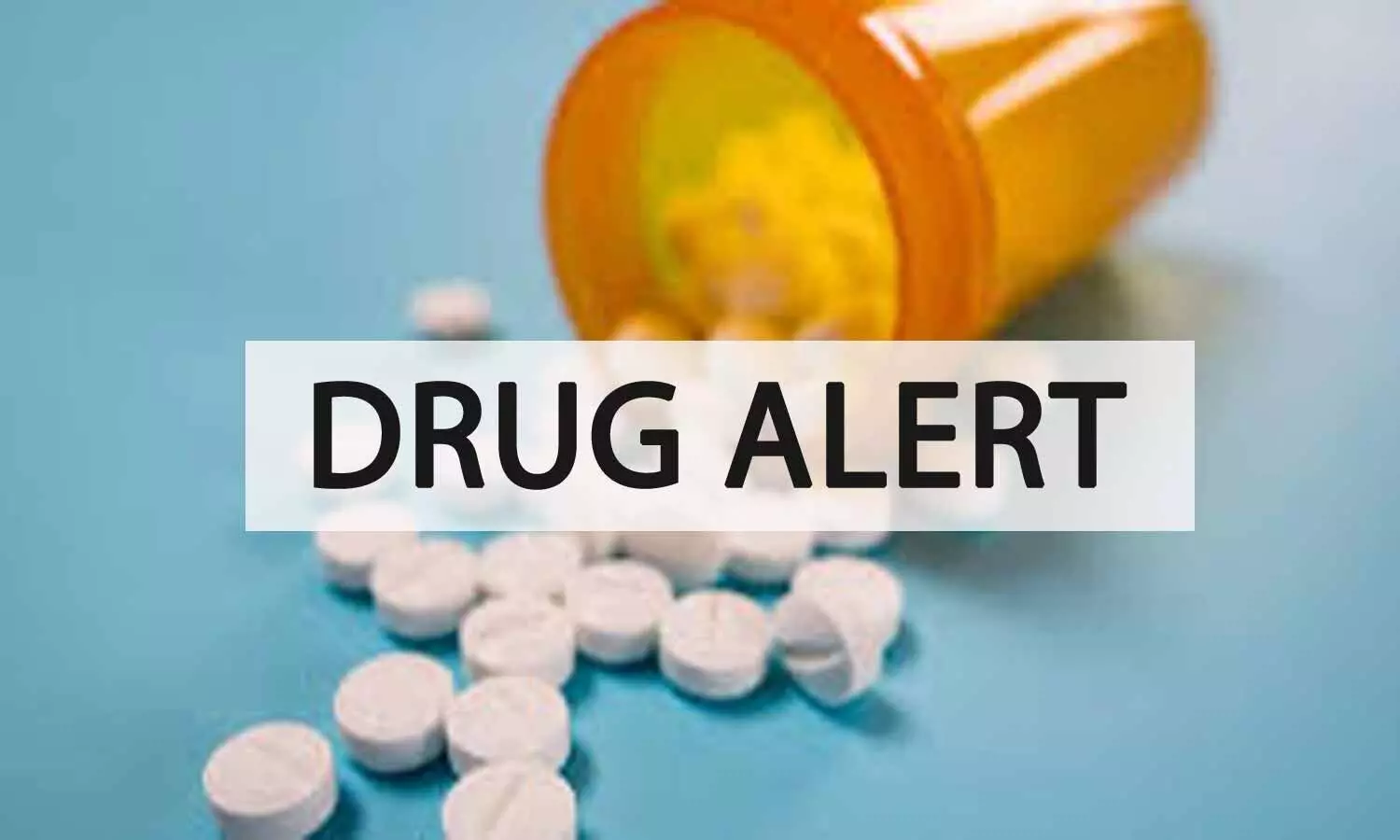 New Delhi: The apex drug regulatory body, Central Drugs Standard Control Organization (CDSCO) has flagged 22 drug samples as 'Not of Standard Quality' after they failed to qualify a random drug sample test for the month of August.

These drug samples included popular formulations and brands like Folic Acid Tablets I.P. 5mg, Diclofenac gel B.P. 1% w/w, Hypodermic Syringe 2ml, Herpivir-800 Tablets, RYAAL, Vibpure Hand Sanitizer, Ulcon Tablets, Allyn Instant Dry Hand Rub, Amzeclav-625 Tablets, and others.
This came after analysis and test conducted by the CDSCO, Drugs Control Departments, on 843 drug samples. Out of this, 821 samples were found of Standard quality while 22 of them were declared as Not of Standard Quality (NSQ).
A few of the causes why the drug samples tested failed included Sterility, Assay, Dissolution, Description & Particulate Matter, Uniformity of weight, Assay of Isopropyl Alcohol, Assay of Ethyl Alcohol, and so on.
The samples were collected by the Drugs Control Department of Gujarat, Assam, Govt .of N.C.T of Delhi, Himachal Pradesh, and Srinagar Further CDSCO Ahmedabad, Ghaziabad, and Kolkata also picked up samples. Tests were conducted in three laboratories namely CDL Kolkata, RDTL Chandigarh, RDTL Guwahati.
List of Drugs, Medical Devices and Cosmetics declared as Not of Standard Quality/Spurious/Adulterated/Misbranded, for the Month of August 2020

| | |
| --- | --- |
| Total number of samples tested | 843 |
| Total number of samples declared as of Standard Quality | 821 |
| Total number of samples declared as Not of Standard Quality | 22 |
| Total number of samples declared as Spurious | 0 |
| Total number of samples declared as Misbranded | 0 |
S.No

.

Name of Drugs/medical device/cosmetics

Batch No./Date of Manufacture/Date of

Expiry/Manufactured By

Reason for failure

Drawn By

From

1.

Diclofenac gel B.P. 1% w/w

B. No.: 8916

Mfg dt: 09/2019

Exp dt: 08/2020

Mfd by: M/s. Syncom Healthcare Ltd.D-42,IIE SIDCUL, Selaqui, Dehradun-248197, U.K.

ASSAY

Drugs Control Department, Assam

RDTL,

Guwahati

2.

Folic Acid Tablets

I.P. 5mg.

B. No.: T9125

Mfg dt: 05/2019

Exp dt: 04/2022

Mfd by: M/s. Bharat Parenterals Ltd. ViLL- Haripura, TA. Savli, Dist- Vadodara-391520, Gujarat.

ASSAY

Drugs Control Department, Assam

RDTL,

Guwahati

3.

Hypodermic Syringe 2ml.

B. No.: 19501

Mfg dt: 12/2019

Exp dt: 11/2021

Mfd by: M/s. Gurumangalam International Rancharda-382115 (TA, Kalol, Dist-Gandhinagar).

Sterility

Drugs Control Department, Gujarat

RDTL,

Guwahati

4.

Hypodermic Syringe 2ml.

B. No.: 19503

Mfg dt: 12/2019

Exp dt: 11/2021

Mfd by: M/s. Gurumangalam International Rancharda-382115 (TA. Kalol, Dist-Gandhinagar).

Sterility

Drugs Control Department, Gujarat

RDTL,

Guwahati

5.

Hypodermic Syringe 5ml.

B. No.: 19703

Mfg dt: 12/2019

Exp dt: 11/2021

Mfd by: M/s.

Sterility

Drugs Control Department, Gujarat

RDTL,

Guwahati
Gurumangalam International Rancharda-382115 (TA. Kalol, Dist-Gandhinagar).

6.

Winpress-XL 5mg (Prazosin Hydrochloride Sustained Release Tablets)

B. No.: PST9001

Mfg dt: 02/2019

Exp dt: 01/2021

Mfd by: M/s. Vivimed Labs Limited, D-125 &128, Phase III, IDA, Jeedimetla, Hyderabad-500055, Telangana.

Dissolution

CDSCO, East Zone, Kolkata

CDL,

Kolkata

7.

Halopar (Haloperidol Injection IP 5mg/ml) 1ml.

B. No.: DP9004

Mfg dt: 01/2019

Exp dt: 12/2020

Mfd by: M/s. Divine Laboratories Pvt. Ltd., Block No. 471, Dabhasa, Ta.: Padra. Dist. Vadodara.

Description & Particulate Matter

CDSCO,

Ahmedabad

CDL,

Kolkata

8.

Aciclovir Tablets IP (Herpivir-800 Tablets)

B. No.: DVT197055

Mfg dt: 07/2019

Exp dt: 06/2021

Mfd by: M/s. Digital Vision 176, Mauza Ogli, Nahan Road, Kala-Amb, Distt. Sirmour (H.P.)-173030.

Uniformity of weight

CDSCO North- Zone, Ghaziabad (UP)

RDTL,

Chandigarh

9.

Advanced Hand Rub 70% Alcohol (RYAAL)

B. No.: BO208586

Mfg dt: 03/2020

Exp dt: 02/2022

Mfd by: M/s. Bo International A91, Wazirpur Industrial Area, New Delhi- 110052.

Assay of Isopropyl Alcohol and Chlorhexidine Gluconate Solution

Drug Control, Department, Govt .of N.C.T of Delhi,

RDTL,

Chandigarh

10.

Isopropyl Alcohol and Chlorhexidine Gluconate Hand Sanitizer

(Vibpure Hand Sanitizer)

B. No.: 231H

Mfg dt: 06/2020

Exp dt: 05/2022

Mfd by: M/s. Haustus Biotech Pvt. Ltd. 44-45, Ind. Area, Tahliwal, Distt. Una (H.P.).

Assay of Isopropyl Alcohol

Drug Control, Department, Himachal Pradesh

RDTL,

Chandigarh

11.

(Allyn Instant Dry Hand Rub)

B. No.: PKE-06

Mfg dt: 06/2020

Exp dt: 05/2023

Mfd by: M/s. P.K.COSMETICS C-152,

Assay of Ethyl Alcohol

Drug Control, Department, Govt. of N.C.T. of Delhi

RDTL,

Chandigarh
Sector-2, DSIIDC, Bawana Industrial Area, Delhi- 110039.

12.

Clidinium Bromide, Chlordiazepoxide and Magnesium Hydroxide Tablets (Ulcon Tablets)

B. No.: ULGT20031

Mfg dt: 01/2020

Exp dt: 12/2021

Mfd by: M/s. UNIMARCK HEALTHCARE LTD. Plot No.25 & 37, Sector-6A, SIDCUL, Haridwar-249403 (Uttarakhand).

Assay of Clidinium Bromide

CDSCO North- Zone, Ghaziabad (UP)

RDTL,

Chandigarh

13.

Ethanol Hand Sanitizer (Instawash Hand Sanitizer)

B. No.: 247H

Mfg dt: 06/2020

Exp dt: 05/2022

Mfd by: M/s. Haustus Biotech Pvt. Ltd. 44-45, Ind. Area, Tahliwal, Distt. Una (H.P.).

Assay of Ethanol

Drug Control, Department, Himachal

Pradesh

RDTL,

Chandigarh

14.

Ethyl Alcohol Solution 70% (Handzon Instant Hand Sanitizer)

B. No.: HDZC-016

Mfg dt: 05/2020

Exp dt: 04/2022

Mfd by: M/s. RPL (India) Pharmaceuticals Pvt. Ltd., D-8/5 & D-8/6, Okhla, Industrial Area, Phase-1, New Delhi-110020.

Assay of Ethanol

Drug Control, Department, Govt of N.C.T. of Delhi

RDTL,

Chandigarh

15.

(Allyn Instant Dry Hand Rub)

B. No.: PKEA-07

Mfg dt: 07/2020

Exp dt: 07/2023

Mfd by: M/s. P.K.COSMETICS C-152, Sector-2, DSIIDC, Bawana Industrial Area, Delhi- 110039.

Assay of Ethyl Alcohol

Drug Control, Department, Govt. of N.C.T. of Delhi

RDTL,

Chandigarh

16.

Cefixime Dispersible Tablets (Micfox-100 Dt Tablets)

B. No.: FBT19-186B

Mfg dt: 06/2019

Exp dt: 05/2021

Mfd by: M/s. Athens Life Sciences Mauza Rampur Jattan, Nahan Road, Kala Amb, Distt.Sirmour, H.P.173030.

Assay

Drug Control, Department, Govt .of N.C.T. of Delhi

RDTL,

Chandigarh

17.

Amoxycillin & Potassium Clavulanate

B. No.: KPT-3348

Mfg dt: 11/2019

Exp dt: 04/2021

Dissolution (Amoxycillin Trihydrate

Drug Control, Department, Govt .of N.C.T.

RDTL,

Chandigarh
Tablets IP 625 mg (Amzeclav-625 Tablets)

Mfd by: M/s. G NINE BIOCEUTICALS PVT. Ltd, 208-F, Sector-3, HSIDC, Industrial Estate, Karnal- 132001 (Haryana).

of Delhi

18.

New Fame N Love Fairness Cream

B. No.: 5

Mfg dt: 07/2020,

Exp dt: 06/2023,

Mfd by: M/s. P.C.COSMETICS

Total Aerobic Microbial Count, Total yeast and Mould Count, Pseudomonas aeruginosa per gram

Drug Control, Department, Govt .of N.C.T. of Delhi

RDTL,

Chandigarh

19.

Vitamin C, Vitamin B-12, Folic Acid and Niacinamide Injection ( Eldervit- 12 Im/Iv Drip)

B. No.: 20NI0210

Mfg dt: 02/2020,

Exp dt: 01/2022,

Mfd by: M/s. Nuclotec Remedies Pvt. Ltd. 14-Mile Stone, Rudrapur-Kashipur Road, Gadarpur, Distt- U.S.Nagar, (Uttarakhand)- 263152.

Particulate Matter

CDSCO North- Zone, Ghaziabad (UP)

RDTL,

Chandigarh

20.

Vitamin C, Vitamin B-12, Folic Acid and Niacinamide Injection

(Eldervit-12 Im/Iv Drip)

B. No.: 20NI0212

Mfg dt: 02/2020

Exp dt: 01/2022

Mfd by: M/s. Nuclotec Remedies Pvt. Ltd. 14-Mile Stone, Rudrapur-Kashipur Road, Gadarpur, Distt- U.S.Nagar, (Uttarakhand)- 263152.

Sterility A, Sterility B

CDSCO (North- Zone), Ghaziabad (UP)

RDTL,

Chandigarh

21.

Ethyl Alcohol, Isopropyl Alcohol and Niacinamide Hand Sanitizer Gel ( Tanzo)

B. No.: SM041

Mfg dt: 03/2020

Exp dt: 02/2022

Mfd by: M/s. Swiss Biotech Parentrals Kewat No.1138, VPO-Kachhwa, Karnal 132001 (Haryana).

Assay of Ethyl Alcohol, Isopropyl Alcohol

Drug Control, Department, Govt .of N.C.T. of Delhi

RDTL,

Chandigarh

22.

Instant Hand Sanitizer Original Alcohol Based (Safe Me Sanitizer)

B. No.: SM/2020/508

Mfg dt: 02/2020

Exp dt: 01/2022

Mfd by: M/s. KDM GOLDSTAR CO. NewDelhi-110019.

Identification for Alcohol (Ethyl Alcohol)

Drug Control, Department, Srinagar

RDTL,

Chandigarh