Changing Pharma Marketing: Transition From Visual Aid To Digital Ads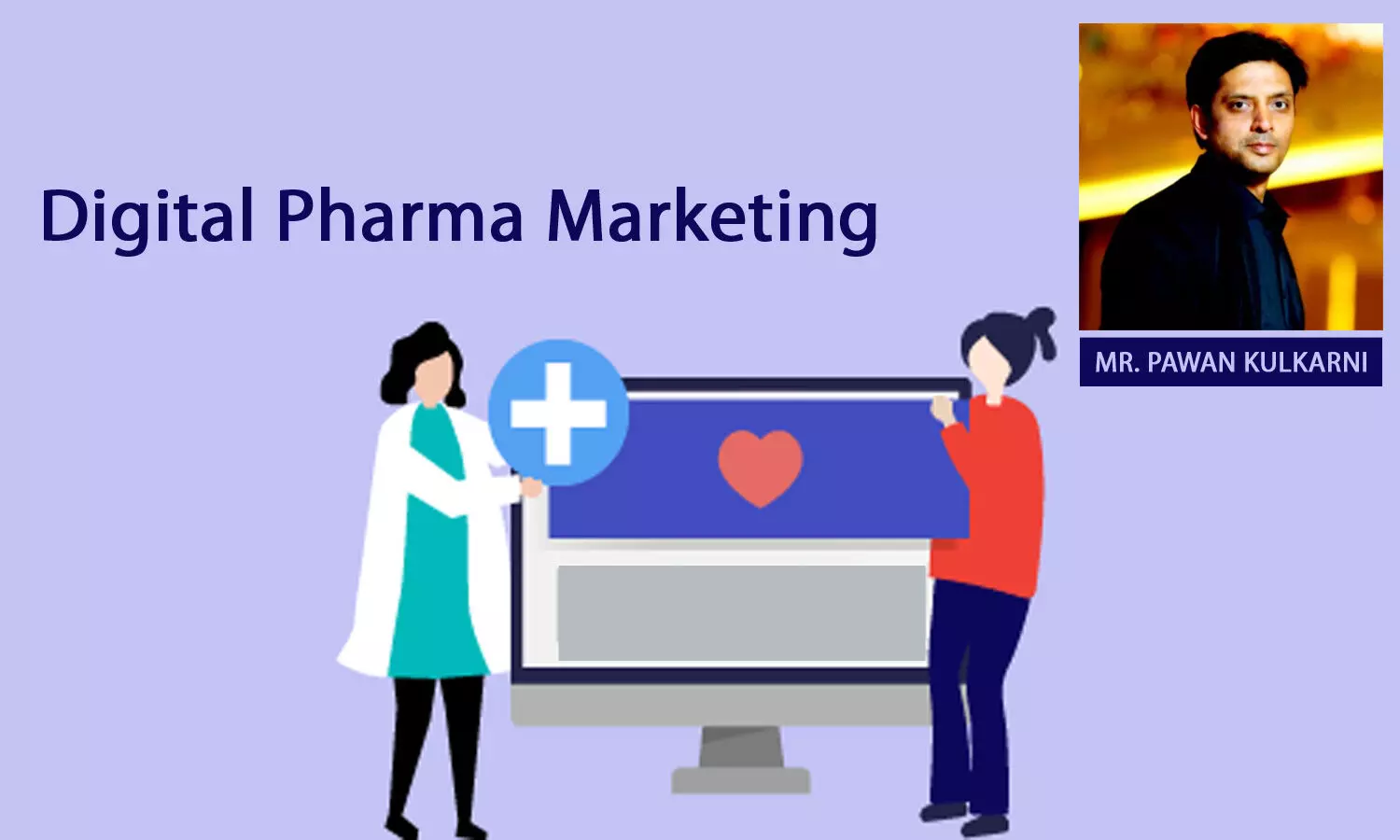 Why "Visual Aid" thinking may not help pharma brand managers anymore
Relearning the art of basic messaging
"Keep it crisp" bosses repeatedly told brand managers while making the visual aid. But then, "this point is important", "that graph is from a new study", "this is our main line since longtime" kind of remarks from brand managers always paved the way to content overload in our humble visual aid making it look like a brochure or a menu card often. Moreover, "visual aids" as we call them often have everything else except a strong visual that was supposed to communicate what it was meant to. Pharma brand managers have habitually built up to a typical way of making visual aids with indications, logo, pneumonic, punchline with some graphs and cure rates. At times, in the name of creativity, we have often have killed the very purpose of the basic message by forcing some unwanted gimmicks in the name of concept pages. But seldom made an impact as doctors often say.
With digital now being inevitable, marketers are forced to go back to the basics of communication. In fact, it's time we should now recall one of the first lessons we learnt in management school. The very basic definition of effective communication as the process of communication that refers to the transmission or passage of information or message from the sender through a selected channel to the receiver overcoming the barriers that affect its pace.
Be it any medium, the basic principles of communication, sales, marketing or advertising won't change. They remain the same. Brand managers need to change the "HOW" aspects of messaging and amalgamate it with "WHAT" of the medium being used. Marketers now have to be crisp. The VA thinking model won't help us anymore.
Key takeaway 1: Be very clear and sharp on the brand objective. Write down your positioning statement. Convert it to a simpler form of messaging based on the medium. Find the CORE.
Digital Jedi
Author Nir Eyal in Hooked refers to a 2010 study that found that some habits can be formed in weeks while others can take more than five months. We are already a few months since lockdown and get to see changing habits. Not just companies but doctors, marketers and even public at large. Many things across the world are in the phase of transformation.
"What Next?" is in everyone's mind during this lockdown. COVID19 proved deterrent to pharmaceuticals too, which relied on a face-to-face meeting by the sales team. The pharma companies started with WhatsApp wishes and graduated to a tsunami of webinars to reach-out to doctors. Now by "choice" or by "force" India pharma seems to be finally entering the "Digital Jedi" through trial and error method. Limiting my thoughts to the digital messaging aspects, several kinds of research are available that show the way we consume data has seen a sea change since lockdown. Everyone is rebooting their behaviour and habits. The transition from television to the OTT platforms was increasing before as well. Content consumption has changed over the past decade, with over-the-top (OTT) media services now an established part of the mainstream. COVID19 increased it exponentially. Unlike a decade back, today smartphones are more expensive than televisions.
Stand For Something.
It is not "digital" if a visual aid page or literature is converted and forced into a tab or an iPad with some stupid animations & music. So, now when you are going digital and want to plan an outreach on different platforms for doctors there are some challenges which I feel marketers need to counter. The biggest of them would be in the form of messaging.
The Need: ONE BRAND - ONE POINT
You may encounter some peculiar challenges namely 1) Annoyed Viewers, 2) Ineffective Creative, 3) Poor Positioning, 4) Poor Viewability - which increases chances of Ad Skipping & Ad Blocking leading to possible campaign failure.
Possible solution: Simply follow AIDA & create a very crisp copy with only one strong visual that will 1) Aid Recall, 2) Evoke Emotions, 3) Gets Through Subconscious Mind, 4) Increases Memorability.
In simple terms, if you add too much of it in attributes, nothing gets registered. Here AIDA (Attention, Interest, Desire, Action) if followed with ONE BRAND - ONE POINT messaging mindset will help. You see, McDonald's sell several products. But they are known for the burger alone. James Bond as everyone knows like martini. Even if you spend billions to campaign and say Bond likes whisky or beer, people won't accept it. So, while planning digital our ads marketers need to make their brand "STAND FOR SOMETHING, NOT EVERYTHING.
Key takeaway 2: Understand that your customer on digital platforms has a lesser span of attention. So, now write crisp communication. Make your brand known for something. "OneThing". Not everything.
Neuroscience Of Digital Ads
Communication neuroscience looks at how activity in the brain is linked to behaviours at the individual, group, and population level. Going further, when many companies will start their digital journey bombarding more apps, more channels, more URLs will create more advertising. I bet, only a few in them will breakthrough to make space in the subconscious minds of doctors. Like the pharma experts and sales trends now showing that big brands will be bigger and small brands will be smaller.
Rule Of 7
Reports say that some of the other way we might be exposed to more than 4000 brands in a day. We may often not notice it. Soon, similar would be the case with doctors with pharmaceutical brands.
There is enough research available that say repeating the message for 3-4 times helps to register. It is true as well if you correlate the "average number of calls" we believe in the pharma industry for a doctor to transform from "not-aware" to become an "occasional prescriber". However, the pharmaceutical marketer loves "REMINDERs" and crave for "TOP OF MIND RECALLs".
The RULE OF 7 in advertising (for rescue?) is interesting. The rule says that your target customers (doctors here) need to come across your message or ads at least 7 times before they even notice it and may need more exposures if you want them to act on it. It is only after they see your brand ads for 7 times, then they take action.
Example: Recall any ad for a new car. You see it on the same day on a front page of a newspaper, on a hoarding while on way to office, on the Facebook/Instagram, on the YouTube as ad & on TV channel too. That's planned covering various mediums to capture your mind. If you are planning to get more views/impressions for your brands? Then be clear on what are you laying your objectives. A pharma brand that is "reminder" oriented if forcefully pushed with medical content will be outrightly rejected by doctors. These kind of brands should be planned with mass outreach at regular intervals. At the same time, a brand that needs scientific backing if treated as a "reminder" brand will lose charm as well. The first metric digital would be "awareness" followed by prescription or sales.
Key takeaway 3: "Consistency" is the only key. Plan your doctor outreach on different platforms with brand messaging to run at least 4-6 months. Don't change digital ads like a quarterly visual aid.
Rise Of Annoyance
Though there is a rise in data consumption, the annoyance among customers as well has increased. A quick but very interesting learning we get from the television or the YouTube ads is about the duration of ads. The 30 seconder ads were common on TV in 80s onwards. Earlier these had viewership as people then had nothing else to do than sit and watch. Neither they had remote to change the channel nor had another channel. When TV started having alternatives, the duration of ads started getting lesser. Today, your doctor has smartphone, TV, desktop, books, etc for him to get distracted. So all the more is our compulsion to keep our digital ads crisp. Digitally, YouTube started with longer duration ads with "skip ad" options and later shifted to much lesser duration ads. Even 15 seconders. Now, they show 5 second shorter ads. That's because consumer annoyance is on rise. To the level that one of the study showed the consumer annoyance increase after 6 seconds. Now imagine if your doctor is seeing your ad. He will surely "SKIP" your ad mentally if he is not able to complete the "seeing", the "reading" and "understanding" cycles in your message in 5 seconds. Moreover, digital ads are relatively smaller. If your digital ads are like visual aids, the unengaging, uninteresting content, your doctors have several other pleasurable distractions to shift to.
In future, good content creators are going to be valued for their consumable content. They will be even more expensive to hire. So a brand manager need to now move beyond a visual aid, LBL & the legendary chit pads to add a new skill. The art of consumable content management. Trust me, your doctors are silently shouting to say they are ready to consume worthy content.
Key takeaway 4: Understand, that there is difference between Annoyance and Engagement. Your doctors want to consume good content. Give them "good" content. Not "go-down" of content
The author is a pharma marketing expert and is currently working as General Manager Corporate Strategy at a leading pharmaceutical company in India. Twitter handle - @pawankulkarni
Disclaimer: The views expressed in the above article are solely those of the author in his private capacity and DO NOT represent the views of Medical Dialogues or a corporate house.