Dr Reddy's Laboratories launches Aspirin, Rosuvastatin and Clopidogrel FDC under brand Rozat Gold in India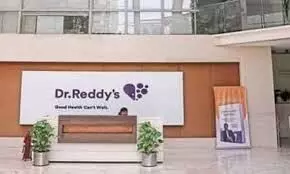 Hyderabad: Leading Indian multinational pharmaceutical company, Dr Reddy's Laboratories Ltd has recently announced the launch of a popular combination of Statin and Dual Antiplatelets under brand name ROZAT GOLD in India.

The drug- ROZAT GOLD is indicated for the use of cardiologist, consulting physicians and diabetologists for high-risk CV conditions like- Chronic and stable coronary artery disease and ACS patients.

The fixed-dose combination (FDC) of ROZAT GOLD primarily contains three drugs- Aspirin, Rosuvastatin and Clopidogrel, which are commonly prescribed in post ACS and stable coronary artery disease. While Aspirin and Clopidogrel are potent antiplatelets preventing thrombosis, Rosuvastatin, a potent lipid-lowering agent, also has pleotropic effects exhibiting anti-thrombotic, anti-inflammatory and anti-oxidant properties
Under the brand of ROZAT Gold, the FDC formulation will be available in two strengths including ROZAT GOLD 10 ( Rosuvastatin 10mg + Clopidogrel 75mg + Aspirin 75mg) and ROZAT GOLD 20 ( Rosuvastatin 20mg + Clopidogrel 75mg + Aspirin 75mg).
"Since all three medicines are routinely prescribed for secondary prevention of heart attack, the combination of the three drugs increases patient comfort in long term use thereby improving compliance. Further, the FDC is more economical than purchasing individual medicines and hence easy on the pockets of the patients," said Dr Kumar Gaurav, Cluster Head, Chronic, Medical Affairs
The formulation has gone through several tests at Dr Reddy's Research and Development (R&D) to ensure quality norms and was planned to be launched earlier this year. However, the nationwide lockdown citing the pandemic delayed the release.
"Product launch was planned in April but it is delayed due to the nationwide lockdown", Ashish Nigam, Cluster Head, Chronic-1 India and Nepal Business informed Medical Dialogues.
When asked about already existing combinations in the market, he replied, "We know, we are late, but we were waiting for a 'perpHect' formulation, which our scientists at Dr Reddy's were working upon",
When questioned on whether he meant perfect or 'perpHect', Mr Nigam explained, "No, it's not typo, we call it perpHect, due to the fact that we did rigorous dissolution tests for all the three ingredients of Rozat Gold, i.e. Rosuvastatin, Clopidogrel and Aspirin at different pH that these drugs will have to pass through the human body. Due to this, when doctors prescribe Rozat Gold, they will be assured of the good quality."
Established in 1984 by Anji Reddy, Dr Reddy's Laboratories manufactures and markets a wide range of pharmaceuticals formulations in India and overseas. The company has over 190 medications, 60 active pharmaceutical ingredients (APIs) for drug manufacture, diagnostic kits, critical care, and biotechnology products.