Nipah Virus: Rs 20 lakh to Nurse Lini's family, Govt assures Job for Husband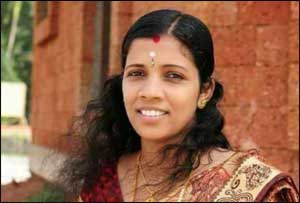 Kerala: In order to give respite to the families of all those victims who died due to the deadly Nipah Virus (NiV), the Kerala cabinet has recently announced a compensation of Rs 5 lakh to the families of the deceased patients.
In addition, a sum of Rs 20 lakh has been announced in favour of nurse Lini's family. The government has also offered to give a job to her husband Sajeesh, who works in Bahrain.
While addressing a press meet in Thiruvananthapuram, State Health Minister K K Shylaja confirmed that Lini's two children will be given Rs 10 lakh each as compensation.
The nurse was attached to EMS Memorial Cooperative hospital at Perambra in Kozhikode where she caught the disease while treating one of the first infected victims of the dangerous virus. Soon, she passed away. Her body was not released to her relatives and the cremation was conducted by the health department Sunday night itself in a bid to prevent the spread of the virus.
Read Also: Kerala Nurse among 16 Casualties to Rare Nipah Virus; Know facts about the disease
Her husband informed the media, "When she was on her way to the hospital, she called me up and told me that her fever was not subsiding. She had been hugely affected by the death of a Nipah patient she attended to. The patient had been shifted to the medical college hospital after a few days at the Perambra hospital where she works. When she heard that the patient had died, she wept inconsolably. Even when she was going to the hospital to get treatment for herself, I felt that everything would be fine."
While offering condolences to the nurse, Minister Shylaja said, "She died after attending to a patient with Nipah virus and we remember her commitment to her duty and sacrificing nature…. We have immense gratitude and commitment towards Lini's family."
As per a recent report in The News Minute, the minister added, "After Lini's demise, the responsibility of bringing up their two children lies on her husband Sajeesh. It may be difficult for him to go back to his job abroad, so we have decided to give a job to the young man."
Before dying, the nurse scribbled a note to her husband which has gone viral on social media.
In the letter, Lini expressed her pain and anguish that she could not see him again. She wrote, "I think I am almost on my way; I don't think I'll be able to meet you. Please look after our children. Take them with you to the Gulf; don't be all alone like our father, please."
"She died doing her duty, and when I hear people appreciate her commitment to her work, I feel proud of her. She did her duty without hesitating and showed 100% commitment to what she did. Having worked as a nurse for the past 10 years, Lini always wanted to work in the government sector," her husband stated to TNM.
Read Also: Nipah Virus High Alert: NCDC, AIIMS, IMA experts rush to Kozhikode