Now, doctors cannot eat PAAN during duty hours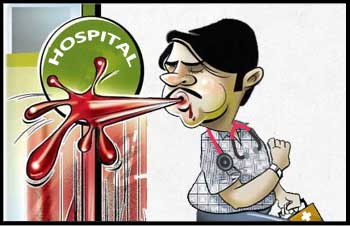 Uttar Pradesh: Doctors will not eat paan during duty hours. Yes, This is a latest of the directives issued by the UP government for its medical practitioners.
The directive comes after the state health minister, Siddharth Nath Singh was utterly disgusted by one of the chief medical officers, chewing pan and simultaneously talking to him during a meeting.
TOI reports that the minister had recently called for a departmental video conferencing meeting to review health preparedness in UP. To the utter disgust and dismay of the minister, CMO of an eastern UP district talked to him while chewing paan. Furious, the minister reportedly made the CMO get out and spit paan to take the conversation further. This was followed by some serious orders of the minister- "No doctor, including chief medical officers and chief medical superintendents, should chew paan when on duty."
Speaking to TOI, he stressed, "The chief minister has given strict instructions to keep all government buildings free from tobacco and all kinds of dirt and filth. As heads of their district or hospital premises, the CMOs and CMSs must lead by example."
Medical Dialogues team had earlier reported that Mahant Yogi Adityanath had banned the wearing of jeans and T-shirts for the state government employees during duty hours, following which the health department's directive to hospitals stated- "Anyone coming to work without wearing formal dress will be marked absent and a day's salary will be deducted."
Read more at Medical Dialogues: Doctors Alert : No more Jeans and T-shirts in UP Hospitals