NRS Medical College: Junior Residents on strike after Mob assaults colleagues including a woman doctor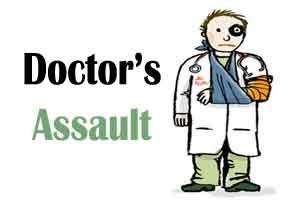 Kolkata: Junior doctors at the state-run Nil Ratan Sircar Medical College and Hospital went for a strike and stopped working at the emergency services department for several hours in protest against the alleged assault on their colleagues, including a woman doctor, by relatives of a patient who died in the facility. Three junior doctors sustained minor injuries during the alleged assault.
The incident happened on 26 August, when a critically ill 40-year-old patient identified as one, Pervez Hussein, was brought to the emergency ward by a group of about 30 people.
The patient was recommended a CT scan and he died while being taken for the test. The mob accompanying him then went on the rampage and allegedly assaulted the junior doctors present at the spot, including a woman, confirms a recent report by PTI.
"The patient had been brought in with severe chest pain and he was not treated for about half an hour. He died immediately after one doctor injected a medicine," the patient's cousin alleged.
Following the assault, the junior doctors went to cease work running for hours demanding security. While talking to The Times Of India, an official attached to the Hospital said, "We are talking to the police as well as the junior doctors so that normalcy returns at the emergency ward. These mob attacks have to stop so that the doctors can work in a peaceful environment."
Meanwhile, the junior doctors resumed work late in the evening after holding talks with the superintendent of the hospital. The junior doctors have also urged the police administration to arrest the accused who had assaulted them. Police have started a probe on the matter.
According to certain sources, a meeting will be held on August 30, in which the representatives of the doctors, the hospital authorities and Patients' Welfare Committee of the hospital will be present to discuss certain issues including healthcare facilities and security.
Police officials informed that a force from Entally police station went to the spot and the situation got normal.
Moreover, the strike had put many patients through hardships.
Read Also: 10 years Jail time for Assaulting Doctors: Kolkata Police