Gujarat Nurse To Be Conferred Florence Nightingale Award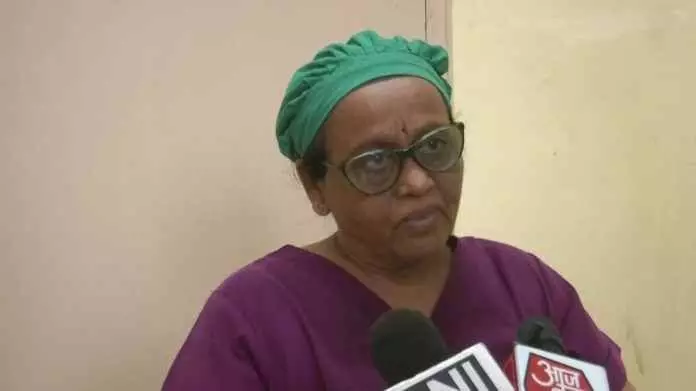 The Florence Nightingale Award will be given to a nurse, Bhanumati Gheewala, from Sir Sayajirao General Hospital.
Vadodara: The Indian Nursing Council decided to confer the prestigious Florence Nightingale Award to applaud the efforts of a nurse from the Sir Sayajirao General Hospital of Vadodara, Gujarat.

The recipient of the award, Bhanumati Gheewala, has been posted in the Obstretics & Gynaecology wards and has been working diligently as a nurse, helping in the delivery of COVID-positive pregnant mothers. In addition to her duty in the OBG wards, she has also been taking care of the new born babies with due diligence and true compassion.
The Indian Nursing Council, a statutory body under the Ministry of Health and Family Welfare, grants the Florence Nightingale Award to recognise the contribution of healthcare workers. It is presented to nurses or nursing workers. It is given for "exceptional courage and devotion to the wounded, sick, or disabled, or to civilian victims of a conflict or disaster" or "exemplary services or a creative and pioneering spirit in the areas of public health or nursing education".
In an amiable conversation with HT, Gheewala said, "I got selected for this award for Covid-19 Gynaec duties including the delivery of newborns and working during 2019 floods that had inundated the hospital. I do not prefer taking casual leave."
When the wards flooded over due to heavy rain during the monsoon of 2019, Gheewala didn't shy away from her duty and instead, carried on her duty in the gynaecology department and the pediatric ward.
It is noteworthy that the efforts of the medical staff are being applauded, especially in the wake of the second wave of the COVID-19 pandemic, which found the entire medical fraternity understaffed and over-worked. Indeed, it is the efforts of the professionals like Gheewala, that has pulled the country out of the second wave.
Source : With inputs