Prone positioning beneficial for severe ARDS in postpartum COVID-19 patients: BMJ case report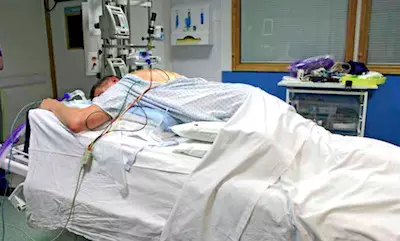 Pregnant women is a population of particular concern given the medical experience during prior SARS-CoV-1 and Middle East respiratory syndrome pandemics, which were accompanied by increased peripartum complications and mortality. Demographics of women requiring admission to the hospital due to respiratory compromise were weighted towards those in the third trimester or postpartum,...
Pregnant women is a population of particular concern given the medical experience during prior SARS-CoV-1 and Middle East respiratory syndrome pandemics, which were accompanied by increased peripartum complications and mortality.

Demographics of women requiring admission to the hospital due to respiratory compromise were weighted towards those in the third trimester or postpartum, ethnic minorities, being overweight or obese and maternal age greater than 35 years.
Care is required in the treatment of late pregnancy hospitalisation for COVID-19 due to the possibility of maternal complications including respiratory compromise, thrombosis and cardiomyopathy, as well as the possibility of fetal compromise from delivery complications and vertical transmission, which has been reported.
Consideration of the effects of treatments administered both on maternal and fetal health is paramount in the intensive care unit (ICU) for gravid patients with COVID-19 associated respiratory failure. Some standards of care for severe acute respiratory distress syndrome (ARDS), including prone positioning that has been shown to improve mortality, may require modification based on the specific needs of gravid patients. One such case was reported by John T Roddy and team published in BMJ case reports describing the successful outcome of prone ventilation in gravid patient.
CASE PRESENTATION
A 31-year-old African-American female G6P1132 with a 36-week live singleton gestation presented with a 3-day history of malaise, myalgias, cough, dyspnoea, sore throat, anosmia and subjective fever.
Her partner was diagnosed with pneumonia a day earlier and subsequently tested positive for COVID-19. At the time of presentation, the partner's COVID-19 status was unknown.There were no obstetric related complications prior to presentation.
She was febrile to 38.4°C, normotensive, saturating 92% on room air, tachypneic to 22 breaths per minute and tachycardic to 125 beats per minute (BPM).
Lungs were clear to auscultation. Chest X-ray (CXR) revealed a rounded opacity in the right midlung concerning for pneumonia.Laboratory results were significant for lymphopenia (13%), neutrophilia (80%), anaemia (10.0g/dL) and elevated C-reactive protein (CRP) (5.9mg/L). COVID-19 infection was confirmed via nasopharyngeal swab. She was admitted for further management of her COVID-19 pneumonia and pregnancy.
Supplemental oxygen was not immediately required after admission. Fetal heart rate monitoring demonstrated a rate of 155 BPM with moderate variability (10×10s vs 15×15s).Ceftriaxone and azithromycin were started for empiric coverage of community-acquired pneumonia and atypical pneumonia.
Over the ensuing few hours, the patient developed worsening hypotension and tachypnea that was refractory to supplemental oxygen delivered via high-flow nasal canula. The hypotension responded appropriately to intravenous fluid resuscitation.
Pulmonary embolism was ruled out with CT angiography of the chest, which revealed bilateral opacities.While starting empiric anticoagulation and avoiding imaging associated radiation exposure was considered, CT was chosen in this case to avoid the possible risks inherent to therapeutic anticoagulation in late third trimester pregnancy and the peripartum period.
Steroids were initiated because of mild elevations in her inflammatory markers (CRP 6.3mg/L, ferritin 20.8ng/mL, lactate dehydrogenase 201U/L and D-dimer 1.42 mcg/mL).
After a brief period of clinical improvement, her respiratory status declined again. CXR demonstrated progression of the bilateral opacities. Fetal monitoring identified repeated heart rate deceleration and tachycardia up to 170 BPM that was unresponsive to fluid resuscitation. Convalescent plasma was administered.
Despite a rise in her inflammatory markers, treatment with remdesivir and tocilizumab was declined because of their unknown impact on the fetus. The consensus from a multidisciplinary discussion was to proceed with delivery because of the declining trajectory. Vascular access via the internal jugular vein was preemptively obtained in case ECMO became necessary.
After intubation, the baby was delivered via C-section without complications. Intubation was chosen over neuroaxial anaesthesia because of the rapid decline in the patient's respiratory status and high level of oxygen requirements. Postoperatively, the patient remained intubated. Prone positioning was implemented in an effort to improve oxygenation. Remdesivir and a heparin infusion were also initiated.
OUTCOME AND FOLLOW-UP
Prone positioning was required for several days to maintain adequate oxygenation. Tocilizumab was also initiated in the context of renewed fever and rising inflammatory markers. The patient was liberated from the ventilator after 14 days.Periodic proning continued after extubation. She was eventually discharged after almost 3weeks in the hospital.
Her infant was COVID-19 negative without evidence of vertical transmission. One-month after discharge, both the patient and baby were doing well without any obvious residual effects of her illness.
This patient's presentation with respiratory failure due to COVID-19 complicating pregnancy falls into several higher prevalence demographics previously reported for requiring hospitalization: she was from a minority group, of elevated body mass index (BMI), and in the third trimester of pregnancy.
Prone positioning has proven beneficial in the treatment of ARDS most notably in the Prone Positioning in Severe Acute Respiratory Distress Syndrome (PROSEVA) trial published in 2013.
The physiological rationale by which prone positioning benefits patients is suspected to be related to improved ventilation perfusion matching by optimising aeration in the posterior portion of the lung. The posterior aspect of the lungs is higher in volume than the anterior lung fields and prone to atelectasis and collapse in the context of severe ARDS. This benefit is likely pronounced in conditions that contribute extrapulmonary sources of poor compliance, including pregnancy and high BMI.
Multiple studies provide evidence for oxygenation improvement following prone positioning in patients with respiratory failure related to COVID-19. Duration of pronation is an additional topic worth considering in the context of COVID-19 given frequently encountered refractory hypoxaemia and system-wide resource restraints. This patient was unable to tolerate supination for the first several days following intubation due to hypoxaemia, so she remained prone for the first 72 hours, following which she successfully had a more standard intermittent regimen for the remainder of her intubation. Several factors must be considered, however, including frequent repositioning to avoid facial pressure sores and facial oedema.
Remdesivir, liponavir, convalescent plasma, steroids and hydroxychloroquine have all been used in pregnant patients with severe COVID-19 infection, although some (including hydroxychloroquine) have not been shown to be beneficial.
Take Home Message
There are several important clinical points that this patient's presentation and clinical course illustrate:
First, clinical vigilance is required in pregnant patients admitted with severe respiratory failure due to COVID-19, as decompensation can be precipitous and extreme.

Second, standard evidence-based treatment of peripartum patients with severe acute respiratory distress syndrome in COVID-19 is the same as for non-pregnant patients, including lung protective ventilatory strategies, prone positioning, and the use of steroids and antivirals.
This unique patient population will benefit from continued investigation of optimal management strategies in light of the paradigm shift COVID-19 has caused in the medical field.
Source: Roddy JT, Collier WS, Kurman JS. BMJ Case Rep 2021;14:e240385.
doi:10.1136/bcr-2020- 240385
Source : BMJ case report MBBS, MD Obstetrics and Gynecology
Dr Nirali Kapoor has completed her MBBS from GMC Jamnagar and MD Obstetrics and Gynecology from AIIMS Rishikesh. She underwent training in trauma/emergency medicine non academic residency in AIIMS Delhi for an year after her MBBS. Post her MD, she has joined in a Multispeciality hospital in Amritsar. She is actively involved in cases concerning fetal medicine, infertility and minimal invasive procedures as well as research activities involved around the fields of interest.