Odisha: Minor fire outbreak at Apollo Hospital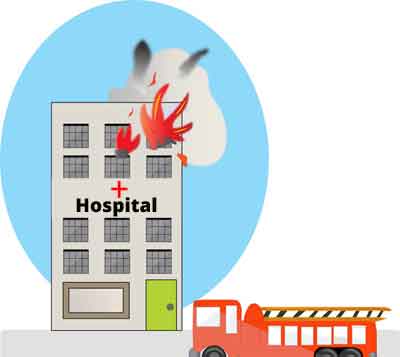 Bhubaneswar:
Apollo Hospital
in the city saw a minor fire outbreak recently, with no casualty and loss of life being reported. The fire was reportedly  caused due to short circuit in a switch board of lift machine room located on the terrace of service block within the hospital premises.
The main hospital building was not affected by the fire outbreak as the minor short circuit happened at service block not at the main building, reports Pragativadi.
The short circuit initiated at around 7:00 pm in the service block of the hospital and before it could take an ugly turn, the fire was extinguished with the aid of trained fire fighting staff of the hospital and the fire service department.
With automatic fire detection alarm active within few seconds, the trained hospital fire and maintenance department teams came to effect and rescued people at the right time. The trained staff helped with the fire extinguishers and the fire was put off immediately.
The CEO of the hospital, Sudhir M Diggikar, confirmed, "Parallely, as a protocol, the hospital informed the Fire Service Department, Govt. of Odisha which also responded promptly. There is neither any casualty nor any damage to property."
A police officer stated that Apollo Hospital, Bhubaneswar is one of the fully equipped state-of-art facility with complete fire safety equipments,facilities and fire safety certificate.
Apollo hospital had been training its staff in fire safety and fire fighting since the last fire misshap that took place at SUM hospital in the state a month ago.
This was second such incident reported within a timespan of a month that fire broke out at a hospital in the state. While, SUM hospital had to deal with loss of 22 lives and several patient injuries. There was no such emergency reported at Apollo hospital as it remained armed beforehand for any such incident.