No significant difference in final outcome between FLACS and Conventional Phacoemulsification: JCRS study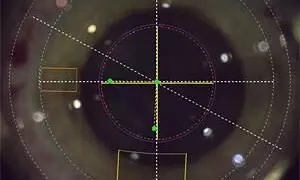 Visual acuity at 6 months is the same with both Femtosecond Laser Assisted Cataract Surgery and Conventional Phacoemulsification
A systematic review and meta-analysis conducted by researchers of Goethe University, Frankfurt and Ludwig- Maxilmilians University, Munich has concluded that there is no significant difference between Femtosecond Laser Assisted Cataract Surgery (FLACS) and Conventional Phacoemulsification Cataract Surgery (CCS) in terms of visual acuity and endothelial cell loss 6 months after the procedure.
The study has been published in the Journal of Cataract and Refractive Surgery.
FLACS is the most recent advancement in the field of cataract surgery where femtosecond laser is used to attain greater precision compared to conventional phacoemulsification surgery in crucial steps like wound construction, capsulorhexis and nuclear fragmentation.
To consolidate the information available in literature regarding the safety and efficacy of the two procedures, the researchers conducted a systematic search on PubMed, Cochrane Library and EMBASE for studies comparing FLACS and CCS. The results were as follows:
A total of 73 studies were reviewed, of which 25 were randomized controlled studies and 48 were observational studies. More than 12000 eyes treated with each of the two procedures were included in the review.
In eyes undergoing FLACS, the Corrected and Uncorrected Distance Visual Acuity and Spherical Equivalent were better than eyes undergoing CCS at 1 month and 3 months.
The central corneal thickness on Day 1 and 3 months after surgery was less in eyes undergoing FLACS as compared to CCS.
The total and effective phacoemulsification time was shorter with FLACS as compared to CCS. The cumulative dissipated energy was also less with FLACS.
The endothelial cell loss after 3 months was less in eyes with FLACS.
Anterior capsular rupture was noted more in eyes undergoing FLACS.
However, there was no significant difference in the visual acuity or endothelial cell loss after 6 months between eyes undergoing FLACS or CCS.
Rate of posterior capsular rupture was also comparable between the two procedures.
The study therefore concluded that though FLACS requires less ultrasound energy and provides more precise treatment, both procedures are effective and safe. It also highlights the fact that FLACS gives better results in the initial post-operative period but the final outcome at 6 months post-surgery is the same in both procedures.
FLACS is a more expensive procedure as compared to conventional phacoemulsification cataract surgery due to its requirement of laser delivery equipment. It is available generally only in specialized ophthalmic care hospitals in large cities as compared to conventional phacoemulsification cataract surgery which is routinely performed. This study therefore may have an impact on the decision making of the patient regarding the choice of surgery.
For further reading
https://journals.lww.com/jcrs/Abstract/2020/08000/Comparison_of_femtosecond_laser_assisted_cataract.3.aspx
Article Source :
Journal of Cataract and Refractive Surgery