Systemic corticosteroids significantly improve visual outcomes in endophthalmitis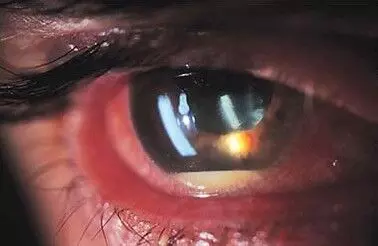 Endophthalmitis is a sight-threatening intraocular inflammatory reaction, often in response to an infectious agent, that requires prompt identification and intervention to optimize visual outcomes. In patients with endophthalmitis treated with oral steroids had an increased likelihood of gaining 3 lines of vision or more at 6 months suggest a study published in the Ophthalmology Retina on May 5, 2020.
The role of steroids via any route of administration in endophthalmitis is controversial, oral steroids have traditionally had an important role in the initial management of this condition. In the Endophthalmitis Vitrectomy Study, a landmark prospective trial, all patients were treated with oral corticosteroids. Oral steroids such as prednisone have ocular penetration, but it is unknown whether systemic steroid administration may have a superior benefit on visual outcomes when compared directly with topical or intravitreal steroid administration. For this purpose, researchers of Duke University school of medicine conducted a study to characterize practice patterns and compare visual outcomes in patients with endophthalmitis who did or did not receive systemic corticosteroid therapy.
It was a retrospective, nonrandomized comparative trial. The researchers evaluated 133 eyes of 130 consecutive patients diagnosed with endophthalmitis at the Duke Eye Center between January 1, 2009, and January 1, 2018, with at least 6 months of follow-up from the time of initial diagnosis. They assessed clinical presentation, initial management decisions, outcomes and complications. They also assessed Visual acuity (VA) at presentation with endophthalmitis and 6 months after for every patient. A total of 33 eyes (25%) treated with oral steroids received further analysis. Upon analysis, they found oral steroid use was associated with culture-positive endophthalmitis (odds ratio [OR] 2.7), hypotony (OR, 4.2), conjunctival hyperemia (OR, 2.6), and anterior chamber fibrin on examination (OR, 2.7). They noted Endogenous endophthalmitis cases were less likely to receive oral steroids (OR, 0.2). They also found patients treated with oral steroids were more likely to show VA improvement of 3 lines or more after endophthalmitis (OR, 2.8 and exhibited greater improvement from presentation to month 6 (–1.102 logarithm of the minimum angle of resolution [logMAR] vs. –0.655 logMAR).The authors concluded, "Systemic corticosteroid therapy was associated with improved visual outcomes in endophthalmitis. The decision to administer oral steroids was significantly associated with hypotony, conjunctival hyperemia, and fibrinous reaction on the presentation".
They further added, "Culture-positive cases were more likely to receive oral steroids, whereas patients with endogenous endophthalmitis were less likely to receive oral steroids. A prospective, randomized trial of systemic corticosteroid use in endophthalmitis may be warranted".
Source : Ophthalmology Retina