Ultra-rapid cooling proves a good alternative anesthesia for Intravitreal Injections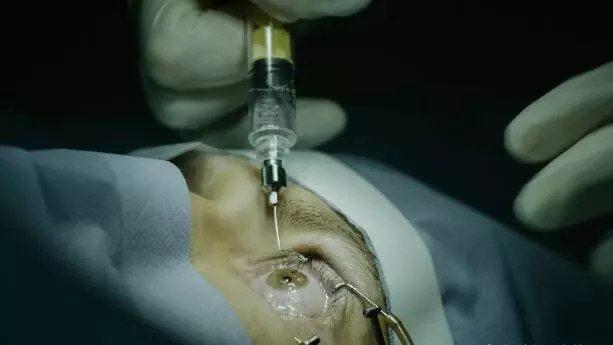 Ultra-rapid cooling of the eye for anesthesia was well tolerated, with -10 degree C treatment results in comparable levels of anesthesia to SOC with a reduction in procedure time,suggests the findings of a recently published study in Ophthalmology Retina.

Despite receiving local anesthesia before the procedure, most patients report at least mild pain at the time of intravitreal injection. This is of particular importance because injection pain and the fear of injections can lead to missed treatments. Lidocaine-based topical ocular anesthesia is the standard of care (SOC) for intravitreal treatment (IVT) around the world. Because lidocaine must diffuse through ocular tissues to block nerve conduction, it takes several minutes to provide adequate anesthesia. The time required to achieve adequate anesthesia lengthens patients' visit times and can affect clinical workflow, resulting in inefficiencies, further compounding the problem.
One of the distinct benefits of coolingbased anesthesia is the rapid onset of action, with a nearly simultaneous anesthetic effect occurring with the decrease in nerve temperature. Although tissuedestructive cryotherapy at temperatures of less than e50 C is used widely as a treatment for tumors and retinal tears, cooling tissue at higher temperatures for anesthesia has not been evaluated thoroughly.
With this background,researchers undertook a study to test the safety and preliminary efficacy of rapid, nonpharmacologic anesthesia via cooling for intravitreal injections.
The study was designed as a Single-center, randomized phase 1 dose-ranging safety study.
Adults 18 years of age or older with a diagnosis of exudative macular degeneration or diabetic macular edema requiring bilateral antievascular endothelial growth factor therapy were included. A handheld device was developed to provide anesthesia via cooling to a focal area on the surface of the eye before intravitreal treatment (IVT). In 22 patients undergoing bilateral IVT, 1 eye was randomized to receive standard of care (SOC) lidocaine-based anesthesia and the other eye received cooling-anesthesia at 1 of 5 different temperatures and cooling times. Subjective pain was assessed via the visual analog scale (VAS; range, 1e10) at 2 time points: (1) immediately after IVT and (2) 4 hours after IVT. Treated eyes were assessed for ocular safety 24 hours after IVT. The main Outcome Measures determined were the occurrence of adverse events in eyes treated with cooling anesthesia. Mean VAS pain scores immediately after IVT and 4 hours after IVT in eyes receiving cooling anesthesia were compared with eyes receiving SOC.
Data analysis revealed the following facts.
A total of 44 eyes were treated, 22 with cooling anesthesia and 22 with SOC.
No dose-related toxicity was found with cooling anesthesia.
Mild, transient adverse events were recorded in 32% of patients treated with cooling anesthesia versus 44% of patients receiving SOC.
The meanstandard error of the mean (SEM) VAS pain scores immediately after intravitreal injection were 2.3 0.4 for patients receiving SOC and 2.2 0.6 in patients receiving e10 C cooling anesthesia (P ¼ 0.8).
MeanSEM pain scores 4 hours after injection were 1.6 0.4 for SOC and 1.2 0.5 in the combined e10 C arms (P ¼ 0.56).
Total meanSEM procedure time was 124 5 seconds for patients treated with cooling anesthesia versus 395 40 seconds for SOC (P < 0.0001).
For full article follow the link: Randomized Safety and Feasibility Trial of Ultra-Rapid Cooling Anesthesia for Intravitreal Injections Ophthalmol Retina 2020 Oct 01;4(10)979-986, CG Besirli, SJ Smith, DN Zacks, TW Gardner, KP Pipe, DC Musch, AR Shah
Primary source: Ophthalmology Retina
Source : Ophthalmology Retina