Trigger point needling effective for treating long COVID syndrome-related myalgia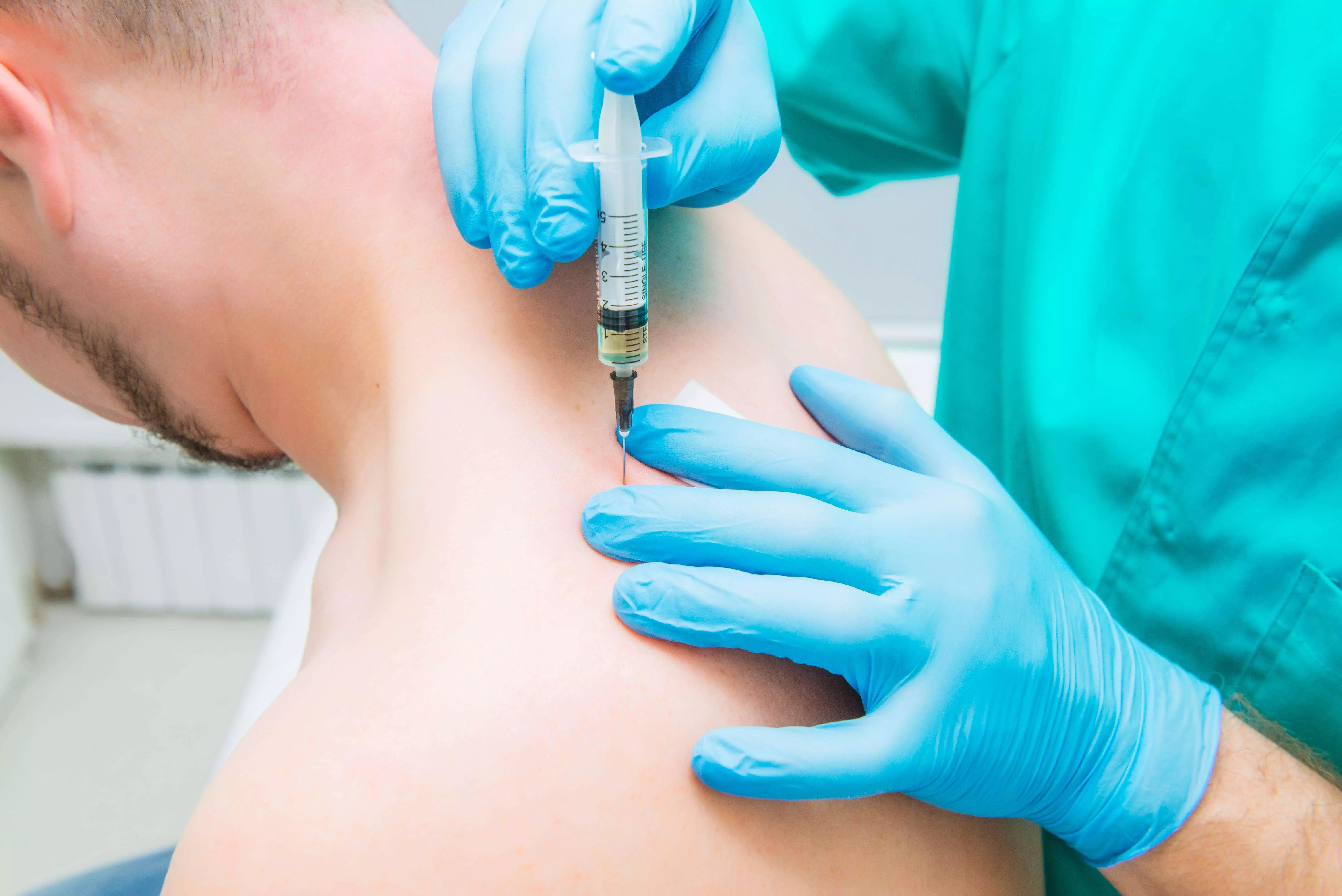 USA: Myofascial pain is a complex health condition that affects the majority of the general population. Myalgia has been recognized as a symptom of long COVID syndrome. The treatment for long COVID syndrome-related myalgia lacks research.

Dry needling is a technique that involves the insertion of a needle into the tissue of, or overlaying, a pain point. Wet needling is the addition of an injection of an analgesic substance such as lidocaine while performing needling. Both dry and wet needling have are practiced as treatment modalities for myofascial pain. Limited literature exists to define long COVID syndrome-related myalgia and its relation to myofascial pain, or to examine the utility of needling techniques for this pain.
Mengyi Zha et al reported a case of dry and wet needling as effective treatments for long COVID-related myofascial pain.
Case presentation:
A 59-year-old, previously healthy Hispanic male with no comorbid conditions was diagnosed with COVID-19 pneumonia. The patient suffered moderate disease without hypoxia and was never hospitalized. Three months later, the patient continued to suffer from symptoms such as exertional dyspnea, "brain fog," and myalgia. An extensive multisystem workup revealed normal cardiac, pulmonary, and end organ functions. The patient was then diagnosed with long COVID syndrome. The nature and chronicity of the patient's myalgia meet the criteria for myofascial pain. He scored 88 out of 100 on the Fibromyalgia Impact Questionnaire (FIQ), representing severe impact of his pain syndrome on his physical functioning, mood, and overall well-being.
Wet Needling (WN) with 1% lidocaine without epinephrine was performed on six points, using a 25 gauge, 1.5 inch needle: four in the neck and shoulder regions, and one on each side of posterior triceps.
The benefit of this WN session lasted for 2 weeks, with improved daily living activity function and pain intensity.
On 2 week follow-up, the patient rated his pain score to be six again. The patient then received five more WN injections: three in the neck and shoulder regions, and one in each posterior tricep.
A third WN session was performed with two injections: one in each posterior tricep. Immediately after the injections, the patient had no more pain. One month later, the patient received four more WN injections: one in the left posterior distal thigh, one in the right upper posterior deltoid, and two in the neck and shoulder regions. His pain score reduced to 0 immediately after the injection, from 2 on presentation.
At 12 months, the patient returned to clinic with worsening LCS: numbness and tingling of hands and feet for 4 weeks, leg cramping, forgetfulness, and diffuse myalgia.
At this point, Dry Needling (DN) was trialed with a 21 gauge, 1 inch needle. A total of 10 points were needled: four in the neck and upper back region, one in each posterior tricep, and two in each posterior calf muscle. Immediately, after the first DN session, the patient had a reduction in pain score, from 8 to 2. Two weeks later, the patient reported pain score of 2, and a second session of DN was done. The same 10 points were needled as in the previous visit. The patient subsequently reported no more pain after DN.
At 18months follow up the patient remained pain free, with a pain scale of 0. No adverse reaction to WN or DN treatments were reported.
The authors concluded that COVID-19 infection has been shown to exacerbate preexisting myofascial pain syndrome. This case report indicates that long COVID syndrome-related myalgia is likely a form of new-onset myofascial pain. Additionally, both wet and dry needling can be utilized as an effective treatment modality for this pain syndrome, with short- and long-term benefits.
Key Words: Case report, Long COVID syndrome, Myofascial pain, Trigger point injections, Dry needling

Further reading:

Trigger point injections and dry needling can be effective in treating long COVID syndrome-related myalgia: a case report.
Zha, M., Chaffee, K. & Alsarraj, J.
J Med Case Reports 16, 31 (2022).
https://doi.org/10.1186/s13256-021-03239-w
Source : journal of medical case reports MBBS, Dip. Ortho, DNB ortho, MNAMS
Dr Supreeth D R (MBBS, Dip. Ortho, DNB ortho, MNAMS) is a practicing orthopedician with interest in medical research and publishing articles. He completed MBBS from mysore medical college, dip ortho from Trivandrum medical college and sec. DNB from Manipal Hospital, Bengaluru. He has expirence of 7years in the field of orthopedics. He has presented scientific papers & posters in various state, national and international conferences. His interest in writing articles lead the way to join medical dialogues. He can be contacted at editorial@medicaldialogues.in.