Policy Making Summit of 24 Countries on Child, Maternal Mortality to be held in Delhi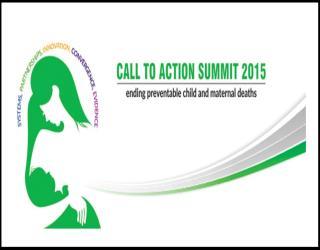 NEW DELHI: Ministers of health and delegates from as many as 24 countries will come together to share best practices and forge alliances on preventable child and maternal deaths as part of a two-day summit to be inaugurated here by Prime Minister Narendra Modi on August 27.

The 'Call to Action 2015' summit will discuss all the areas that play a pivotal role in the success of programme delivery such as water, nutrition, sanitation, health financing, corporate partnerships, game-changing innovations, and accountability.

The 24 countries participating in the summit, which is being held in the lead up to the United Nations Summit for the adoption of the post-2015 development agenda, together account for two-thirds of the global child-mother mortality rate.

"It will be a platform for 24 countries to deliberate upon the importance of Systems Partnerships, Innovations, Convergence and Evidence in ending all preventable maternal and child deaths," said Additional Secretary, Health Ministry, CK Mishra.

He said that "cross-learning" will be an important part of the summit as some of the best Indian and global practices will be discussed during the event.

"A major highlight of the summit is the Ministerial Conclave where ministers of health from 24 participating nations will reflect on initiatives that their countries are taking... They will share lessons learned in the process and decide new ways to move forward to protect and promote every child's right to life," he said.

The meet will evolve a set of tangible outcomes to create avenues for strong partnerships among countries in maternal and child health.

"This is a policy-making summit where all countries will put their heads together to think up strategies," he said.

Mishra said that India has an outstanding story when it comes to checking maternal and child mortality as the rate of decline in this regard has been better than the global average.

"In 1990, the difference between global average and Indian scenario was huge. We have, by 2012, improved a lot. We are still working on the Millenium Development Goal and, given the present rate of decline, we should be able to achieve it," he said

According to the Health and Family Welfare Ministry's figures, the total number of child deaths in the world has fallen by 48 per cent, from 12.6 million in 1990 to 6.6 million in 2012.

Maternal Mortality globally has also decreased by 45 per cent, from 523,000 in 1990 to 289,000 in 2013.