Rajasthan: 5 arrested for Violations of PC-PNDT Act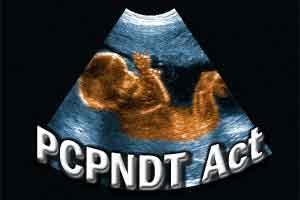 Jaipur: In a series of sting operations, performed by the state PC-PNDT authorities, 5 persons including a doctor and a nurse have been arrested for violations of the Pre-Conception and Pre-Natal Diagnostic Techniques (
PCPNDT
) 
Act.
The first operation was conducted on  Agarwal hospital in Tonk, after the authorities received information that one government nurse by the name of Renu Devi posted in Banetha village of Uniyara block of Tonk district was involved in sex determination activities. The authorities sent a decoy patient to the nurse, who was then taken to Agarwal hospital, where one doctor, Dr Ashwani Kumar conducted the sex selection test on her. The authorities then reached the spot and recovered Rs 5000, in notes that were handed over to the decoy patient. Both the doctor and the nurse have been arrested while the authorities have seized sonography machine and records of the hospital.
In another case, authorities have arrested three people from Hanumangarh area who allegedly cheated those who wanted to know sex of a baby in the womb. The trio, did not perform any sex selection test, but would dupe the patients intending to get sex determination done. TOI reports that an initial investigations found that it was not a test which could reveal sex of unborn baby, it was just a simple sonography test.
The trio, which is already reported to have duped the people of thousands of rupees, were arrested after a joint operation was performed by the Rajasthan authorities with their counterparts in Haryana. In a decoy operation, a pregnant women from Haryana approached one a 20-year-old accused, Sikandar Singh, who intern took her to one 22-year-old Saleem Khan. The latter again accompanied the patient to meet one 52-year-old Ramesh Sharma, who finally took her to Bikaner Imaging and diagnostic centre for sonography.
Later the three were arrested by PNDT cell authorities led by PCPNDT cell incharge Raghuveer Singh, who recovered Rs 5,000 from Sikandar and Saleem and Rs 12,000 from Sharma.
Read also:
Rajasthan: Sex Determination and Abortion nexus