Rx Spirituality: Doctor prescribes patients to read Hanuman Chalisa everyday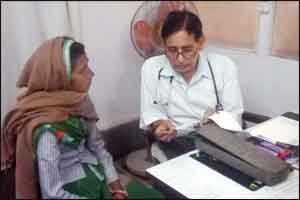 Jaipur: A one of its kind prescription has recently gone viral on the social media where a Rajasthan based doctor, Dr Dinesh Sharma is seen prescribing 'Hanuman Chalisa' to his patients along with the medicines.
Dr Sharma, a retired government doctor practices in a clinic in Ranjeet Nagar area. Most of his patients are from rural areas, who, he advises, along with medicines, a little dose of spirituality for quick recovery.
A prescription slip he issued to a patient on October 13 is circulating virally on the social media.  The prescription, which has been given to patient for complaints of stomach ache, primarily contains medicines. However, along with the medicines, the doctors has also prescribed the patient to read the Hanuman Chalisa every day, visit temples and take part in aarti.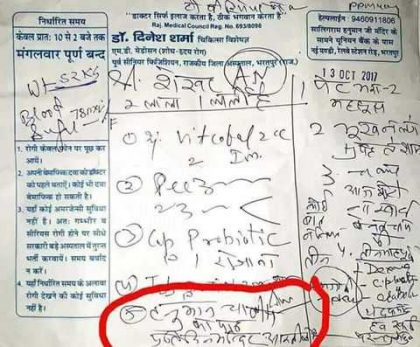 The written prescription is also gaining popularity as the prescription has printed words ob the top which says - 
doctor to sirf illaz karta hai, theek bhagwan karta hai
(doctor only treat but god actually cures)
The doctor has indeed a good reasoning for his prescriptions. "I do this for psychological satisfaction of the patients," says Sharma told India Samvad. "Spirituality makes the recovery faster -- the medicines work better for patients who have the psychological will to get well," reports India Samvaad
Sharma said he prescribes the "spiritual dose" to most of his patients.
He further said, "They have already taken medicines from quacks in rural areas. Some of them are ill due to stress. I advise them to visit temple and read Hanuman Chalisa to relieve their stress, which makes them feel better," Sharma adds.