RMPs cannot use Dr Tag, call their centres hospital: AP Govt Guidelines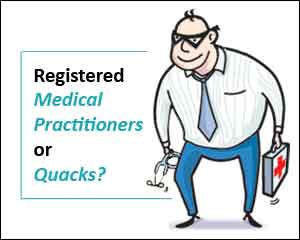 Andhra Pradesh: Responding to the serious allegations that Registered Medical Practitioners ( RMPs) and Private medical practitioners ( PMPs) in the area are pretending to be allopathic doctors, and treating patients beyond their purview in the State, the state government has now issued guidelines all the RMP's & PMPs for functioning their First Aid Centres - in the District The Un-Registered, Non-Allopathic Medical Institutions and First AID centres in the area.
Medical Dialogues team had earlier reported that the Health Medical and Family welfare department of the state took out a government order to empowering the paramedical council to give training to Registered Medical Practitioners as well certain Private Medical Practitioners in order to equip them to work as Community Paramedics.
The move had not  gone well with the allopathic doctors in the state, who have accused the government of promoting quackery in the state.  The Indian Medical Associations condemned the State government's decision to provide legal rights to RMP and PMPs. Medicos at Osmania Medical College also took out a protest march against the said order. "We work hard to earn a degree, while those less qualified practice in villages. They are now going to receive training and certificates. This is not fair. They will claim that they are qualified doctors with the government certificate,"a senior resident doctor with the Medical college Hospital told 
Deccan Chronicle
Addressing the issue, a notice was recently sent by the Govt of AP, Office of DMHO in the YSR District, Kadapa which laid down Instructions to All the RMP's & PMPs for functioning their First Aid Centres . Wit the notice all The Un-Registered, Non-Allopathic Medical Institutions and First AID Centres in Kadapa District have been instructed to strictly follow the guide­lines to mentioned hereunder with immediate effect.


Should not write "Dr or "Doctor" before your Names.


Should not use the words "Clinic"/Nursing Home/ Hospital" on the sign boards. The term "First Aid Centre" only should be displayed on the boards.


Should not mention any degree i.e. R.M.P./P.M.P/RED CROSS/ANY OTHER qualification without any Registered Certificate issued by the Medical Council.


Should not maintain any Beds/Cots/-IV stands/Any other equipment which comes under inpatient facility.


Should not inject injection/ IV Fluids.


Should not do deliveries (or) abortions.


Should not do write prescriptions to the patients.


Should not establish Nursing Home/Hospitals.


Should not put up Laboratories/Scan Centres/X-Ray plants.


Should not refer the patients in writing to private Nursing Homes/Hospitals.


Should not Maintain Medical shops.


Pharmacists/DMLT/ B.Sc (MLT)/M.Sc.(MLT)/Staff Nurses and ANMs are not eligible to do private practice.


Homeopathy/Ayurvedic and Unani Doctors should not prescribe Allopathic Medicines.


Private Hospitals/Nursing Homes must not employ the non-allopathic Doctors as duty doctors


All Registered Private Nursing Homes/Hospitals should encourage and should not write the RMP/PMP name in their OP/IP registers, reports, and scan reports.


Lab Reports/Scan Reports should be signed by a qualified pathologist/ Microbiologist/Bio-Chemist/Radiologist only.


Further, the RMPs/PMPs are hereby instructed to follow the above guideline strictly after 7 days from the date of receipt of this notice. Any deviation found in the above guidelines liable to face legal consequences by considering the sections of 15.2.(a) 15.2.(b) & 15.(3) of the Indian Medical Council Act(102) of 1956 and other related section on Quackery, the notice added