29-year-old COVID warrior dies in Karnataka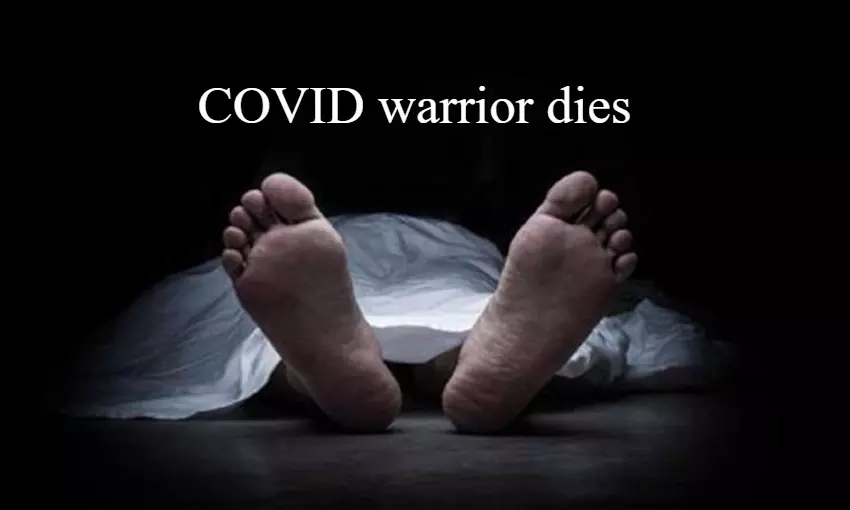 Karnataka: In an unfortunate incident, another COVID warrior passed away after putting up a fight against the virus. Recently, one of the government medical officers from Kunigal in Tumakuru district reportedly succumbed to COVID.
The deceased, a 29-year-old doctor was a government medical officer who was serving in one of the COVID facilities. He was staying under home quarantine and by the time he got admitted to the hospital, his health condition had already deteriorated significantly.

According to a recent media report, he pursued his master's in the UK and also served in the non-communicable disease section in Kunigal. He was tested COVID positive 11 days ago and was staying under home quarantine. He was on COVID duty in the Kunigal Government Hospital.
Times of India
reports that a few days ago he was feeling tired and restless and informed one of his colleagues in Kunigal. In the afternoon, he was rushed to the hospital where his Oxygen saturation level was already below 65% where the normal range is 95%. One of his colleagues informed TOI that "we had all the equipment to treat him including a ventilator and high flow nasal oxygen support but his condition required expert care. We suggested he should be shifted to a better care at the earliest."
As his condition declined, he was shifted to Tamakuru district hospital around midnight. However, his condition already deteriorated and he was declared to be brought dead. "We have lost a young doctor committed to rural service", one of his colleagues stated while mourning his death. One of his colleagues confirmed that if the declining condition of his health would have been notified previously, the doctor might be saved.
One of his colleagues also speculated that he was living in home quarantine alone and he took too much time to inform his colleagues about the situation or to get admitted, reports a daily.
At a time like this when healthcare workers are working as front liners and extending their service day and night in order to contain the pandemic, the sudden demise of a young COVID warrior has brought into the medical community.
The medical education minister K Sudhakar tweeted and expressed his grief at the death of the young COVID warrior. He stated "Dr. Devaraj, who was working as a doctor at Kunigal Taluk Government Hospital in Tumkur district, has been hit with the news that he is suffering from coronavirus. I pray to the Lord to grant peace to the souls of Sri and to his family."
ತುಮಕೂರು ಜಿಲ್ಲೆಯ ಕುಣಿಗಲ್ ತಾಲ್ಲೂಕು ಸರ್ಕಾರಿ ಆಸ್ಪತ್ರೆಯಲ್ಲಿ ವೈದ್ಯರಾಗಿ ಸೇವೆ ಸಲ್ಲಿಸಿಸುತ್ತಿದ್ದ ಡಾ.ದೇವರಾಜ್ ಅವರು ಕೊರೊನಾ ಸೋಂಕಿನಿಂದ ವಿಧಿವಶರಾಗಿರುವ ಸುದ್ದಿ ತೀವ್ರ ನೋವುಂಟು ಮಾಡಿದೆ. ಶ್ರೀಯುತರ ಆತ್ಮಕ್ಕೆ ಶಾಂತಿ ಸಿಗಲಿ ಮತ್ತು ಅವರ ಕುಟುಂಬಕ್ಕೆ ಈ ಅಗಲಿಕೆಯನ್ನು ಭರಿಸುವ ಶಕ್ತಿ ನೀಡಲಿ ಎಂದು ಭಗವಂತನಲ್ಲಿ ಪ್ರಾರ್ಥಿಸುತ್ತೇನೆ. pic.twitter.com/cS1Rczd2yl

— Dr Sudhakar K (@mla_sudhakar) September 8, 2020
Source : with inputs