Karnataka: Cardiologist posts Blanket Prescription for COVID 19 on Facebook; Govt sees red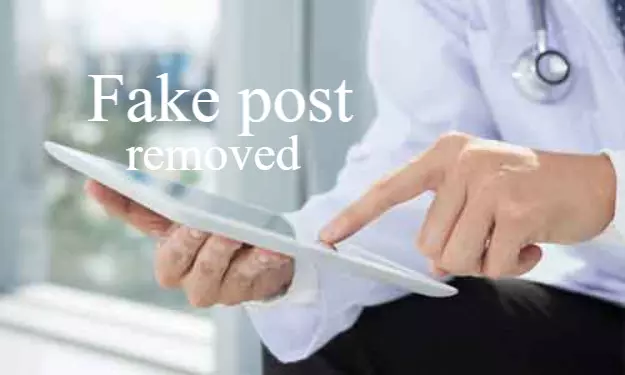 Bengaluru: Controversy has erupted after a Hyderabad-based cardiologist recently came under the scanner of the Karnataka Government for an "objectionable" Facebook post which was soon taken down by Facebook considering the state government's request to the authorities at social media platform. In his post, the doctor allegedly offered misleading suggestions and medical advice pertinent to fatal Covid-19.
According to recent media accounts, the medical practitioner suggested an elaborate list of blanket drug prescriptions on the widely-used social networking platform on July 8. In his post, the doctor had posted several videos and messages along with prescribing 11 drugs which he claimed to be potentially effective for the COVID patients with "low oxygen saturation but unable to find the bed". He also mentioned the amount of the dosage and the time when the patient can take the dosage. Nearly 4,000 Facebook users shared the post from their accounts.
The doctor's handwritten note, scanned and floated on social media with his number, said it was "to be followed if no bed available, under supervision" and had names of vitamin supplements, some antibiotics, antiviral drugs and two injections, including a blood thinner which is usually administered to patients who are hospitalised. His account also had "videos to create an ICU (intensive care unit) at home" and other posts.
However, on July 16, the Karnataka Government identified the post and under the norms of violating the company's "misinformation and harm policy" sent a request to Facebook to pull down the post while following the protocols by the Union Information and Broadcasting Ministeries; as it could be misleading for the masses, especially considering the critical pandemic situation.
ALSO READ: No bail for doctors accused of making fake COVID positive reports

T
he Union information and broadcasting Ministries guidelines instructed all the State and Union Territories to have a strict screening on the social media posts so that no misleading posts connected with coronavirus should be posted, reports
RepublicWorld
.
Observing the same, the Karnataka Ministry while following the norms, was monitoring the social media activities when they identified the post made by a Hydrabad based cardiologist.
The state health department's information, education and communication (IEC) special officer Suresh Shastri told
ET
that the Karnataka health department wrote to Facebook to take down the post as it "violated existing guidelines of medical prescriptions". "This particular account was under our watch as we felt such a general prescription could mislead people. We don't want people to self-medicate themselves at a time of a crisis like this."
When urged to comment on the matter one of the Facebook spokespeople told the leading daily that, "We don't allow misinformation on our platform that could lead to imminent physical harm and since January, when the WHO (World Health Organization) declared Covid-19 a pandemic, we have removed hundreds of thousands of posts including false cures, claims that Coronavirus doesn't exist or that drinking bleach cures Covid-19."
Meanwhile, justifying his stand, the cardiologist who is associated to a private hospital in Hyderabad, told ET, that
he was within his rights to help patients, a claim challenged by many in the medical fraternity, especially in view of the general medical advice he offered on social media. He told ET that "in a war-like situation such as now, it is important to save lives, not insist on protocol". "It is because governments have failed to build sufficient beds that people, mostly poor, are struggling to find beds. Doctors are not available in many cases. It is my right to help them," he said.
He said he had been getting about 6,000 messages every day from people asking for remedies. "I know posting a blanket prescription is not what a doctor should do usually, but this is a pandemic. The drugs I have prescribed are not known to have side-effects." he added.
Commenting on the prescription, Dr H Veerabhadrappa, president of Karnataka Medical Council, said that a blanket prescription was "not just misleading, but dangerous". "Doctors cannot prescribe more than primary care, which includes vitamin supplements or basic painkillers or a diet plan on WhatsApp or call," he said, referring to the guidelines of the Indian Council of Medical Research on the use of telemedicine for Covid-19.
"For anything specific, the doctor who has physically examined the patient can talk to a specialist on phone or video call and get further treatment. It is important that doctors understand how social media posts can trigger panic in people or mislead them," he added.
Source : with inputs