Mumbai Doctor booked after patient's fiance alleges molestation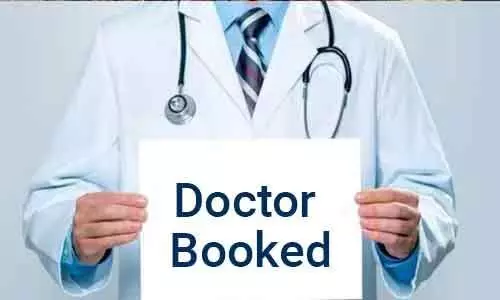 Mumbai: A Mumbai-based doctor has been booked by Karjat police for allegedly molesting a young woman who visited the doctor with her fiance.
According to a recent report by Times of India, the doctor has been identified as a 48-year-old who renders his services at a sub-district government hospital in Raigad. The complainant stated that her fiance was suffering from chest pain hence she took him to the hospital to admit him. At that time, the doctor allegedly called her inside his chamber and tried to touch her inappropriately, she stated.

Times of India
reports that the FIR stated that the doctor asked the woman to come inside his cabin as he had to talk about the fiance. He at first comforted the woman and told her not to worry about the health of her fiance. After this, the doctor held her hand and allegedly started touching her inappropriately. The doctor also told her that he would give her money for the treatment, she alleged
Aggravated by the advances of the doctor, she immediately left the cabin and narrated the whole incident to her fiance. As per the daily, when the fiance confronted the doctor about his misbehaviour, a conflict erupted between them.
Following the argument, the doctor picked up a pair of pliers and allegedly tried to attack the patient. After this, the woman approached Karjat police station and lodged a formal complaint against the doctor. The incident took place at around 2.15 am on Sunday.
Senior Inspector of the police station, Arun Bhor informed that the doctor has been booked following the complaint of the doctor. Raigad civil surgeon Dr. Subhash Mane also confirmed that a thorough investigation will be conducted against the doctor in order to confirm the authenticity of the allegations, reports the daily.
Source : with inputs