Sanitizer given instead of Polio Drops: Doctor, 2 healthcare workers to face action for alleged negligence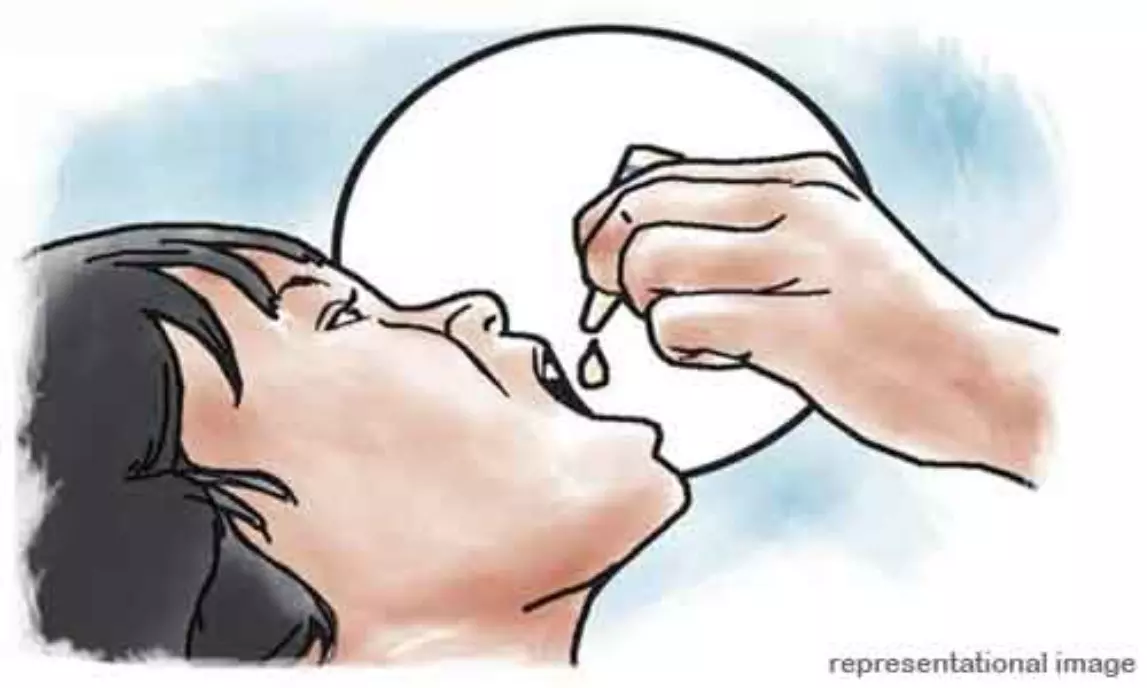 Nagpur: Three staffers including a community health officer, ASHA worker, and Anganwadi Sevika will soon face action for allegedly administering sanitizer instead of oral polio drops to a dozen children aged between 1 to 5 years in the Yavatmal district of Maharashtra.

The controversial case took place allegedly in presence of the doctor, and two other healthcare workers on January 31, the Polio National Immunisation Day at Bhanbora PHC (Primary Health Centre) in Kapsikopri village when the National Pulse Polio vaccination drive for children aged 1-5 years was underway.
President Ram Nath Kovind launched the National Polio Immunisation Drive for 2021 by administering polio drops to children less than five years old at Rashtrapati Bhawan on January 30.
As per the district official, the children affected by gross negligence were admitted to a government hospital, where their condition was stated to be stable. However, three healthcare workers including a doctor, Anganwadi Sevika, and an ASHA volunteer would face action for the lapse. They would soon be suspended and an inquiry into the matter is underway.
Yavatmal Zilla Parishad CEO Shrikrishna Panchal on Monday told ANI that 12 children below 5 years of age were given two drops of sanitizer in place of polio drops. He further added that one of the children complained of vomiting and uneasiness. Following this, the affected children were admitted to a government hospital.

Panchal had further informed that as per preliminary information, three healthcare workers - a doctor, Anganwadi Sevika, and an ASHA volunteer - were present at the PHC at the time of the incident. Presently, the parents in the area are under fear and have demanded action against the persons responsible for the shocking lapse.
Another official said the incident came to light when the village sarpanch checked the drops and found them to be hand sanitizer and not polio doses.

Yavatmal Collector M D Singh, after his visit to the hospital on Sunday, informed PTI, "The children were kept under observation for 48 hours. They are ok and will be discharged today." Singh further informed that an inquiry has been completed into the incident.
While commenting on the matter, Panchal informed Indian Express, "The 12 children were administered two drops of sanitizer at Kapsi sub-center of Bhambora Public Health Center (PHC) in Ghatanji tehsil. The three staffers there, the community health officer, ASHA worker, and Anganwadi Sevika, realized around 2 pm that the children were administered sanitizer instead of polio drops. So, the parents were called again and polio drops were administered. The local sarpanch got the information about the wrong dose and complained to higher authorities. The children were then brought to Yavatmal GMCH."
When asked if the children had developed any symptoms, Panchal further added, "Only one child was vomiting. But even polio drops can cause that. But that's not the issue. It's about the staff's negligence. We have started an inquiry and action will be taken against them."
He further added, "This should not have happened because polio drops are in a bottle labeled with a vaccine vial monitor, which shows a particular color indicative of appropriate temperature being maintained. So we are trying to find out if the three staff members were properly trained in the exercise of administering the polio dose. Normally, this responsibility rests with the medical officer of the PHC."
Meanwhile, Shamrao Gedam, father of two affected kids told India Today TV, "My son and daughter started vomiting after the dose was administered. There were three officials present there. When they realized that they have given hand sanitizer in place of polio drops they called us back and gave the polio dose again. We take utmost care of our kids but this high-handed behavior of health officials is nothing but playing with the lives of our kids."
ANI adds that according to the Union Ministry of Health, India has been free of polio for a decade, with the last case of wild poliovirus reported on 13 January 2011. The country, however, continues to remain vigilant to prevent re-entry of the poliovirus into the country from neighboring countries of Afghanistan and Pakistan, where wild poliovirus continues to cause disease.
Source : with agency inputs