Health Minister launches Pulse Polio campaign across Punjab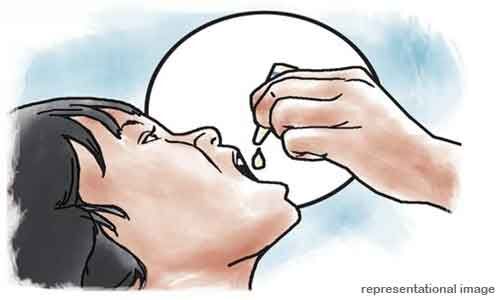 Chandigarh: Punjab Health and Family Welfare Minister Balbir Singh Sidhu on Sunday launched the three-day pulse polio campaign at Jagatpura village in Mohali.
More than 33 lakh children of less than five years across the state will be administered polio drops as part of the National Immunisation Day (NID) drive.
After administering oral polio vaccine (OPV ) drops to children, the health minister while addressing the gathering on the occasion, said that government is making all efforts to protect children from more and more diseases and emphasised that all vaccines under the program must reach each and every child of the state.
He said that during the current drive, more than 50,000 health workers, Aanganwari workers, Nursing students and volunteers will visit houses, slums, brick kilns, railway stations, bus stands and other places to vaccinate children whereas a total of 2,668 supervisors will carry out sudden checks to monitor the immunisation programme and to ensure that all children are immunised.
Punjab has not seen a case of polio since 2009.
The minister further said that apart from polio immunisation, the government is also vaccinating newborn children against Tuberculosis, Hepatitis B, Diphtheria, Pertussis, Tetanus, Homophiles influenza B, Measles, Rubella and Rotavirus diarrhea. He said that immunization Program has helped reduce infant and child mortality drastically.
It has been seen that children who are vaccinated fall sick less often and are less likely to be malnourished.
He lauded the efforts of thousands of volunteers, frontline workers and health officials for tireless work for keeping the state polio-free.
Mr Sidhu appealed to the people to get their children vaccinated even if the child is born a few hours ago or is suffering from cough, cold, fever, diarrhoea or any other disease as the polio drops have no harmful effects on these sick children.
Source : UNI