Rajasthan: Medical College officer arrested for taking Rs 50000 bribe to clear oxygen cylinder bills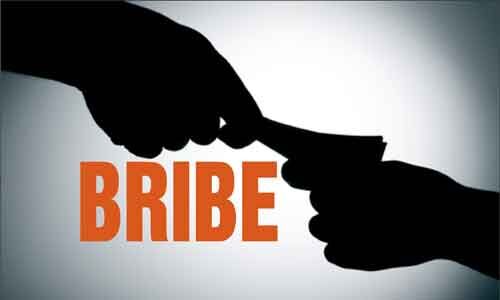 Jaipur: The Chief Accountant Officer of Bikaner's Sadar Patel Medical College has been placed under arrest by Anti-Corruption Bureau (ACB) officials on Tuesday for allegedly accepting a bribe of Rs 50000 for clearing the bills of a private company that provided oxygen cylinders during the second COVID wave.

The owner of Jagdamba Industries and his company supplied oxygen cylinders worth Rs 64 lakh to the facility but instead of clearing the bills immediately, the chief accountant officer allegedly demanded 1% of the total bill as commission from him.
He moved a compliant with the ABC, following which the officials conducted a raid at the officer's residence and seized Rs. 32 lakh cash along with gold and silver ornaments and documents indicating fixed deposits and policies worth Rs. 48 Lakhs.
Times of India
reports that after supplying oxygen cylinders worth Rs 64 lakh when the complainant approached the medical officer for his payment, he allegedly demanded 1% commission in lieu of clearing the bill. The accused demanded almost Rs 65,000 from the complainant. "Thus for the payment of the bills, the accused was a demanding commission," said Bajrang Singh, additional SP, ACB.
However, after negotiation, he agreed to accept Rs 50000 as commission for clearing the total bill. The complainant then approached ACB officials and lodged a complaint. Acting on the complaint, ACB sleuths devised a plan to nab the accused red-handed. They arrested the officer while accepting the bribe.
ACB officials searched his residence thoroughly in the evening and secured cash and documents of moveable and immovable properties worth lakhs. "So far have recovered Rs 32.50 lakh cash, gold ornaments weight 200 grams, silver ornaments weight 650 grams and have found documents showing investments of Rs 48 lakhs in fixed deposits and life insurance. Also, our team has seized papers related to shares, debentures, and registration papers of two land plots. He also has a locker in the bank that would be searched on Wednesday," one of the officials, Soni added.
Considering the huge amount of cash, ACB got the currency counting machine. "Apart from the regular case under appropriate sections of Prevention of Corruption Act, we will also try to find out if we can also have a separate case of disproportionate assets against the accused," said an officer.
Source : with inputs