Telangana Govt grants job to spouse of doctor who died due to Covid-19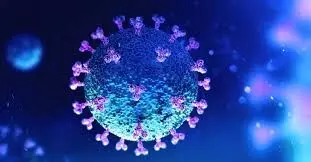 Hyderabad: Coming to the aid of the family of a doctor, who succumbed to Covid-19, Telangana Government has granted a Government job to the wife of the deceased COVID warrior.
The decision of the Government has been made public when Health Minister Eatala Rajender handed over a copy of Government Order (GO) granting government job as an administrative officer to the wife of the deceased doctor on Saturday.

Late Dr. G Naresh Kumar, had been serving as deputy District Medical and Health Officer (DMHO) in Bhadradri-Kothagudem. The GO for the job as an administrative officer has been issued to G Pavani, the wife of the deceased on Saturday.
Medical Dialogues had earlier reported that Naresh Kumar (35), in-charge of a quarantine center, had tested positive for COVID-19 on July 30. While heading the Manuguru-based quarantine center, he had got infected with the disease and lost his life on August 7, 2020.
Coming to the aid of the family of the late doctor, who had died fighting Covid-19, various doctors' associations with their collaborative efforts raised funds and handed over Rs 25 lakh to the divested family of the deceased last year.
The associations included the Telangana Government Doctors Association (TGGDA), Indian Medical Association (IMA)-Telangana State, Government Doctors Association unit at Gandhi Hospital, and Telangana Public Health Doctors Association (TPHDA), and several others.
Commenting on the same, the Health Minister, Eatala Rajender had earlier stated that an ex gratia of rupees 25 lakh would be provided by the state government to the COVID warriors who lose their lives fighting against the disease in the state.
Read also: Telangana: State IMA, Others Raise Rs 25 Lakh For Family Of Doctor Who Died Of COVID
As per the latest media report by The Hindu, TPHDA members have continuously pursued the Government to grant a job to late Dr. Naresh's wife. They pursued the Health Minister as well. Finally, paying heed to the requests made, the Health Minister has granted a job to Mrs. Kumar and a GO has been issued by the Government regarding the same.
TPHDA has welcomed the move by the Government. Giving thanks to the authorities for the same, TPHDA wrote on Twitter, "Telangana Public Health Doctors Association (TPHDA)is thankful to @TelanganaCMO @EATALAOffice @Eatala_Rajender @KTRTRS for being genuinely kind, compassionate, and incredibly conscientious towards our Martyr Late Dr.Naresh sir's family by Issuing a http://G.O.Ms.No.34."
Telangana Public Health Doctors Association (TPHDA)is thankful to @TelanganaCMO @EATALAOffice @Eatala_Rajender @KTRTRS for being genuinely kind,compassionate and incredibly conscientious towards our Martyr Late Dr.Naresh sir's family by Issuing a https://t.co/iYS9OzwrAo.34 pic.twitter.com/X1taHCoN5L
Source : with inputs