Telangana: State IMA, 2 others seek probe into Huzurabad doctor attack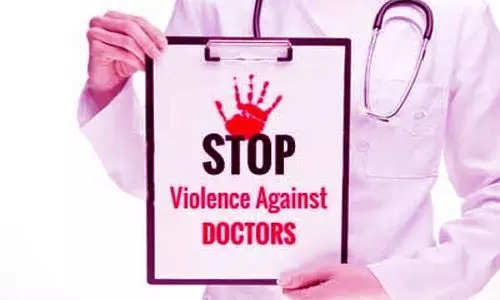 Telangana: Enraged at the attack on the superintendent attached to Huzurabad-based government hospital, the Telangana branch of Indian Medical Association (IMA), Telangana Public Health Doctors Association (TPHDA) and the Health Care Reform Doctors Association (HRDA) have submitted complaints to Telangana DGP, Mahender Reddy seeking the authorities to nab the offenders and to take immediate and strict actions against them if proven guilty.

This came following an incident, wherein, one of the superintendents, Dr Praveen of the Huzurabad area hospital was allegedly abused and verbally attacked by one of the local leaders during his hospital visit.
The Telangana branch of the Indian Medical Association (IMA), Telangana Public Health Doctors Association has criticized this attack on the superintendent and has asked the DGP to take action against the unknown offenders under the Epidemic Act.
Also Read: Aurangabad: Female Doctor Attacked After Death Of A Patient, Two Booked
Supporting the demands of TPHDA, HRDA also expressed their views that the government should immediately take the initiative to implement the order issued in December 2019 which proposed that 164 posts should be created under Special Protect Force, and the new recruits should be deployed in government teaching hospitals and medical and health facilities of the district in order to ensure the safety of the doctors, reports TOI.
The TPHDA took to their official twitter account and confirmed that they have approached the DGP with their demands and they have submitted that "the assaulters need to be identified and should be punished. Assaults on doctors and health staff amid the COVID-19 pandemic is inhuman. Doctors and paramedical staff across the world have been at the front line of battling the Novel COVID-19."
They have also requested the DGP to follow up on their demands and punish the concerned person as soon as possible if proven guilty.
They further added, "doing that in quick succession will give confidence to frontline warriors to do their duties without fear in controlling COVID-19 pandemic. " TPHDA confirmed that the DGP has assured "initiation of inquiry regarding the issue and promised stringent action on the persons who found guilty."
Source : with inputs