Stop making doctors soft targets: Doctors outrage on Public, Media Trial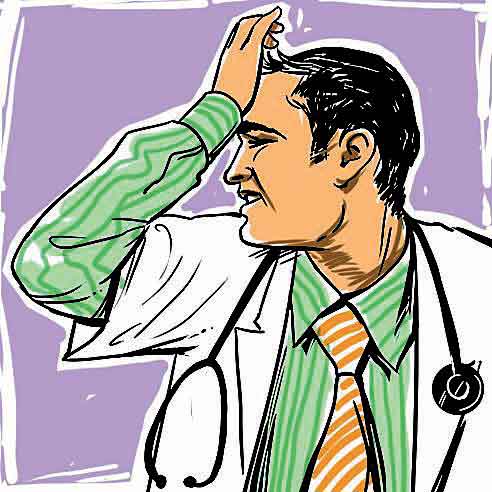 New Delhi: The medical practitioners in the capital have indeed taken a strong exception to the comments made by Haryana Health Minister Anil Vij in connection with the death of a seven-year-old girl at Gurgaon's Fortis hospital, saying it was high time politicians and the media stop making doctors the "soft target".
A panel set up by Haryana government probing allegations of overcharging against the Fortis hospital regarding a case in which the minor girl died of dengue has found "several irregularities" following which the state government is planning to lodge an FIR, minister Vij said yesterday.
"In simple words, it was not a death, it was a murder," Vij had alleged at a crowded press conference in Chandigarh.
Responding to the allegations, Delhi Medical Association, the Delhi state branch of the Indian Medical Association, in a statement, took exception to the statements made by the health minister
"It is high time now that the media, society, politicians, bureacrats, etc. Stop blaming the soft target called 'doctors' for anything bad or any unwanted event happening and malign the image of the medical profession," the statement read.
DMA, in a statement, also sought to defend doctors in another case at the Max Hospital, Shalimar Bagh, saying the clinical approach for "an extremely premature foetus of less than 24 weeks of pregnancy is not viable and non-survivable".
"There is no set protocol & guidelines for such extremely pre-term deliveries. But Indian law permits MTP upto 20 wks of pregnancy and in extreme cases court has permitted upto 24 wks of pregnancy. It means Indian law consider foetus upto 24 wks as non survivable and non viable," the statement added
"In view of the recent controversy regarding handling of extremely pre-term babies at one of the Delhi Hospitals, we would to state that the clinical approach for an extremely premature fetus of less than 24 weeks of pregnancy is not viable for survivable. Many times due to hypothermia, the heart beat in such cases may be absent and reverts from time to time. Such rare cases have occurred in the past across many Parts of Me world including recent one in Safdarjung Hospital in June 2017. Clinical criteria such as APGAR scores are used world over for assessing in delivery room. In case parents decides not to resuscitate or not to provide intensive care treatment, the pre-viable baby is given only comfort care and checks periodically for any sign of life, by the doctors respecting the parents instruction. As enquiries are underway by various authorities, we request everyone, including media, to refrain from jumping to conclusions without ascertaining proper facts as such premature statements/articles adversely affects the concerned doctors and staff in delivering services to their patients", the statement added
The Max Hospital case pertains to a premature boy, wrongly declared dead last week at the hospital where he was born, and who died during treatment at a nursing home in Pitampura.