Surgical management of Adrenal Tumors: German Association of Endocrine Surgeon Guidelines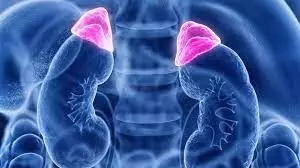 The German Association of Endocrine Surgeons have published clinical guidelines for Surgical Therapy of Adrenal Tumors that are published in the JAMA surgery.

For the management of functional, non-functional, benign, and malignant adrenal tumors, Adrenalectomy often presents biochemical, clinical, and technical challenges for surgeons. So, improving the diagnosis, management, operative technique, and delivery of care have important benefits.
As an update to the previous S1 guidelines, this guideline1 is focused on surgical indications, preoperative diagnosis, perioperative management, and surgical approach of all functional, non-functional, benign, and malignant adrenal tumors.
The Characteristics of the Guidelines Source are:
These guidelines were developed by CAEK2 and included 11 working groups of CAEK member surgeons and 1 expert delegate from each of the 6 represented German medical societies as well as a representative from a patient support group. All working group members reviewed, contributed to, and voted on the proposed guidelines. A final consensus conference was held, and all 64 individual recommendations passed with greater than 75% consensus. The overall quality of the guideline is high
This guideline2 serves as a comprehensive, instructive body of literature for adrenal surgeons regarding best practices, as supported by available evidence on the surgical management of adults with adrenal tumors. The benefit of adrenalectomy must be weighed against the harm to a patient while taking the surgeon's expertise into account. This guideline2 will also be beneficial to the medical community to facilitate appropriate surgical referral.
These guidelines also serve as a patient empowerment tool to enhance participation in an informed decision-making discussion.
However, adrenocortical carcinomas remain a clinical dilemma, and future investigation is needed to identify optimal medical therapy options and size or expertise thresholds for use when selecting a minimally invasive vs open surgical approach.
For more information refer to:
Review of Surgical Therapy of Adrenal Tumors in Guidelines from the German Association of Endocrine Surgeons by Ramonell, K et. al published in JAMA surgery.
doi:10.1001/jamasurg.2021.3595
Source : JAMA Surgery