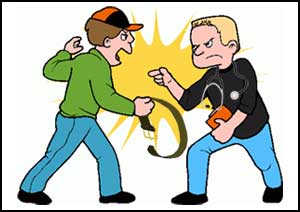 Bhopal: A dinner evening at a local bar, turned ugly for three AIIMS Bhopal doctors after they were allegedly beaten up by the staff of the restaurant when they protested certain unnecessary extra charges in the bill.
The Restaurant Manager and a bouncer have now been arrested by the local police.
According to a recent media report, three AIIMS Bhopal doctors, Dr Gupta, Dr Chandra and Dr Singh went to the Drink Exchange Restaurant at DB mall last weekend. After the supper when they were handed over the bills, they noticed that the bill had some extra charges. When they protested, the bouncers were called who allegedly thrashed them badly.
................................ Advertisement ................................
Read Also: No Stop on Violence: Gynecologist beaten with rods after patient dies in CCU
................................ Advertisement ................................
Dr Gupta told the Free Press Journal, "We three had gone to Drinks Exchange on Sunday night. Our bill was Rs 5,400. But they charged Rs6,000. When we asked about the reason for extra billing, the manager told us that extra amount was added as "vomiting charges".
"None of us had vomited there but in spite of it, they charged in the bill. In the meantime, hotel bouncers appeared the scene and started raining punches on us and even dragged us out of the hotel.  Other guards of DB Mall also joined them and threatened that they are from DB Mallm so AIIMS doctors cannot do anything," he further added.
The doctors, after the incident, approached the MP Nagar police to register a complaint against the Manager and of Drinks Exchange outlet Akshit Arya, bouncers and guards. They were booked under section 294, 323 and 506 of the IPC.
Based on the complaints, the manager of the Drink Exchange Restaurant and a bouncer was arrested.
MP Nagar SHO Manish Rai informed the Free press journals,  "Bar Manager Akshit Arya and a bouncer have been arrested.  Further Investigation is on."
Dr Gupta further said, "We will lodge a complaint with the collector against such behavior of restaurant's staff with customers. It is not justified. We will not spare them."
Author Details
Shagufta Joined Medical Dialogues has been associated as Editor for Education Medical Dialogues since the year 2018.  She is a graduate from Delhi University. She can be contacted at editorial@medicaldialogues.in Contact no. 011-43720751
................................ Advertisement ................................
5 comment(s) on Three AIIMS Bhopal doctors beaten at Restaurant; Manager and bouncer arrested