Bengal : Three More Quacks Arrested, one found posing as Cancer Specialist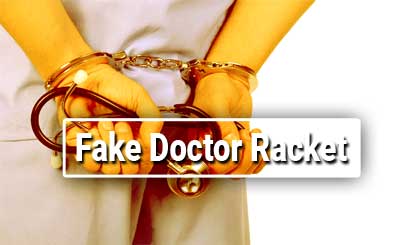 Kolkata: In the long list of quacks that are being slowly hunted down by the Bengal authorities for possessing fake medical degrees and/or impersonating themselves as doctors, the CID was recently seen arresting three more from different areas in North-24 Paraganas.
The three quacks have now been identified as Aradeep Chatterjee, Kazi Gafur Ahmed, Govind Sarkar. The police came into the action after a  complaint was filed on June 22 against the suspected accused.
The first arrest was made by the Bidhannagar police commissionerate from Lake town area, the accused has been identified as Aradeep Chatterjee who posed himself a cancer doctor.
"He has been running a nursing home at Lake town styled as Critical Cancer Management Research Centre and Clinic. He does not have any medical degree though he pretended to be a doctor with an M. D. degree," said Santosh Pandey, DC (DD). Police lodged a suo motu case at Laketown Police station. He has been arrested under charges of cheating and fraud.
The second fake doctor, a fake dentist Kazi Gafur Ahmed was arrested at Barasat Kazipara on Thursday.
The third doctor was arrested on Govind Sarkar was arrested with an alleged fake degree was arrested from Deganga on Wednesday night. An SI-rank police officer posed as a patient and consulted him. He found his behaviour suspicious and asked him to show his registration number.
"He failed to show the original registration certificate. The photocopy which he showed had a fake registration number. He has been arrested and we are verifying his certificate," said a police officer, reports Express
Read also: 
Bengal Fake Doctor Chapter : Fake Dermatologist arrested