Tripura: Local panchayat arranges health camp cum AYUSHMAN card processing center with pvt hospital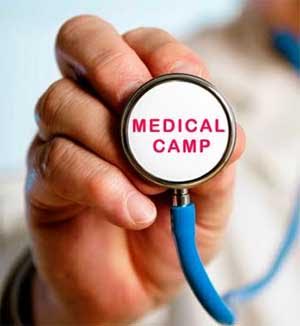 Ambassa(Tripura): Local Baligaon panchayat along with ILS Hospital arranged a health camp and AYUSHMAN gold card processing and distribution system at Baligaon in Dhalai district here today.
Newly elected body of Baligaon panchayat took charge yesterday.
Also read:- All cancer treatment to be included under Ayushman Bharat
"Our motto is to provide services to the villagers. Hence we have arranged for the camp. Here the villagers are taking the facility in huge numbers," Debraaj DebBiswas said on behalf of the panchayat.
Specialists, Dr Shibsankar Sarkar, Dr Suniti Paul and Dr Trisha Das attended the camp from ILS Hospital. Opthalmologist Technician Abhijit Majumder also attended the camp.
Also read:-Golden cards of 12.31 lakh beneficiaries made under Ayushman Bharat in Haryana: Health Minister Vij
"Patients can access treatment in Cardiology, Opthalmology and Neurosurgery in AYUSHMAN Bharat scheme at our hospital. Here, along with the Baliogaon panchayat, we have initiated the camp to inform and encourage people to claim the benefits of the scheme," Manoj Kumar Deb said on behalf of ILS Hospital.
Free medicines were also provided by the Health and Family Welfare department, in the camp.
Also read:- India to have 40,000 PHCs under Ayushman Bharat by this year: Dr Harsh Vardhan
Hundreds of villagers attended the camp and availed the facilities.