WB Government's special focus on mother and child health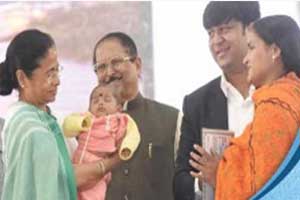 Kolkata: In terms of health initiatives for mothers and children, Bengal has been playing a leading role in the country.
Mother and Child Hub (MCH) is a unique concept in this respect, being conceptualised by none other than Chief Minister Mamata Banerjee, who is also the Health Minister.
Then, at 25, Bengal has the lowest infant mortality rate (IMR) in India. Waiting Hut is another unique concept, which has been taken up as a model by the Central Government.
Seven Mother and Child Hubs (MCH) are providing yeoman service at Uluberia sub-divisional Hospital, Murshidabad Medical College and Hospital, Nadia District Hospital, Bankura Sammilani Medical College and Hospital, Malda Medical College and Hospital, Jalpaiguri District Hospital and Medical College and Hospital, Kolkata.
The MCH at MJN Hospital in Cooch Behar is nearing completion. Another two MCHs are coming up at Canning in South 24 Parganas district and at Anupnagar in Murshidabad district.
For providing options for safe delivery to those mothers who stay in areas too far for accessing hospitals, the State Government has constructed fully manned and properly equipped Waiting Huts. Waiting Huts are functional under the jurisdictions of the rural hospitals (RH) in Gosaba, Madhabnagar (both South 24 Parganas district), Khulna (North 24 Parganas) and Chakulia (Uttar Dinajpur), Tufanganj Subdivisional Hospital (Cooch Behar), block primary health centres (BPHC) in Mahisail, Shaktipur (both in Murshidabad), Ratua (Malda) and Teghari (Hooghly) and, and Rampara Chanchara Primary Health Centre (Dakshin Dinajpur).
The one at Uttar Latabari in Alipurduar district would be functional soon.
Institutional delivery in the state has increased from a meagre 65 percent in2010 to 95 percent in 2017.
Immunisation at present covers 94 per cent of the children of Bengal, and the government is steadily marching towards 100 per cent immunisation.
A comprehensive upgrading of maternal, newborn and paediatric services have been undertaken at 68 High Case Load Faculties at the tertiary and secondary tiers, that is, those with an annual delivery load of more than 3,000.
The upgrading, undertaken at an estimated cost of Rs 132.66 crore, includes the facilities of labour rooms, operation theatres, toilets, and power backups and drinking water at primary health centres (PHC), community health centres (CHC), subdivisional hospitals (SDH), state general hospitals (SGH) and rural hospitals (RH).
Bengal has achieved infant mortality rate (IMR) of 25 per 1,000 live births, which is much below the national average of 34.
In order to achieve the IMR of 25, 68 Sick Newborn Care Units (SNCU) and 307 Sick Newborn Stabilisation Units (SNSU) have been made functional.
Eleven Paediatric Intensive Care Units (PICU) are being augmented and four are being set up at 13 medical colleges including Dr B C Roy Post Graduate Institute of Paediatric Sciences and Chittaranjan Seva Sadan in Kolkata.